Guest blogger: Alyson B. Stanfield, Art Biz Blog
Galleries have a lot of other artists in their stables.
You are not the only artist that the gallery is looking after. It is also nurturing the careers of many other artists.
It is rare that a gallery can tell an artist (honestly), "You are my #1 priority."
On the other hand, you should always be your #1 priority.
You are your best salesperson.
Nobody cares about your success more than you. Nobody knows your art better than you.
Even if you find a gallery where your work will fit, you still have to sell yourself to the gallery. You could be spending this energy selling your work directly to interested buyers.
You still have to do a lot of self-promotion.
Contrary to popular opinion, galleries do not do all of the work for artists. You are expected to promote your art at the gallery as if it were your own space.
If the gallery's commission is 50%, it's hard to motivate yourself to do a lot of work for them.
Galleries usually earn 50% of the sale.
Notice that I didn't say they "take" 50% of the sale. If a gallerist is doing his or her job, they are earning the commission. Moreover, galleries have high overhead costs that help them justify this high percentage.
Still, 50% is 50%. And sometimes it stings. If you can sell your art and keep 100% of the profits, do it!
Galleries are hopelessly behind the times with their marketing.
In the art world as a whole, galleries have been the slowest to adapt to a changing economy. They were slow to embrace email and have been much slower with social media.
If they aren't careful, they may become the Blockbuster or Borders of the art world.
Heads Up!
Any of the following six situations could be a red flag when looking at gallery representation.
1. New galleries without an established list or connections.
This wouldn't necessarily break a deal, but you do need to be cautious of gallerists who haven't been in business. Ask a lot of questions and know what you're getting into.
2. Bad location.
Locations without parking or mass transit access can mean the death of a gallery. Or they can mean nothing. If a gallerist has great connections, location might not matter as much.
3. Clueless people on the sales floor.
Do all salespeople understand how to talk to clients and close a sale? Do all salespeople know the artists and the selling points of each? If not, they have little business selling your art.
4. Staff members are bad communicators.
It's not a good sign if a gallery's staff isn't telling you about events and opportunities. Ditto if they aren't updating you on your sales. If they aren't communicating well with you, they probably aren't communicating well with collectors.
5. Difficult personalities.
If you don't like the people who run the gallery, what are the chances that other people want to do business with them?
6. Out-of-date or ugly website.
When will galleries understand that their Web presence is the point of entry to many potential buyers? If a gallery's site hasn't been updated since last year's exhibition, reconsider your involvement with them.
By the way, you should heed this warning for your own sites. Keep them updated!
Where Do You Stand?
The counter-argument to this post is
Why Artists Should Embrace Gallery Representation. It's posted on the Art Biz Blog today.
Where do you stand with galleries? Do you embrace them? Or avoid them?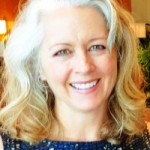 Guest blogger Alyson B. Stanfield is founder of ArtBizCoach.com, ArtBizBlog.com and author of I'd Rather Be in the Studio: The Artist's No-Excuse Guide to Self-Promotion.
Image credit: Cynthia Morris looks at Kathleen O'Brien's portfolio at a home show of Kathleen's work.
More on working with- and without- galleries: