Are you struggling to get your art displayed in galleries? Are you entering lots and lots of open submissions but it seems like an uphill battle to find a space to display your work? In this post I am going to share my methodology for how to get your art displayed in alternative spaces. (Note: there are several reasons why you may want to avoid gallery representation altogether anyway.) This tried and tested approach is a fantastic way for artists to get in front of their target market and forge new business relationships. By following the steps outlined below, you too can successfully find alternative spaces to display and sell your work.
First, a little context. In 2016 I decided to launch my own art business to promote and sell my watercolour paintings. I re-entered the art market after 10 years of working in financial services and naively assumed the business of selling art hadn't really changed. I immediately focused on submitting proposals with the aim of getting my work into galleries. After many weeks of knocking on gallery doors with little return, my confidence started to wane. Based on the sales I achieved in the lead up to my launch, I knew there was a market for my work but it seemed impossible to get into any of the fine art galleries within my key catchment area, Dublin.
My frustrations led me to think of alternative ways to get my artwork in front of potential customers. I started to read lots of articles about marketing art and quickly realized the art market had really changed. Artists were learning how to market and represent themselves as dynamic creative entrepreneurs, and they were selling their work without relying on gallery representation. These artists were identifying and partnering with alternative venues open to showcasing their art. I started to adopt this approach and I am now exhibiting in some of the trendiest restaurants, bars and arthouse premises in Dublin. This is how I did it.
Step 1 – Identify your Target Customer
The first thing to do, is to identify your target customer. I'm often surprised how many artists don't take the time to think about their customer. It's a key starting point to defining the marketing and business strategy that will enable you to achieve your creative goals. To identify your target customer, start by asking yourself the following questions:
1. How would you split your target market by gender? What percentage of your work is sold to men versus women? For example, if I analyse my sales from original art, I can confirm that 60% of my customers have been women and 40% have been men.
2. What is the typical age range of the majority of your customers? This is a rough estimate of an age bracket for example, you may identify that most of your customers typically fall into an age range of 35-45.
3. Where do most of your customers live? If you think back over what you've sold to date, can you estimate the split of customers by geographical region? For example, 50% of my customers are from Dublin, 20% from Europe, 10% in the West of Ireland and 15% in the South East of Ireland and 5% from the US.
Now that you've defined some parameters, imagine your target customer. Not as a statistic but as a real person. For example, when you consider your target customer you might imagine a cool trendy hipster woman in her late thirties, living in the city centre, with her partner and small child. Now hold that thought.
Tip: Many of the social media platforms you use have inbuilt data analytics features, so I recommend using these free tools to help inform your answers to the above questions.
Step 2 – Where would your target customer go?
Now that you can imagine your target customer as a person, think about where they might hang out during their free time. What venues would they visit to chill out, read, relax, play with their family, chat with their partner, eat and enjoy themselves. You should by now be building a clear picture of the types of places you can imagine your target customer frequenting. For example, our hipster female may enjoy visiting a boutique hotel for cocktails, a cool trendy restaurant, a plush salon, day spa, trendy coffee shop, quirky book shop and so on.
Step 3 – Which of the places frequented by your target customer might be a good fit for your art?
Next take a step back to think about your art. What kind of art do you make? Is it traditional, abstract, colourful, black and white, is it photography, is it punchy, edgy, minimalist, etc. What is the subject matter of your work, is it themed? Of the venues you imagine your target customer visiting, which venues might also be a possible fit for your art. Your ability to imagine your target customer will help you to refine the profile of the venues to consider. For example, there are many different types of hotels in a city. These range from 3 stars to 5 stars, some are located on the outskirts of the city and others are in the centre of the city. They have a specific brand to attract a certain type of clientele. You need to identify the key characteristics of the specific venue you imagine your target customer would frequent.
Step 4 – Make a shortlist
Once you've made a list of the criteria that would attract your target customer, you now need to get on Google and identify actual businesses in your target geographical areas that match your target customers preferences. Once you have a list of these businesses critically evaluate each one to consider whether your work would be a good fit for that particular venue.
For example, you might think of a really trendy coffee shop with great staff right in the hottest area in town. Brilliant! But then you go online and you look at the photos of the interior. You create 2mx1m abstract paintings and the café is half the size of your downstairs bathroom, and every inch of wall space is taken up with shelves and fittings. What does this tell you – this business does attract your clientele, they have a great brand which you would be proud to be associated with but it's not a practical fit for your work, so you'll have to rule it out and move onto the next venue on your list. As a result of step 4, you should have a shortlist of actual venues with the right brand, reputation, suitable space and aesthetic for your work (i.e. your work will compliment or fit in within the venues existing brand aesthetic).
Step 5 – Define your Pitch
Next pick the venue that you would most like to work with. The business with the type of brand and reputation that you would be proud to be associated with. Well that's the venue you start with! Find out as much as you can about the business. Identify the business owner and get their email address. Understand their values and what they are passionate about. Now start to write your pitch to approach the owner and ask them if they would be interested in showing your work. The pitch is really important. The owner of the venue is also a business person so any proposal has to be commercially beneficial for them also. You also need to identify an angle – the commonality between what both of your businesses are trying to achieve.
The pitch must be professional but personable. Don't be afraid to let them know what you admire about their achievements and outline a proposal which will be mutually beneficial for both of your businesses. For example, you could suggest hosting a joint competition on their social media channels to help promote your work and their venue. You could arrange a launch evening to help attract new customers for their business on an evening that may typically be quite or slow. These proposals will not cost the business owner any money, it will help promote their venue, introduce new customers and ultimately generate additional revenues.
Your proposal has to offer the business owner a win / win at no extra cost. Work on your pitch so its short, respectful, from the heart and clearly outlines the benefit for them as a business owner. Make it clear that you are not asking the business to purchase your artwork, you are only asking if they would be willing to display your artwork for a specific period of time. Once you are happy with your pitch, send it in writing and attach some images of your work and a link to your website. Also include an offer to meet with them face to face to discuss in more detail. Now be patient and wait. If you don't hear anything within 2 weeks, give them a call to see if they had a chance to review your proposal. Make sure you follow up.
If you've done your research you should get a positive response. Make sure you remain professional throughout the partnership and deliver on your promises. This approach not only means that you are getting your artwork into places you are proud to be associated with, you are also networking and building invaluable partnerships with fellow entrepreneurs. Good luck.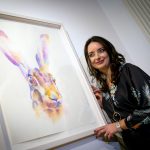 Gill O'Shea is an award-winning Irish artist based in Dublin. In late 2016, Gill launched her art business 'Dabble in Art' offering art lovers a range of original paintings, limited edition fine art prints and commissions. She is a member of the Watercolour Society of Ireland and the Dublin Art Society. Gill will be exhibiting at the Dublin Horse Show and Art Source 2018 at the RDS later this year. To find out more visit Gills online studio – https://www.dabbleinart.com/