I first met Elaine from Zazzle when I noticed she signed up for the Abundant Artist mailing list. I reached out to her and we had a great conversation about helping artists earn more money. Elaine is in charge of getting more artists to sell their work through Zazzle.com, as well as forming partnerships with other companies. She was very professional and my impression is that Zazzle works very hard to make sure that its artists find success. If you have experience selling art on Zazzle.com, let others know how it went in the comments. I was not paid for this article.
In today's economy, it can be extremely difficult to make a living as an artist! Zazzle offers a way for artists to showcase their work on hundreds of different products and let us take care of all the hard work (manufacturing, shipping, customer service, payments). Zazzle brings 20,000,000+ monthly viewers from all around the world to your artwork. Creating your own customizable store on Zazzle is absolutely FREE and extremely easy.
What Zazzle Offers
FREE fully customizable stores to showcase your work
15% referral rate for any customer you send to Zazzle + up to 17% additional Volume Bonus payment
Hundreds of products to put your artwork on ranging from real US postage stamps, canvas prints, invitations and business cards to shoes, iPhone cases, necklaces, t-shirts, mugs and even skateboards, just to name a few
20+ million monthly shoppers to view your work
Bulk Image Uploader to upload many large image files at once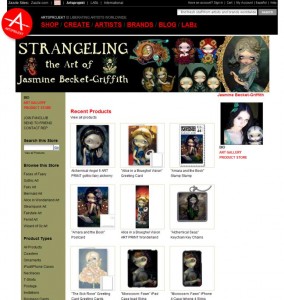 How Zazzle can help you sell your work
Weekly Seller Newsletters – you can read tons of tips and advice in the archived newsletters!
Entire sell section with tons of tutorials and guides on everything thing from creating a product using our design tool, to where and how to promote your work.
ProSeller Program with special benefits
Link building tools for your website or blog
Flash panels, blog panels, banners
Design Contests
Zazzle forums where our amazing ProSellers and staff give pointers and answer questions and help you make money with your art!
Hi, it's Cory again. I just want to interject and let you know that even though Zazzle offers many great resources to sell your art online, they are just one channel. I spoke to several artists who are selling their work through Zazzle, and they all let me know that to be successful, you have to do more than just put your art on Zazzle.com. Successful artists use Zazzle, their own website, and many other channels to sell their work. Having your art in as many places as possible is a good thing!
Here's What a Few Zazzle Sellers Have to Say about Their Experience…
"WOW! Thank you for changing my life since 2005. My sales have increased every year. With your easy-to-use referral tools and helpful tips, I'm well on my way to earning even more this year. With my many stores here on Zazzle covering all kinds of designs and subjects, you have made it possible for me to leave my full-time professional career for someone else in need of a job during a bad economy."
— Trevor – TDSwhite
"In addition to creating, marketing and selling designs for my own brands, Zazzle's referral program is a great way for my business to earn more money. And with official merchandise from world famous brands like Star Wars, Hallmark, Disney, Harry Potter and more plus the quality content from international artists, illustrators, designers and photographers there is an endless opportunity to generate referral income and increase my earning potential."
— Debbie – TheSpottedOlive
"The entire process from shop set-up to creating products, to cashing royalty checks is simple, intuitive and revolutionary. I'm a self-taught graphic designer making a living full-time with my Zazzle stores, and I have to say it's such a great feeling to wake up in the morning to 5 or 6 "Sold!" emails! Zazzle has definitely changed my life."
— Valerie – BeezKneez
How to go from Newbie to Zazzle ProSeller in no time
1.     Create your store – Sign up for an account on Zazzle and start your first store that will be a virtual gallery of your work
2.     Create products – Use our tools to upload your images, create hundreds of products and post them for sale
3.     Tags and Descriptions – These are extremely important! Be sure to add thorough and relevant tags and descriptions for all your products so that customers can easily find them on Zazzle and also on search engines like Google.
4.     PROMOTE! – The best way to start seeing significant sales is by promoting your work online and offline. Send an email to friends and fans, blog about your products, link to your Zazzle store from your website, Facebook, tweet it, etc! You'll even earn a 15% referral payment if you refer a customer to Zazzle! We also offer free blog panels, banners, and link-building tools.
5.     Participate! – A great way to know what's new at Zazzle and learn all of our tips and tricks is to subscribe to our seller newsletter, stay active in our forums, "like" Zazzle on Facebook and enter our contests.
Things to Keep in Mind as you Begin Creating Products
Design with a customer in mind – You should be able to immediately answer the question "Who would buy this product?" For example, if you created a mug with a painting of a dog on it, you should be thinking about a dog lover.
Keep adding products – Don't just create a few products at the beginning and then forget about your store! Keep creating new products around different holidays, events, themes, etc to appeal to many types of customer.
Tell People about your new products – Show off your designs and fancy customized store through email, Facebook, twitter, personal website or blog, and any other online or offline channel that you can think of! Best part of this is that if you create referral links, you will earn an additional 15% of each sale!
Think at least 1 month in advance – If you plan on designing for certain holidays or events make sure to have your products up in your store at least 1 month before! That is when we see the most sales.
Additional feedback I got from interviewing artists who are having success on Zazzle
Don't jump on sales bandwagons – make the art that you are good at making. Just because you hear someone else is selling lots of puppy mugs, don't go creating puppy mugs if you're not good at it and don't want to do it.
Just like any other site, there are copycat artists on Zazzle who try to pass their work off as original. The Zazzle staff will take it down if notified, but some artists have felt that Zazzle could be more proactive about preventing copyright infringement.
Sometimes Zazzle changes their layout and functionality without warning. Make sure you come back to the site frequently so that you are familiar with how everything works, or you might get frustrated.
Take a partner – managing Zazzle and other online marketing sites can be a lot of work. If you have someone you can work with, then you can spend more time creating.
The Zazzle staff is really helpful & approachable. Several artists mentioned that they received personal help and attention, which is pretty amazing considering how much business Zazzle is doing.
Any additional thoughts? What has your experience with Zazzle been like?