Should I frame my artwork myself when selling prints and originals online? This is a very common question in the TAA community. This is an important decision to make for the sake of your art business- consistency is essential, and the ability to at the very least point your collectors toward quality framing options if not do it yourself is important for appearing professional and competent.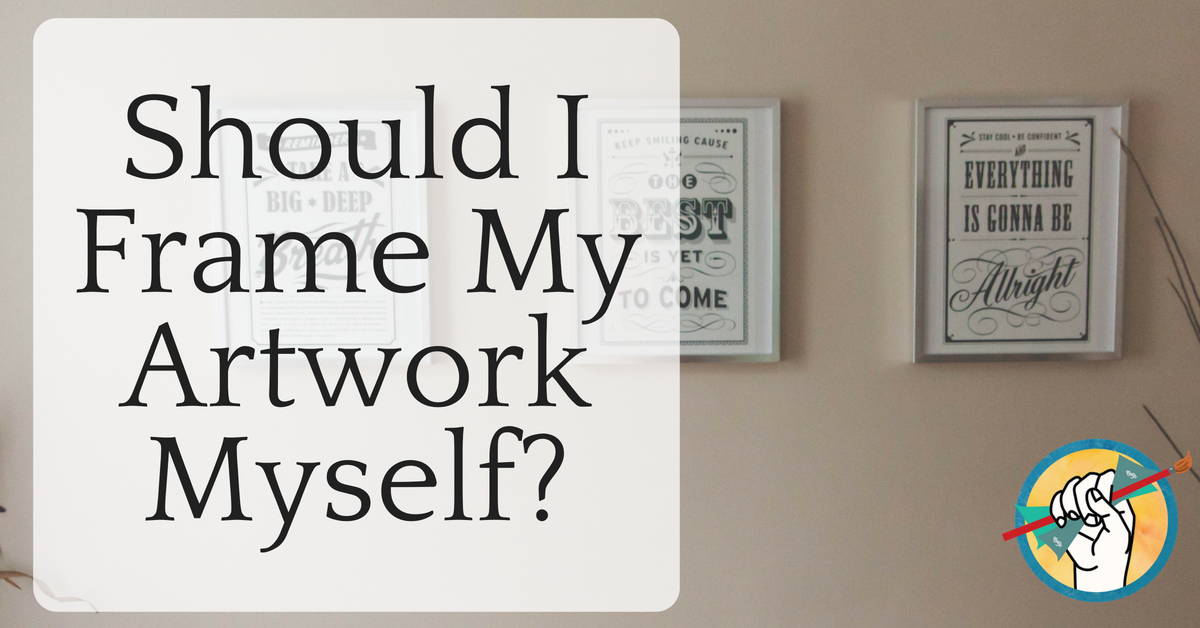 Why to Frame Your Artwork Yourself
You Have Maximum Creative Control- If the thought of your artwork in an ugly or ill-matching frame keeps you up at night, make it a part of your creative process. Some artists choose to pick out the frame first and let the color and style inform the composition of their pieces. Make framing part of your workflow to ensure that wherever your art ends up hanging, it's going to represent your vision from start to finish.
It's Easier for Your Collectors- It's so much easier to buy artwork that arrives ready-to-hang. It eliminates the sometimes intimidating and time-consuming step of finding the right frame. Do this work for your collectors and they will thank you for it!
You Look Like a Professional- Knowledge and helpfulness about framing with give your collectors confidence in you as a professional. You can even offer to install the work yourself if you want to take it a step further.
Why Not to Frame Your Artwork Yourself
It Takes More Work- This doesn't really need to be a downside, if you get it down to a system. Some artists, like Owen Garratt, choose to buy the same frame in bulk. This is also work you can delegate.
Higher Upfront Cost and Higher Prices– You'll need to eat the initial cost of the frame, then factor it into the final price of your work at a markup. This should not be an issue once your work is in demand, but for artists just starting out this may feel prohibitive.
Shipping Takes Extra Care- Many artists are justifiably concerned about sending glass through the mail. You'll need to take extra care to ensure that it arrives safely. One popular solution to this issue is plexiglass.
The Bottom Line, and a Few Tips
Provided it applies to your work, framing is something you should take into consideration from the moment you start planning a new piece. It may feel like a headache at first, but figuring out what will work for you and your art will not only make you look more professional, but it will result in happier collectors which is, of course, great for you.
Many artists choose to offer framing as an upgrade- this is an excellent and professional option that allows for collectors with a broader range of budgets to access your work.
Here are a few tips and workarounds for you as you figure out the best way to approach framing for your art business:
-Get creative if budget is an issue for you- shop thrift stores for cool frames, or buy in bulk at a wholesale price if you know you'll be able to move them.
-Sell your work matted and ready-to-frame as an in-between option. This option is less expensive for you and your collectors, but significantly more professional than offering nothing at all.
-If you don't want to frame your artwork yourself, consider compiling resources to give your collectors to help them get it framed and thus care for your work. Include suggestions for where to buy frames, and what kind will look best and most effectively protect your work. You can compile a printout of resources to send in the mail with the artwork, or send it with links as a thank-you email.
Do you have tried-and-true tips to share with the community on framing your work? Please share in the comments!