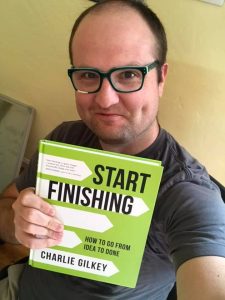 It's hard to write about the work your closest friends do. Charlie Gilkey, founder of Productive Flourishing, is literally a warrior-philosopher, and one of the very best people I know. I don't know how to express how proud of him I am for this book.
Charlie Gilkey has been a secret weapon for dozens of entrepreneurs and thought leaders you definitely know. His work has been influential for years, and I'm excited to see his second book hit the shelves and get the advance praise it really deserves.
We've had Charlie on a guest teacher for a masterclass for The Abundant Artist Association. Members of the Association can access that training from the members page here.
I had the pleasure of getting an advance copy of Start Finishing* and found that Charlie's book is exactly what so many creative people need. I'm a performer, writer, serial entrepreneur and marketer, and find that many of my fellow artists and creatives struggle with the organizational structure it takes to finish projects.
Whether its simple concepts like time-blocking, building a success pack, or mindset shifts that show you can change your productivity by having compassion for your own creative quirks, Charlie shows that he has deep experience working with creative people of all stripes.
Start Finishing is a game-changer for Creative People. The productivity genre is filled with hacks, tricks, and half-baked strategies that oversimplify productivity or turn productivity into an overly-complex organizational challenge that most people don't have the patience to learn. Start Finishing reflects a paradigm shift in thinking about productivity that is grounded in both real-world application and solid academic theory.
If you struggle with finishing things, read this book and implement what you can. Then read it again and implement a little more. It's not scary, and it is full of useful insights from some of the top minds in the business world who share their insights into working within Charlie's Framework.
The book is available pretty much everywhere books are sold. Here's a link to the book on Amazon*.