In February of 2018, we surveyed over 1,000 artists to ask them what their favorite website builders are (check out the full post: The Ultimate Guide to Choosing an Artist Website Builder). In our evaluation, Squarespace came ahead as the most popular website builder due in large part to its intuitive drag and drop functionality, and the ease with which you can quickly create a visually appealing site.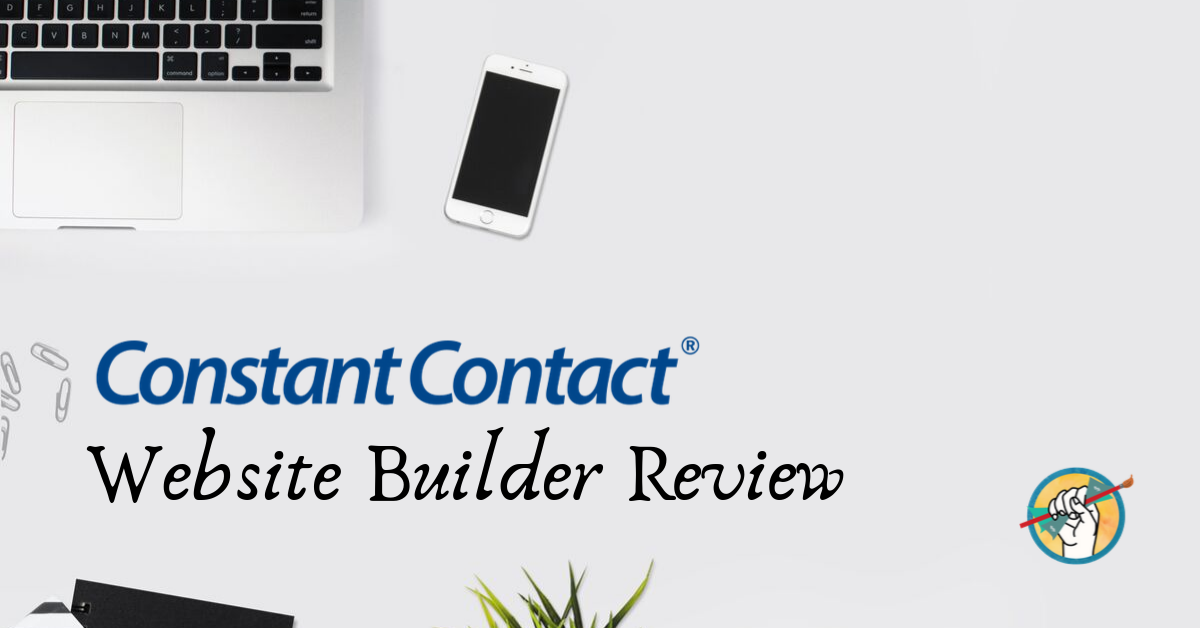 Since that time Constant Contact, a popular email marketing platform, has unveiled their new free website builder. We sat down and worked through the process of creating a free website with the Constant Contact builder to help you determine whether it may be a good option for creating your artist website. We created a free website, but it should be noted that starting at $10/month you are given the option to connect your domain, increase the number of products in your store (the free version allows only 3), and access increased support.
First Impressions of the Constant Contact Website Builder
The builder initially functions like a Setup Wizard you may run through to install software on your website, asking you questions about the category and name of your website. Being forced to choose from a pre-determined set of categories may be irksome for those among us who typically resist being labeled or categorized. That being said, there are a lot of options to choose from.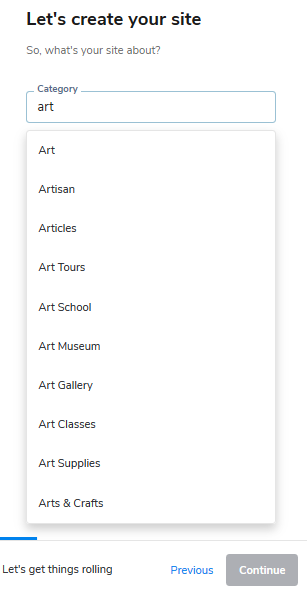 At this point the wizard asks you to choose a stock image or upload your own. We would recommend a quick breeze through the setup wizard, because later on you'll have the chance to make more detailed changes to all the features of your website. There really isn't a need to spend too much time deliberating over details at this stage. However, similar to the category limitations, there is a very limited number of color palettes to choose from. Artists may find the limitations frustrating.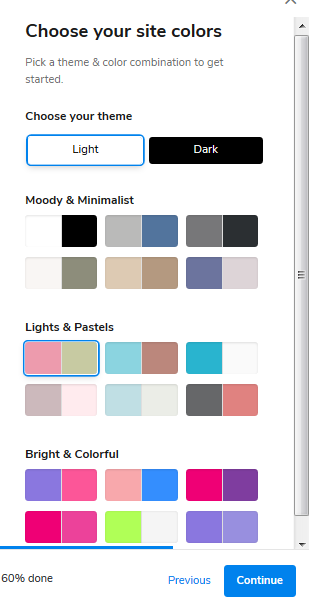 Once you've run through a few more details including contact info and a font style (once again, limited choices), you will create an account to save your work and choose whether to continue with the free version, or upgrade.
Should I Upgrade?
The most important reason to upgrade your Constant Contact website is going to be the domain. For just $10 a month Constant Contact allows you to either connect your existing domain, or choose a unique domain. Without the upgrade, your website domain will read yourname.constantcontact.com. While it's fine for hobbyists and beginners finding their footing in the world of online art, ultimately it's unprofessional and difficult to be taken seriously without a proper domain.
The Design Experience
There is another significant reason to upgrade, which we'll get to in a minute. But how is the overall experience of creating a website with Constant Contact? We were pleasantly surprised by the wide array of options available to really customize your site. The pre-built page templates take hours off of the time it will require to get your site up and running. And depending on what kind of sections and pages you need on your site, you can choose from pre-built templates for:
Contact Form
FAQ
Blog
Address
Business Hours
Call to Action
Countdown
Cover Image
Event
Facebook
Gallery
Media
Paypal
Store
… and more. Each of these templates allows for design edits such that there aren't too many limitations to how you can use your site.
The editing functionality is extremely easy to use, even for artists who cringe at the idea of creating their own website. Each section or page has multiple layout options, and turning features on and off is done with a simple button toggle. Constant Contact clearly intended for their website builder to be accessible even by those completely new to website design.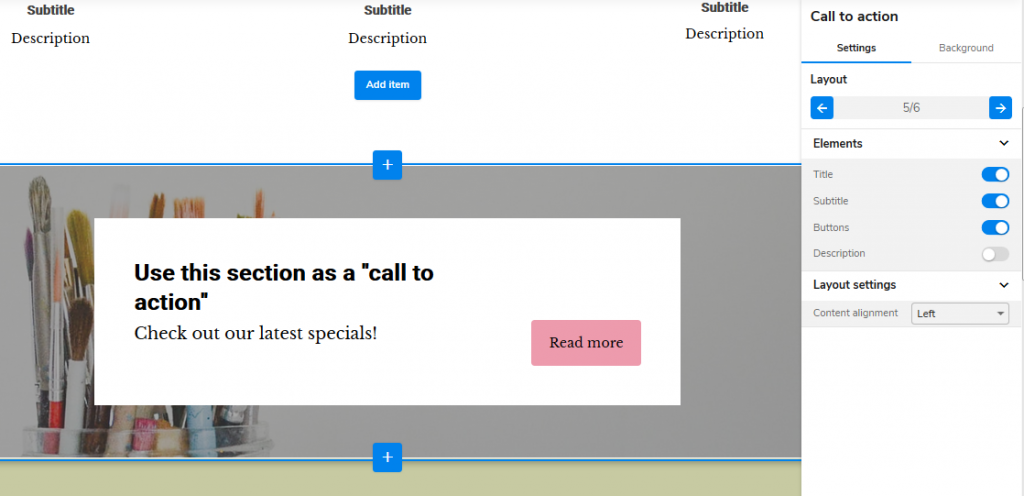 Setting up a beautiful gallery is incredibly easy. Unlike the store feature, you can choose from portrait, landscape, or square for your aspect ratio, and include as many or as few images as you want.
The Store Feature
The store dashboard is easy and intuitive to use. Within the dashboard you have the ability to set the product style, details, price, and shipping type (free, flat rate, or per-product). The image uploader crops all listing images to a landscape ratio.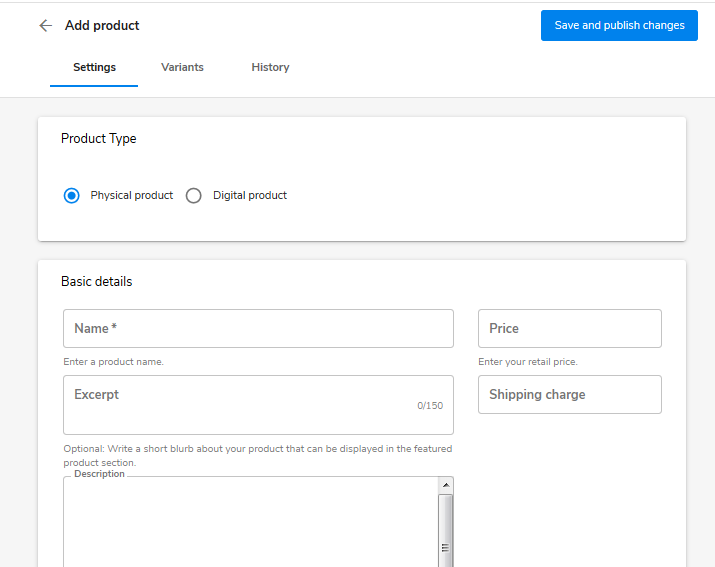 Constant Contact pushes Paypal as its primary payment portal, although it also offers Stripe. Unless you upgrade to the Business Plus plan for $20/month, Constant Contact takes a 3% transaction fee per sale on top of any applicable payment processing fees incurred from Paypal or Stripe.
Overall the store is fun and easy to set up, but the free version comes with a massive limitation: only three products are allowed. Attempting to add a fourth product will redirect you to the upgrade page.
$10/month will provide you with seven more product slots. This still feels extraordinarily limiting for an artist trying to sell their work on their website. It may work out if you are an artist that primarily works on commission and only need a couple of product slots for the different commissions you offer, similar to the way many artists sell commissions on Etsy. Otherwise, be prepared to shell out $20/month for the Business Plus upgrade, which not only removes the Constant Contact transaction fee, but also allows unlimited products in your online store.
Should I Build My Website With Constant Contact?
If you already use Constant Contact for managing a mailing list and want to keep all your stuff in one place, by all means create your website with Constant Contact! Although the store limitations and extra transaction fee are annoying, they aren't unfair or out of the ordinary. The available analytics seem to be pretty robust, even at the free level. We do recommend that if you are serious about using your website to sell your art, you upgrade to at least the basic Starter plan in order to have a proper domain.
The website builder is simple and intuitive enough to make designing your website easy and fun, and the upgrade prices are right in the middle of two of the other most popular artist website builders: Constant Contact is about $25 more expensive than FASO, and about $25 cheaper than SquareSpace. So it may hit the sweet spot for some artists, especially if they already use Constant Contact. Constant Contact is much more user-friendly and less time-consuming than the more advanced website builder options like WordPress and Shopify. If you want to take a crack at building your own site but don't enjoy the challenge of getting into the HTML/CSS or dealing with plugins and other advanced integrations, you may want to give Constant Contact a try.
Have you built a website with Constant Contact? How did it go? Love it or hate it? Let us know in the comments!