From Cory: When Martin pitched this guest post to me, I thought it was a good illustration of a principle that we've been teaching here at TAA for a long time. Storytelling is important. Here's Martin's take. 
Question for you: Why actually do people buy art?
Most people would answer along the lines of status appeal; or cultural appreciation; or aesthetic awareness and so on. Valid reasons.
Then there's the more utilitarian type of motivation to buy art: The need to liven up a street or a room; or a need to provide a visual and emotional breath of fresh air for employees.
Maybe simply something to make your house more beautiful or fill that empty space under the staircase.
But all those reasons are sort of secondary.
Behind all those, there is one central, umbrella-type reason, and it's a psychological thing that's deeply engraved in our subconscious. Has been since ancient times.
Let me illustrate with a story
Years ago, I was a traveling bespoke tailor.
I made extremely luxurious and very costly suits by hand, and I flew to Brussels and Amsterdam several times a year to attend my clients.
I'd never considered marketing my suits in London though, because there are literally hundreds of tailors there.
Given its proximity and the level of wealth there it would have been fun to find clients there, but it's essentially the tailoring capital of Northern Europe.
Nobody was going to fly me to London to get a suit from me.
And yet, one day a London banker mails me: "Martin, I want a suit. When can you visit London?"
So I flew out there, measured him up, and took a deposit for a fine two-piece.
When business was done he invited me to have pint of ale and some steak-and-kidney pie.
As we enjoyed the comfy quirkiness of an English Pub, I asked him why he had selected me, instead of one of the many London tailors.
He told me:
"I've tried a few tailors in London – some ok, some less ok. I felt like trying someone new, and I liked your story when I read your blog. That's all, really."
Of course, I had it easy: I used to be a monk, and I learned my craft in a monastery. Not everyone has a story like that.
But still, aside from that story: my suits were of a price and quality similar to many other tailors, and each of them was a far easier option for the guy.
And yet, it was my story that pulled him over the line.
Makes you think, doesn't it?
So What Really Drives People to Buy Art?
The answer is simple and logical:
People buy art because it makes their lives and themselves more interesting.
People have a deep need to enrich their lives, to have interesting things to talk about with others.
We need stories in our lives, because stories make our own story more interesting and more fun.
We really, really need to have something to say.
Now before you think I consider art comparable to Kardashians (or Biebers or Hiltons or whatever) in any way: I don't.
Art is art and it's of enormous social and cultural value.
Disposable pop culture by contrast has nothing to do with art.
They do share one thing though: They are both incredibly popular, each with their own audience.
Simply because human beings need to have interesting and remarkable things in their lives.
And that need is so deeply rooted, that for some people even Kardashians will do.
Maybe You've Never Been a Monk, But I Guarantee That Including Your Story in Your USP Will Sell You More Art
Really, it doesn't matter who you are, where you come from, what you've done or what your story really is: you need to tell it, in some way or form.
Whatever part of it you tell, in whichever way: it's incredibly important that your story shows in your Unique Selling Position.
Even if your story is in itself not all that unique or remarkable, you need to tell it and I'm about to explain why.
This is important: Don't think for one moment that your story isn't important or remarkable enough.
Your story is important. It is remarkable.
Not because of what that story is, but – and this is the crux of the whole idea – because your story makes you more human. Telling your story makes it easier for people to identify with you.
You become more relatable to others when you have a story, any story (as long as it's true of course).
People will be more endeared to you; people will like you more because of your story.
And that is the great importance of it all: As the good folks at Copyblogger keep telling us: People need to know, like and trust before they decide to buy something.
Your story largely takes care of that liking part. Trust me.
Even if you feel that your story isn't spectacular or doesn't matter.
It's your story.
It matters. It helps people like you more; it helps build trust and engagement.
Your story helps you sell your art.
Tell your story.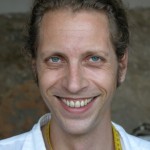 Author bio: Martin Stellar is technically a copywriter and marketing consultant, but really he's one of those people who can't help trying to motivate and inspire people. He blogs at www.martinstellar.com, where much motivating and inspiring takes place, and he's usually good fun on twitter.