Four years ago this month, TheAbundantArtist.com was born as a simple blog. A side project while I was working at an internet marketing firm, TAA was my answer to my artist friends who were asking me how to sell art online. It was an exploration of the idea that artists must be poor to make good art.
Obviously, that's not true. 😉
In my time as a missionary with the Chinese community, I learned that they give away gifts on their birthdays. I'd like to honor that tradition today by giving away a bunch of cool stuff for TAA's birthday.
Right Brain Business Plan Stuff
If you haven't seen my interview with Jennifer Lee about business plans for artists, you should check it out. I've got a few copies of her book, the accompanying workbook, the Dream Box Kit, and some other fun stuff.
Pics!
Wild Money Stuff
Luna Jaffe is an artist, certified financial advisor, and she has this neat book that is all about teaching creative people how to handle their money.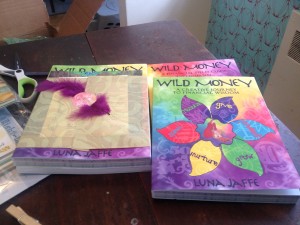 How to Get It
1. Leave a comment letting me and the community know what your favorite thing about TAA.com has been over the last four years. It might be learning to sell your art online, finally believing in yourself enough to make it happen, a particular blog post or class – whatever! Extra points if you use your artistic voice to do so – images, poetry, etc. OR
2. Share TAA with someone you care about! Whether it's via email, social media, printing out and posting on someone's wall, or broadcast on TV (anyone?), if we've affected you in a positive way, please share that change. Again, extra points for doing so in a creative, artistic way.
I'll pick the winner in a totally arbitrary way sometime this week and follow up with you to get your address for shipping.
Thanks again for being a reader, fan, customer, and friend! You've made my life super interesting over the last four years.