You can live the creative life you dream of even if you aren't following the path of traditional gallery representation. Regardless of the way you choose to pursue your goals as an artist, art fairs have something to offer you. Even if you aren't ready to take the plunge and apply to exhibit your work at one, simply attending can be hugely beneficial. They give you a chance to get out of the isolation of the studio, rub elbows with successful pro artists and motivated collectors, and get a solid overview of the current state of contemporary art and where you and your work stand in relation. We've put together a list of the top fine art shows around the country. Take a look!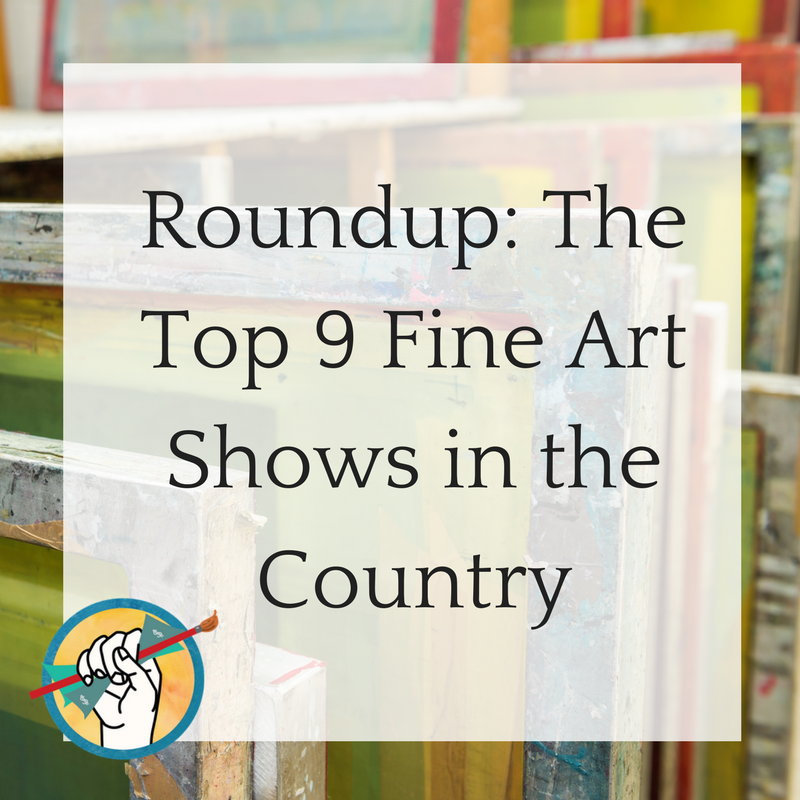 Gallery-only Shows
These shows are for gallery-represented artists only. Rather than artists submitting their work to the show independently, their gallery applies for the show and represents them.
Art Basel exhibits annually in Basel (Switzerland), Miami Beach, and Hong Kong. The show features significant work from well-known names in Modern and contemporary art as well as emerging artists. The show spans all visual media including paintings, sculptures, installations, photographs, and film, providing a comprehensive overview of the current state of art across the world.
Frieze runs in London and New York is open to commercial galleries that show at least 4 exhibitions per year and have an international program and a demonstrated commitment to artists.
The Armory Show (New York) features over 200 international galleries and shows both 20th and 21st century artworks in a primary gallery show as well as several areas of the show that feature more specific themes such as 20th century work, recent work from emerging artists, and large-scale installation artworks.
Scope is the largest emerging art fair in the world, exhibiting in New York, Miami, and Basel. The show focuses on younger international galleries and emerging artists, which has gained the show a reputation for identifying new global visual trends.
Red Dot Miami, which runs during Miami Art Week, exhibits over fifty galleries featuring both emerging and established artists. Artworks include painting, sculpture, and photography.
Open Juried Shows
The following shows are among the country's top art shows that are open to all artists, including those unrepresented by a gallery. Artists submit their own work for consideration.
BAM, the Bellevue Arts Museum Artsfair, which runs in July in Bellevue, WA (a growing and affluent city east of Seattle), features arts and crafts covering modern, traditional, and emerging work. Art allowed includes 2-D and 3-D mixed media, painting, metalwork, wearables, wood, furniture, glass, and more. The submission process can be completed online.
Cherry Creek Arts Festival is a large outdoor arts festival in Denver, CO that includes food trucks and booths as well as a concert stage. The show touts a higher-than-average art sales potential due to the affluent and art-educated locale. The show offers an Emerging Artist program for early-career artists new to exhibiting who can apply for a reduced booth rate and mentorship for the duration of the arts festival.
Context is "dedicated to the development and reinforcement of emerging and mid-career artists". Context shows both galleries and independent artist exhibitions, and is the concurrently-run sister show to Art Miami.
La Quinta Arts Festival features over 200 artists in every art medium and price point. According to the festival website, the event has "earned respect and accolades for its ability to connect the "right buyer" with the artist". The La Quinta Arts Festival has the lowest booth fee of any of the shows listed, in exchange for a 20% show fee on all sales made at or as a result of the festival.
Ready to take the art show plunge? Maximize your profits and minimize risk with Owen Garratt's Ultimate Guide to Profitable Art Shows. Sign up now and get the course for 50% off!