What's the difference between an art show and a craft fair? Why is it so important?
Identifying the differences between the two types of shows isn't about making a value judgment or asserting that one is better than the other. On the contrary, they can both be fun, great for networking and attracting new customers, and incredibly lucrative for your business. It's all about finding the right match for your artwork.
(Check out our list of the top art shows across the country.)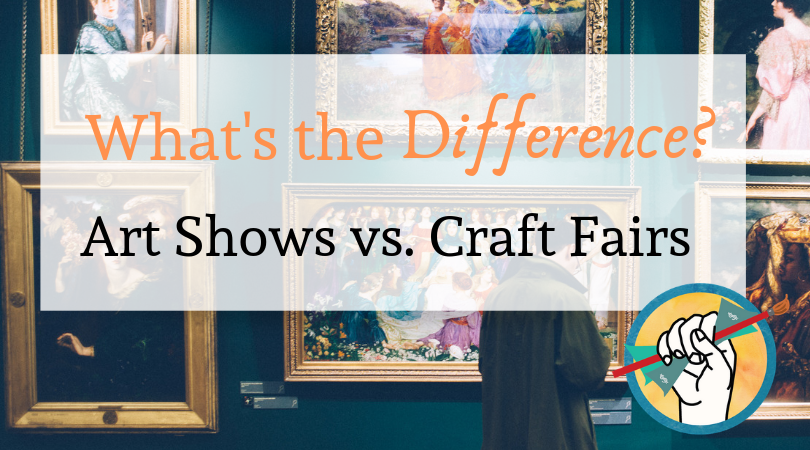 The risks of choosing the wrong kind of art show
Show your work at the wrong kind of exhibition and you're going to waste a lot of time, effort, and money. This can lead to pretty severe demoralization. It can be hard to bounce back from a bad show if you're not surrounded by a helpful community of supportive fellow artists. And this is assuming the art show is still a decent one. (P.S. The risks are different if the art show itself is poorly run: Is an Art Show Ever a Bad Idea?)
One distinction to make at the outset is that a craft fair doesn't imply a lower degree of skill. On the contrary, at craft fairs you're likely to find artists who have been honing their craft for decades and work at a very high degree of skill. As former MoMA associate curator Mildred Constantine put it, "Craft is the mastery of techniques and materials; art is the investment of spirit in whatever materials are used". Do you prefer to focus on honing your mastery of techniques and materials and feel less adamant about the message, or do you have a burning vision to share with the world, and care perhaps slightly less about the medium that carries it? You may be somewhere between these two on the spectrum; it's simply a way to begin thinking about where your work fits into the larger art world. (You can, of course, have a coherent story to tell your collectors either way.)
The difference between art shows and craft fairs
| | |
| --- | --- |
| Art Shows | Craft Fairs/Bazaars |
| Potentially higher cost of entry | Often lower registration fees and booth fees |
| More likely to be juried/curated or require that artists have gallery representation | Low or no barriers to entry |
| Fine art paintings/drawings, sculpture, etc. | Arts and crafts including paintings and sculpture but also jewelry, textile crafts, foods, etc. |
| Less likely to allow other vendors besides artists | May allow direct sales, antiques, and other types of vendors |
| Attracts collectors | Attracts shoppers |
| Exhibition around a particular theme | No theme, or the theme may be a holiday |
If your work seems to fall somewhere between the categories, that's okay! You can decide where your art fits best by asking yourself some strategic questions:
What does your body of work look like?
How do you talk about your work?
What's your vision for the future of your work?
Where do you want your work to be that it isn't yet?
Do you sometimes translate a common theme across different mediums?
How far along in your career are you?
How much do you sell your work for?
Do you take commissions?
Whether you decide to apply to a juried art show or an annual Christmas craft fair, it's important to ask some other questions about your readiness and the quality of the show. You can find a list of those questions here: Should You Exhibit in That Art Show? 10 Questions to Ask
How did you come to realize where your artwork fits, between fine art shows and craft fairs? Let us know in the comments!