You don't have to do it all yourself.
This is especially true of creating your artist website. There are many options available to you if you're up to building your website yourself (we put together an Ultimate Guide to Choosing an Artist Website Builder to help you decide).
You may decide, however, that you don't have the time or the desire to dive into such a large task, especially if it falls outside your skill set. In this case, you can hire a web designer or developer to do the work for you. Here's how to do it.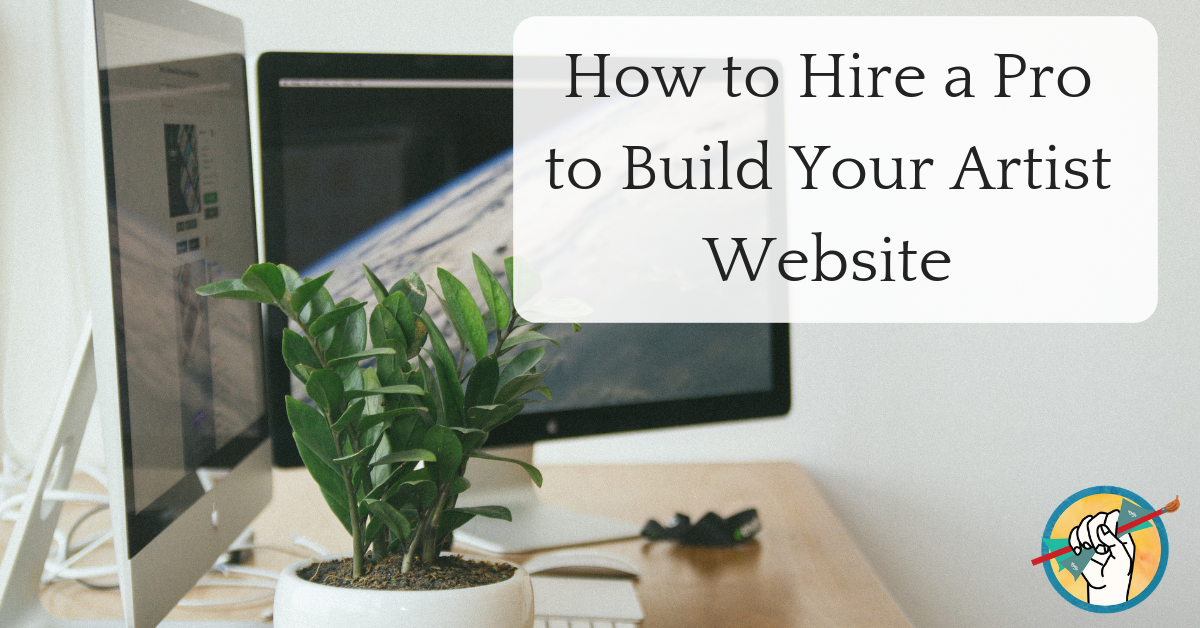 When should you hire a web designer?
You're finding building your website excessively stressful or you just don't have the time.
You want a custom design to match your branding.
You want special features, or an appearance not available from a drag n' drop website builder or template.
When should you hire a web developer?
You want increased connectivity between your website and your shopping cart/apps/etc.
You want to sell complicated products (size/color variations, customizable items, etc) or digital products like e-courses.
You're having problems with your hosting, strange error messages, things aren't connecting the way they should with your existing website
Pricing guidelines
Determine your budget before you begin; what do you absolutely need to have a professional do for you? What could you let go of if it doesn't fit your budget?
Before you balk at a high price tag, consider how much time this is saving you (how many paintings could you produce during that time?) and how much your time is worth (what could you sell those paintings for?)
A custom built website will start around $3,000-$5,000.
Need to cut costs?
Hire a designer, then implement the design yourself. In that case, a pro designer may run you only $1,000-$2,000.
If your budget is too tight to hire a quality developer or designer, your next best option is to use a custom template from Shopify or WordPress. A custom template from Shopify will cost you between $140-$180. Popular and highly customized WordPress themes like Divi (see our Divi theme review here) will run you about $55.
How to source a web designer or developer
Word of mouth is best! Ask fellow pros whose websites you admire for their recommendations.
Freelancer platforms like Upwork and 99Designs. (Here's a helpful breakdown of the various freelancer platforms and which you should use if you go this route.)
A note on freelancer platforms: the quality you will find on platforms like Upwork will vary dramatically. These platforms usually provide ways for you to see how many hours a developer or designer has billed through the site in addition to feedback from past clients, but caveat emptor.
Some designers are also developers and vice-versa, but if you're looking for an all-in-one package to take you from blank page to beautifully designed and completely functional website, expect to pay more. You need to know what you want before you begin requesting quotes.
Bottom line
When making the decision to hire a designer or developer to help you build your website, you will do yourself a tremendous favor by entering in to this endeavor with a clear budget in mind and a list of exactly what you want. This list should include what you want your website to look like (lots of examples of beautiful themes here and here) as well as every page you want included, and any special functions or utilities such as eCommerce, live chat, contact forms, event registrations, etc. We even recommend doing a rough sketch of what your website should look like, so your designer can have a good place to start from.
If you need an artist website but don't have any idea what you would ask a developer to build for you, you'll want to take Artist Websites That Sell first. This short course is designed to help you discover exactly what you need out of your website. By the end of the course, you will have filled out a creative brief that you can present to your designer or developer (and they'll love you for it.)
Have you hired a pro to help you with your website before? How did it go?
Must Read: Do check out our definitive guide to an artist's website for further insights, The Ultimate Guide to an Artist's Website.