In February of 2018, we surveyed over 1,000 artists to ask them what their favorite website builders are. This blog post breaks down that survey and shows the most popular website builders among professional fine artists. We also break down the relative satisfaction with each provider.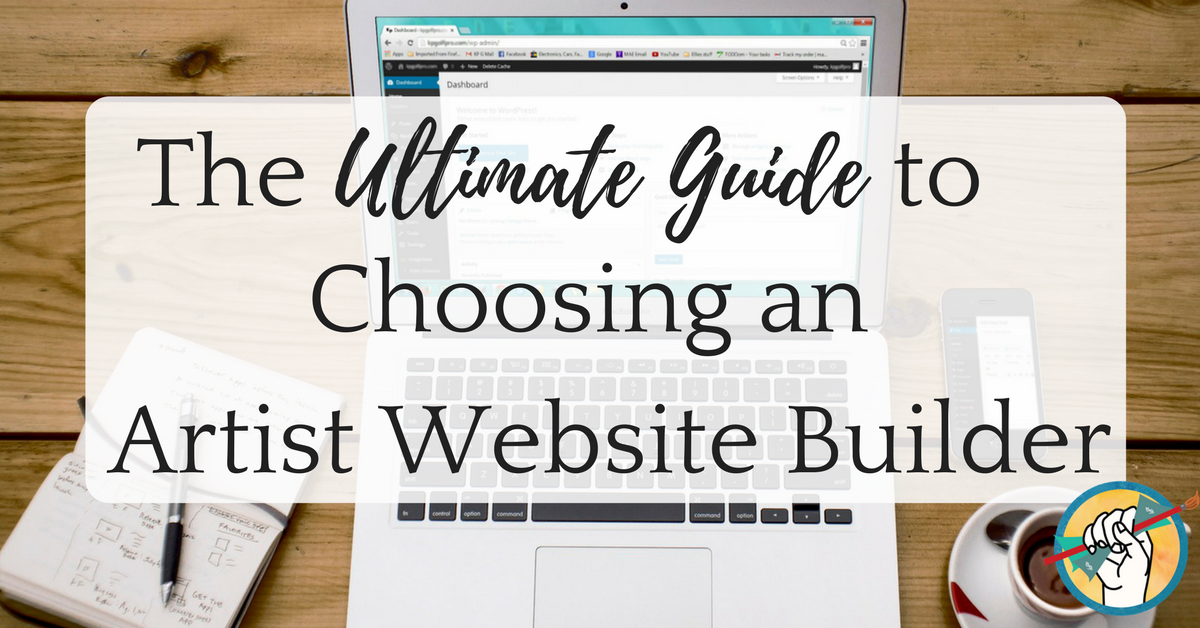 Preliminary information about the survey
Nearly 20% of the artists surveyed didn't have a website at all. That's surprising in 2018 and reflects a reticence by artists to adapt to modern marketing. This mirrors data from other well known surveys that show that many art galleries don't have a plan for digital marketing.
Of those who do have a website, 70% were built by website builders. The remaining 30% were custom built either by the artists themselves or by a web developer that they  hired. Artists shared that their custom websites median price was in the $2000 – $3000 range, with outliers ranging into the $15,000 range.
Most popular artist website builders
Below we break down each website provider, in order of popularity. We also asked each respondent to give us feedback on a variety of questions that indicate satisfaction with their website builder.
Squarespace
At 23% of users, Squarespace was easily the most popular website builder. It was also among the builders with the highest satisfaction rates, at 4.6 out of 5. Squarespace offers a free trial and extensive documentation. Squarespace makes building a website very easy. The Abundant Artist offers a course that will help you plan your website and gather your branding and marketing materials in preparation for building. Check out Artist Websites That Sell.
Quotes from users about Squarespace:
It's easy to update, has a clean/uncluttered design and is easily customizable so it doesn't look so generic, but I can add my branding to it. SEO is simple too.
Squarespace has many resources if one is intuitive enough to understand the logic from their references. If challenged, their support team is very helpful with guidance, screenshots, and further resources to help one succeed with their goal to build a website.
I had used both WordPress (designed by someone else but maintained by me) and Wix. I read reviews, chose Squarespace and couldn't be happier. Easy to use for a non-techy person; intuitive for the most part and when I really couldn't figure it out, great support thru chat. They do screenshot videos of your site to show you how to do the things you are having trouble with. Love it!!
Some design elements are limited, setting up can be technically challenging (ie. Connecting site with GoDaddy or integrating with Google Suite), does not yet integrate with POD sites like Zazzle (but they're working on it).
It can be a little glitchy sometimes. There is no stored library of images so you have to find and upload the same one multiple times if you want to use the same image on more than one page.
There is not yet an option to have the price displayed with the country's currency next to it. USD or NZD, for example.
Commerce end is a bit clunky and I had to create a work around.
Wix
At 11.68% of our artists surveyed, Wix is popular for its free trial and how easy it is to use. Its satisfaction rate of 4.27 out of 5 is just slightly less than Squarespace, and this is generally because it has fewer customization options than others. Wix also had a problem with being de-indexed by Google in 2015, and many professional developers have concerns with their underlying code. That said, it remains quite popular.
Quotes from users about Wix:
Really easy and intuitive. Tried Weebly for another site and it is difficult.
– easy drag and drop functionality – great for graphic designers wanting to fine tune the look. User friendly eCommerce with a phone app that notifies you when someone buys a product or sends a message. I also like the mail 'shout outs' and have swapped from using MailChimp to Wix for this too.
With no experience I was able to easily build and maintain an attractive site. There was no pressure to do it quickly due to their open trial period which took the stress away and gave me the freedom to figure it out. I also love how easy to attach images to a link which leads to the site I sell from.
Not enough capabilities for custom tweaks for mobile view.
If I wanted to change templates I'd have to start all over.
I can't change the template. Once you pick a template you're stuck with it. The work around is you can basically redesign it. The drawback is this takes time.
Not easy to integrate with a POD service – like Printful. Possible but NOT easy. Considering switching.
WordPress.com
At 11.07%, the hosted WordPress solution (as opposed to the self-hosted and more customizable WordPress software) is very popular. Its customer satisfaction rating is just 3.85 out of 5. More than 60% of responses said that WordPress.com is easy to use and inexpensive. But when we asked what people dislike, the most common responses were that there is a steep learning curve. This leads us to believe that many WordPress.com users are more tech savvy than the average user.
Quotes from users about WordPress.com:
There are endless templates and plugins so that I can modify and enhance my site as my business grows. Initially, I did all the design and setup. Two years ago I hired a web designer and a web developer to redo my site. I stayed with the WP platform. I can go in and do easy tweaks but I now pay them to design new pages for other offerings like courses and creativity retreats but I can add blog posts, images and ultimately manage my shop (it is a WooCommerce shop and is under construction).
Easy to use once you learn the basics. Many online tips from the team and from users. I can use a template instead of making up the whole website from scratch. It is free to use if you are just starting as an artist, but when you start to be serious about your business you can go for the paid version without ads. You can have a portfolio and a blog there and both work well. WordPress is a blogging community so you can follow and interact with many people who do art as well.
Would like to see better integrated online store feature, and would also like better integration with Google Analytics, not just the built in stats.
I do not dislike anything so far. But WordPress generally is for people who like to play with details and learn the settings. I learned on my personal blog all the tricks, so it was easier to stay on the same builder for my art website as well.
Well, you have to dedicate many hours to learn how to use it. Each template comes with different things to learn. When there are problems, you have to spend a lot of time finding answers in forums or YouTube videos.
Learning to build on WP the first time is a full time job. Hire someone if you can afford it or you will be spending all your time in front of a computer screen!
Weebly
At 10.66% of users, Weebly is popular, but its customer satisfaction rating at 3.7 out of 5 is the second lowest in our survey. They were recently purchased by Square, so major changes may be in order.
Quotes from users about Weebly:
It's incredibly easy to use, and has beautiful, customizable templates. It also has an app where I can track visitors, edit my site on the go, and most importantly see when someone writes to me through the contact form and respond accordingly.

It's easy to use overall. Physical, digital, and services options for products make it easy for me to sell paintings, downloadable items such as e-books, and workshops and classes. And it's easy to offer a coupon and to have multiple shipping options based on price.

Weebly is completely free if you need a simple website. It's so simple to use, and has a blog which links to social media. I love it. I initially had a Wix site offering the same level of service but you had to pay for even the most basic level. The customer service is excellent too.

Most everything other than above is clunky and often buggy, plus too many functions are costly add-ons without important functions – for example, you can pay for "abandoned carts" but cannot get the data on what people are leaving in their carts – pretty important in my opinion. Data downloads are not good because you cannot select what you'd like to download. No image library for prior uploads. Images have to be to particular specs for particular uses. Crazy.

The website's abilities are priced into different packages. It makes you feel like you're being nickel and dimed for services.

That it does not have a library storage of photos I upload. If  move or delete an image from 1 page, I have to upload it again.
WordPress.org
At 8.4%, self-hosted sites using the WordPress software have the flexibility that those who like to control every aspect of their sites crave. The customer satisfaction score of 3.8 out of 5 shows that WordPress is perhaps not the best fit for every artist. WordPress, by some estimations, makes up more than 20% of all sites. The ability to control every aspect of your site, down to the code, is great, but it creates traps that many artists find themselves spending more than 40 hours to learn how to overcome. For those who like the DIY model, we've done an extensive guide to the Divi theme, probably the best drag and drop theme builder for WP.
Quotes from users about WordPress.org:
I'm used to WordPress now so the thought of switching and going through a learning curve seems daunting! Also, WordPress is free and that's HUGE since I haven't sold much yet. It gives me the time I need to get up and running. In the future, when I can afford a webmaster, I won't care and would be willing to switch. However, I know that getting a website back that's fancy and complicated can be a huge bomb for a business. We've had that experience too. So I tend to choose webmasters who use WordPress or something that's on that level.

Enormous flexibility and support, and the independence of using one's own choice of hosting.

WordPress is easiest to get answers when you have a problem – just Google the problem and you get 50 solves. And for any template you use, you can get a video on YouTube that can take you step by step on how to set it up.

Can be customized to do anything unlike the other site builders I have used previously. I also am in complete control of everything to do with the site and not at the whim of a company trying to get more money out of me for extra functionality.

I use a theme (Headway) that is far too complicated for my needs. When I first started using it in 2010, it was much simpler. It's grown so complex that I dread making changes, even though I'm a reasonably intelligent and tech-savvy person. I'm grandfathered in with Headway so I don't pay a subscription fee – a recurring fee for the theme would have been a deal-killer for me – but I'm now afraid to get into the backend because I'll have to learn everything again from scratch, when I've already put years of sweat into it. And I'm overwhelmed by the thought of switching themes – what if I have to switch back and lose all my years of customization? So instead my website languishes, doing nothing. Other things I'm not fond of include managing security and backups. It can be a little heavy if too many plugins are used. It's tough to have a lean, fast-loading site if you don't know what you're doing.
Fine Art Studios Online (FASO)
At just 7.38% of our users, FASO makes up a very small proportion of our survey respondents, but FASO has been around for a long time. They have a customer satisfaction of 4.62 out of 5. A big part of that is their origin as a company specifically for artists. Their templates are designed for artists and they have artists staffing their support lines. The downside is their templates can be inflexible and don't connect well with third party services.
Quotes from users about FASO:
It was extremely easy to set up and get going. Since it was my first web site, that was a huge plus. I had been told that the back end was solid, and that was important to me. They have excellent customer service, and that has been greatly appreciated in the past when I had a question or problems.

It was easy to set up and it is easy to change things. They have a lot of templates to choose from. I have never had any problems with it. They also promote artists who use their products. They are continually making it better.

NOTE FROM CORY: there were more than two dozen responses saying this: most FASO customers have zero problems. We removed these and condensed down for ease of reading, but must emphasize the love FASO customers have for their sites.

Limitations in some templates; too much wasted white space (would love my work to be displayed much larger); integration of pages to sell prints and/or products with my work on it in pages with the original artwork (lower priced or alternative options for folks who aren't yet ready to invest in fine art); room setting view where customers can see the size / shape of a painting / print in an actual room like over a couch or bed, in a kitchen, etc; greater options in template layout (social buttons and email NL signup at top of page, etc).
Shopify
At 6.56%, Shopify makes up a surprisingly small number of sites for artists. Their customer experience score is 4.27 out of 5. This is despite the fact that Shopify offers arguably the most powerful eCommerce experience on the web. They also integrate with nearly every third party marketing tool available. See our review of Shopify.
Quotes from users about Shopify:
Shopify is a great eCommerce platform and integrates really well with my POD companies. I have greatly appreciated the analytics it offers even in the basic package, and the support has been prompt and helpful when I needed it. The website builder itself is simple to use (I think even a novice could use it, but I went in with some experience). What is nice for me is that there is ability to open up the code for the template to make changes if I don't like something about the template. For instance, in the template I selected, my product images did not indicate if more options (sizes, colors, framing, etc) were available, so I had to add a couple lines of code to make that show up. I just copy/pasted it from the help forums!

Shopify looks MODERN and clean. I like that the template I use has options for blog posts, featured posts, featured collection, large photos… I also like that they keep up with me and send me helping emails (about how to market, sell etc). Price is not the cheapest, but after having my websites running on cheaper ones, I feel it's worth it. eCommerce possibility is very important. I chose this platform as I looked at pages I liked and noticed they're made with Shopify. It is also VERY important that the page looks good on iPad and on phone.

The site is easy to use. There was still a bit of a learning curve with understanding how to add customization to the template, but it was much easier than WordPress. I also like the look of the templates.

Clunky blogging platform; mediocre shipping management; proprietary coding language and process (why not just let us use CSS and html?)

The blog feature sucks and setting shipping fees is difficult, especially for international shipping.

Some advanced modifications requires knowledge of coding (Shopify uses Liquid) and would be scary for a layperson, so that means you'd need to hire an expert. That said, the templates give you a lot of options, and so far I haven't needed to call in an expert. They also have a lot of forums and tutorials to help with set-up.
Other Builders – includes a wide variety of more than 20 website building tools, including Adobe tools, Dreamweaver, and GoDaddy's Sitebuilder program. There were not enough of these participants to give meaningful feedback, but they are also alternatives.
What did people want most from their website providers?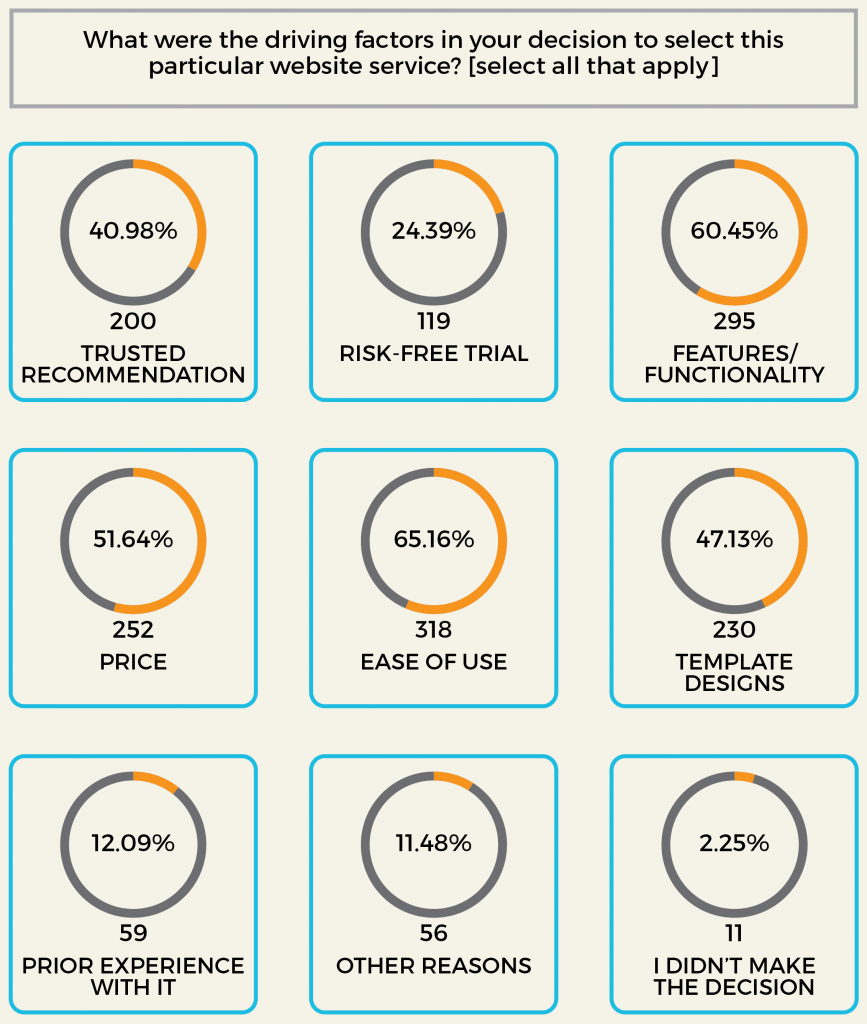 Download our survey data. If you're the kind of person who wants to examine our data yourself, please feel free to download the data at this Dropbox link.
Additional Website Builders
More website builders are being added all the time to various services. We'll add those to this post as we find them.
Artist Websites That Sell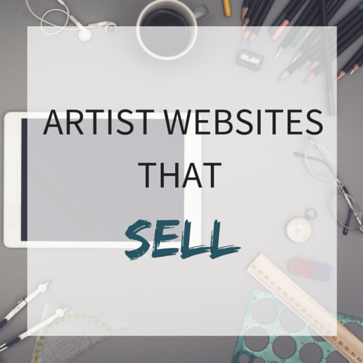 Need a quick prep on what to put on your website, how to decide on your branding, and what to do with your website? Check out Artist Websites That Sell, our course built with award-winning designer Natalie McGuire.
More on Building a Quality Artist Website