I've been writing about WordPress for artists for nearly five years. When I started, WordPress was not a great choice for ecommerce sites. When I started writing about WordPress, there were two things that hadn't really happened yet in the online art community.
1. Artists hadn't yet broadly embraced the idea of ecommerce on their website
2. WordPress ecommerce themes and plugins weren't mature enough to show a clear leader
In interim, things have changed quite a bit. Artists are finding that more and more often they can sell art directly to collectors themselves, bypassing the need for gallery owners, or creating a source of income that keeps them afloat while they seek out art licensing or gallery deals.
The WordPress community has really stepped up its game in creating plugins, extensions and themes for you to show off your art in powerful, effective ways. Today, I want to give you an overview of what's possible with WordPress ecommerce, and how to get started on your own ecommerce site.
As a side note, ecommerce isn't necessary for all artists. When you may NOT want to use ecommerce:
You are an illustrator looking for freelance work – usually you just need a portfolio to show to the art director
You are primarily focused on art licensing
You have a contract with your gallery that says you will not sell your work online
Accepting Payments with Woocommerce & Paypal
If you don't know how to set up payment options, you may want to read our post Breaking Down the Easiest Ways to Start Accepting Payment On Your Own Website.
Woocommerce is a WordPress plugin created by Woothemes. It acts as your shopping cart. The basic Woocommerce plugin is free, and has everything built into it to connect with your Paypal account if you want the simplest way to accept payments.
In addition to basic shopping cart functionality, Woocommerce has a whole array of extensions that will do things like automatically calculate shipping (for a variety of shipping companies), mailing list integration, and enhance product reviews and marketing elements. Some of the extensions are a little pricey, so I recommend getting started with basic Woocommerce until you know what you're doing.
Obviously there are a number of ecommerce plugins for WordPress. I'm a fan of Woocommerce because of its long history, thousands of happy users, and large community of support. The video below under the Canvas theme has a tutorial that includes the basics of getting set up on Woocommerce. Of course, in order to get started with Woocommerce, it's best to pick a theme that is built for ecommerce.
How to Pick an Ecommerce WordPress Theme
There are a few important elements that any good WordPress ecommerce theme should have. The reason I generally don't go with free themes is for these reasons.
1. Solid code and compatibility with WordPress core features. Your theme should be built  by  a professional developer with a deep understanding of WordPress. Something that a lot of people miss when they're picking a WordPress theme is whether or not said developer works outside of the WordPress core functionality.
WordPress is a collaborative group project, with thousands of developers around the world contributing to its functionality. The developer community as a whole steers the direction that WordPress goes. Some developers, especially some very competent ones, go rogue and build features into their themes that might be really neat, but over time cause problems as WordPress updates and goes in different directions.
If you get caught in this trap, you will end up having compatibility issues with other plugins, and security issues which will make your theme vulnerable to hackers. The easiest way for a layperson to determine if a theme is solidly built around core functionality is to look at some reviews and see how popular the theme provider might be. WPMU has reviews of a bunch of different theme providers.
2. Simple, elegant design you can control, with a focus on your art. Obviously you want your art to be the primary focus of your website. Too many other design elements distract from your art. Every piece of color and shape should reflect you and your art. Images should be large to show off details and color. Another bonus of paid themes is that they usually put design elements at your control. Dropdown menus and color pickers for colors and size of elements, as well as font pickers. We have some recommendations of good themes below.
3. Good support. This is absolutely crucial as you build your site, and as new versions of your theme are released. Things go wrong, and you need someone there to help you out! If you're not web savvy, or you're not hiring a web developer to build a site for you, you'll need a team there to help you. This is usually where price starts to matter. The themes you pay for generally have better support, and the more you pay, the better the support (usually).
Recommended WordPress Ecommerce Themes
All of these themes are themes that I have either worked with myself, or are made by theme companies that I have worked with directly.
Divi by Elegant Themes ($69)
This is a very strong new entry into the WordPress themes field. It incorporates ecommerce with some powerful customization options. I highly recommend it, and you can read my full review here.
Foxy by Elegant Themes ($69)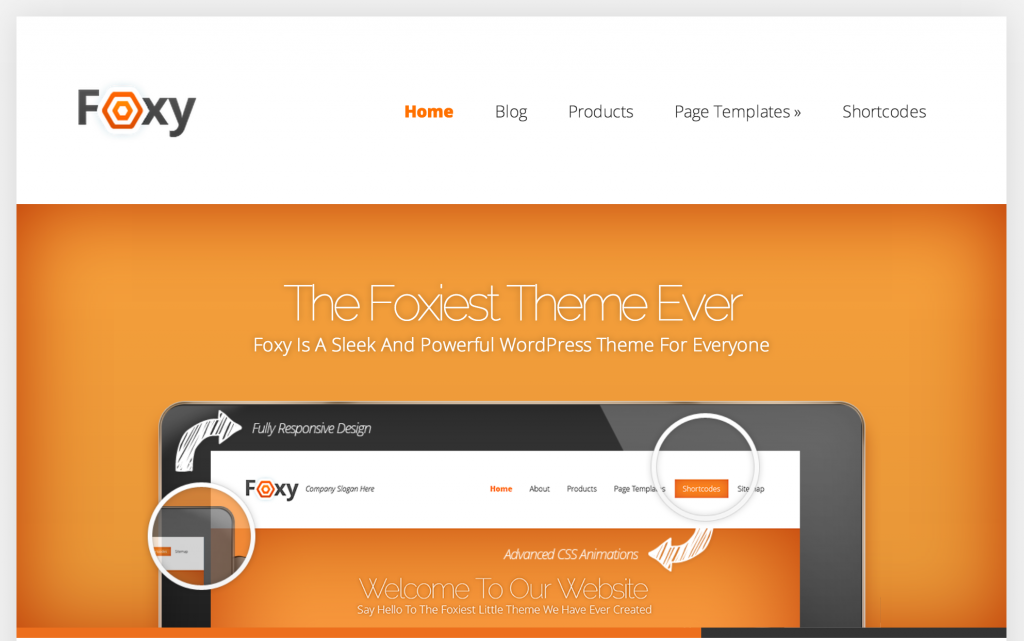 Elegant Themes is a great company for value-focused artists. Their themes are inexpensive, easy to use, and have a useful visual editor that allows you to change colors, textures, and fonts while looking at the front page of the site. While I haven't used this theme directly, I have worked with Elegant Themes on a number of other occasions.
Canvas theme from Woothemes ($99)
In addition to building Woocommerce, Woothemes builds a number of paid and free themes. Canvas is their flagship theme and works well for artists. It has clean lines and a white background which works well to allow you to show off your art. You can see a couple of artist sites built with Canvas here and here.
I'm especially a fan of Canvas for the fact that it puts all of the basic design elements at your fingertips without having to know code. There are visual editors and color pickers for all of the background areas, navigation, and pages. You can pick the fonts you want from a large variety, and you can also easily upload custom headers and site backgrounds.
Striking by KaptinLin ($55*)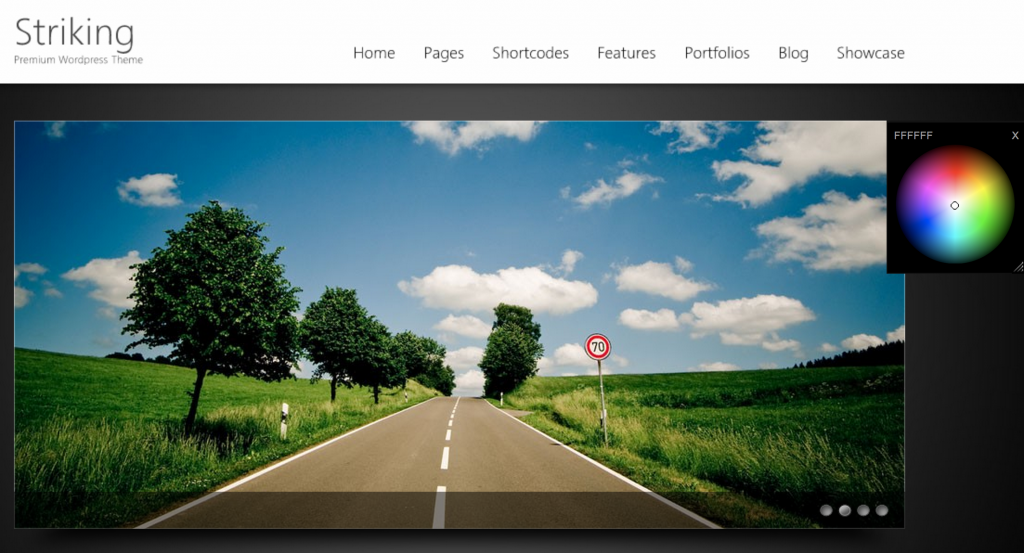 This theme was also included in the original WordPress Themes for artists blog post. Kaptinlin has made some major upgrades to the theme, including adding compatibility with Woocommerce. They have solid support (forum based only), and they have a planned path forward for new features. This theme also allows very granular control of colors and fonts.
StudioPress themes ($50+)
I'm in the middle of redesigning TheAbundantArtist.com right now and I've chosen to go with StudioPress' Epik Theme, mostly because their parent company, Copyblogger Media, also runs my hosting services, and they have one of the best blogs on the web.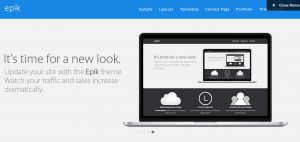 Studiopress themes operate in a slightly more advanced manner than the above mentioned themes. They have a central framework called Genesis, and they you add in child themes. It's not for the faint of heart, but if you feel comfortable with some moderate html and hosting work, Studiopress offers some fantastic options – and they really care about modern website issues like load time and mobile responsiveness. If you're going to use Studiopress themes for ecommerce, you'll likely need the Genesis Connector plugin.
Hopefully these recommendations can help you get started on the path to having an excellent WordPress ecommerce setup for your art. (Make sure you've got a great name for your store, too.)
More Examples?
11 more WordPress themes for artist websites
The ultimate guide to choosing an artist website builder
Do you have a favorite artist ecommerce website? Share it in the comments!
image by Moufflets