A couple of months ago, I asked the members of our student Facebook group what kind of challenges they would like to see.
One of the events that came out of it was the 8 Day #AbundantArtShow challenge.
We had some very impressive results from some of the 500+ artists who participated in the challenge.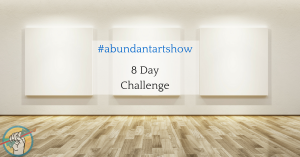 What is the Challenge?
Its very simple: every day for 8 days, we send you one email with one action item. You do that action item, and art sales follow.
What are the actions? We are going to ask you to:
publicly commit to the challenge
take pictures of your art
share your art on social media and/or email
look through the art that is being shared and find your favorites and share them
ask people to buy your art
That's it. It's that simple.
I also jumped on a Facebook Live video broadcast each day to encourage the artists who were participating, call out victories, and answer questions.
But simple is deceptive. Simple is powerful.
#AbundantArtShow Challenge Results
25 artists sold a piece of art in the first week of the challenge. I'd call that a pretty rousing success! Way to go everyone! Here's some quotes from artists who participated.
"I had a sale yesterday, Cory – one of my small paintings in the Daily Paintworks auction. Yippee! Thank you for this week – it's been fun and I saw, and shared, some great art." – Susan Woodward

"I sold 13 original art cards, not prints, at a business networking breakfast so that's 14…original pieces of art." – Rosie Kaplan

"This challenge has been eye opening. It really does show the work that goes into selling your work. These are simple steps that if repeated can yield results. Gives me courage." – Beth Brown

"Thanks so much Corey! Yes i signed up a client this week for $1000 commission." Awesome. – Christopher Neilson

"Thanks for the challenge. It was fun and interesting. And I sold a painting this afternoon. It sold to a friend, but was a direct result of the challenge." – Ethel Hills

"I also booked a solo show for December." – Kadira Jennings

"I actually sold two pieces using Facebook and an email promotion." – Marianne Goodell.

"I landed one print sale (a family member but hey!), a few extra followers, and a possible commission! Thanks!" – Elaine

"Barely 3 hours after i set up…i got a message by an editor of an art magazine focusing on female artists asking me to be featured their next issue!!!!

"I can't thank you enough! This challenge was the kick in the butt i needed!!" – Ava

"I sold a painting on instagram and got new followers on instagram. I also sold a painting off my wall at my house which is covered with my art. I think it's because of the course and just getting in the groove that is changing my consciousness about selling and the need to sell that is doing it, so Thanks, Cory. It's a mindset isn't it?" – Sheryl Southwick
We're Doing It Again
Starting this Monday, June 26, we're doing the challenge again. You can participate by clicking here. Don't think about it too much. Just join us and do something fun and challenging!

By the way – if you've already done the challenge, you're more than welcome to do it again!
And yes, its free!