There are just about as many different types of easels out there as there are different types of artists. How do you choose the right one for your work? We sourced good recommendations from the professional artists in The Abundant Artist Association and put together a list of the best easels for artists, whether you're an experienced professional or just starting out.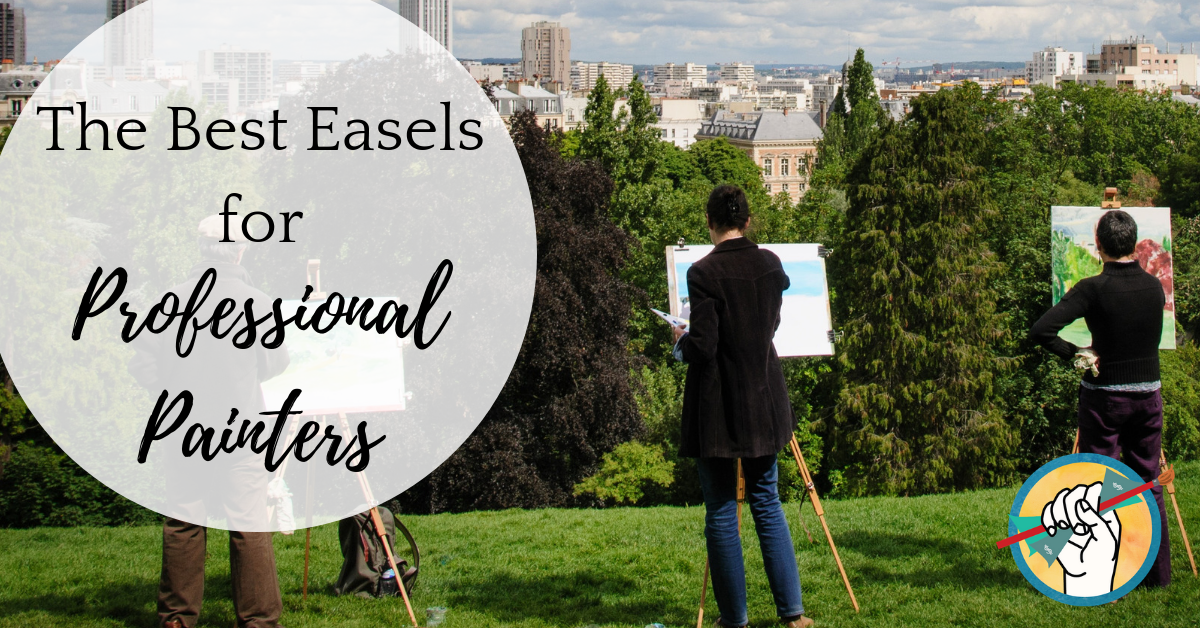 Adjustable Rotating Easel
Artristic was kind enough to give us an exclusive coupon code for our readers: use the code ABUNDANTARTIST for 5% off your purchase of an Artristic easel! You can buy it here: https://artristic.com/product/artristic-tripod-mounted-easel/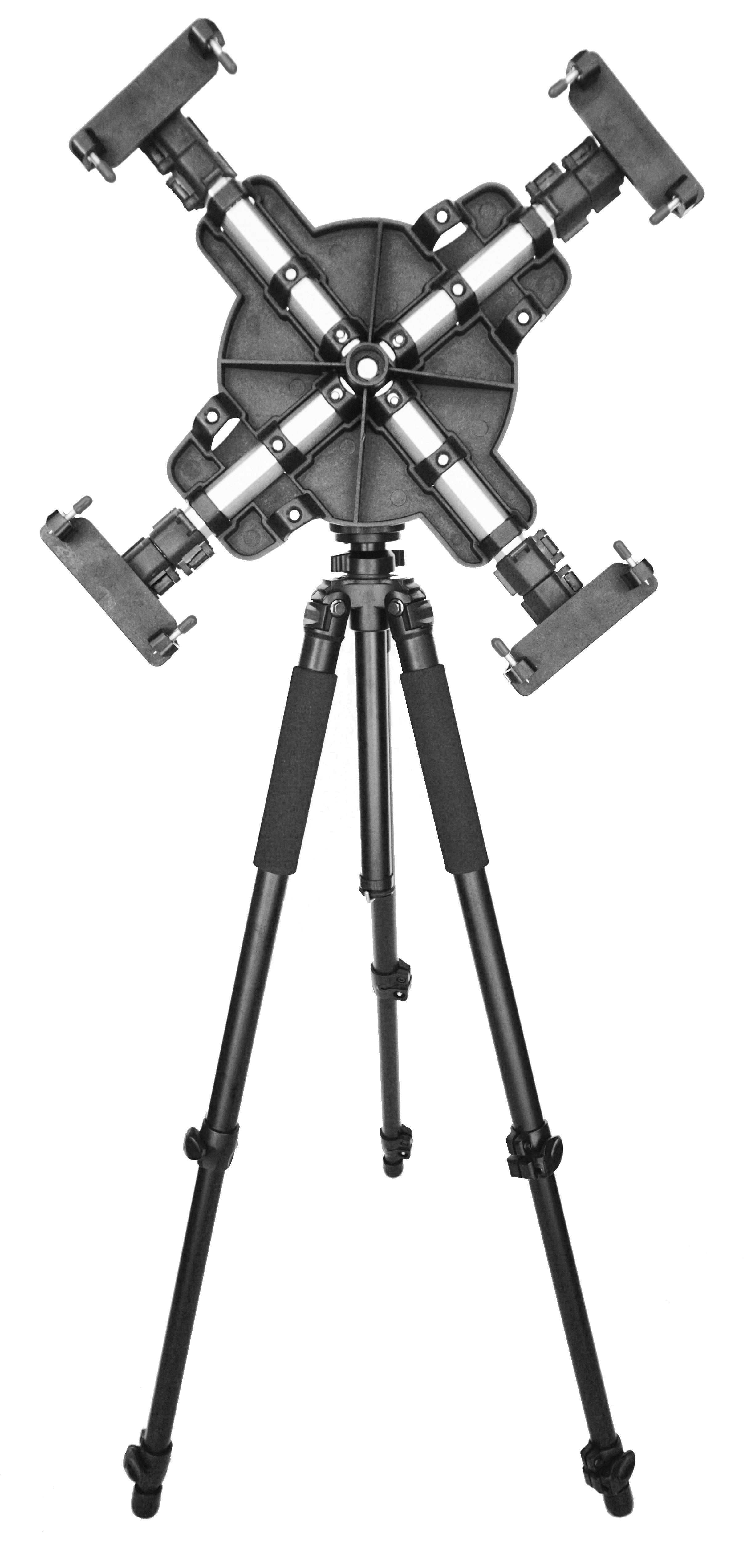 It's incredible that these easels are rare and hard to come by online and in stores, because they are highly adjustable and versatile. These are a great option for artists working on canvas. Their adjustable design also makes them very accessible for artists who use a wheelchair. The Artristic STUDIO easel shown here rotates a full 360 degrees with full access to all sides of the canvas. It can also be adjusted to true horizontal for artists who like to work flat. We first discovered these easels when interviewing Jessica Marie of Pop Art Puppydogs for a case study. Here it is in action: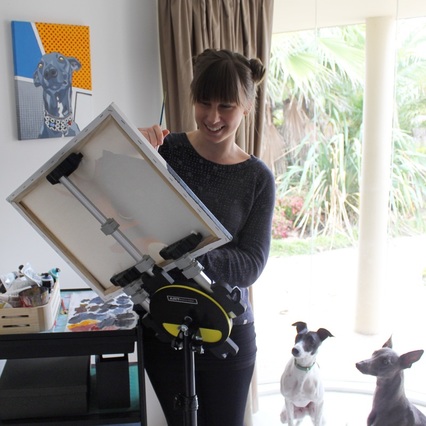 Tabletop Easel
A tabletop easel is a great option for artists working without a dedicated studio space. If you need to be able to quickly set up and work at the kitchen table, a foldable easel like the *Martin Angelina Aluminum Tabletop Easel is a good choice. It also features extra wings that swivel out to support your artwork, and -genius- rubber feet for extra stability.
"There is nothing fancy about this easel, but it's the perfect size for what I wanted. I'm not much of a painter, but do it occasionally for fun and love this. Fits right on top of my table and I can paint all day with no back pain. Folds up nicely to fit into a little pouch which is included to allow carrying around much easier." – Amanda, Amazon review
Best for small works, traveling, working outside of a dedicated studio, and can also be used for displaying finished art.
Price range $5.00 – $20.00
Display Easel
A display easel is meant to display finished art. If you're attending shows you'll likely want to have display easels in a variety of sizes. An easel meant for displaying art will likely not have all the stability/adjustable features of an easel meant to support works-in-progress. This *T-Sign Reinforced Tripod Display Easel is a good example of an adjustable easel meant primarily for display. It can support up to 25 lbs which makes it suitable for canvas work, and includes a spring-loaded clamp to hold the work in place. (There are other, cheaper display easels on the market, but most reviews indicate that they're not heavy-duty enough to display most artwork safely.)
"This easel does everything I need. It comes in a durable fabric carrying case with a strong zipper. It is easy to assemble out of only two parts. There is a good limit to the front-to-back spread, which gives it stability. The distance between the front legs is determined by how high you place the screw-tight holders for the separate cross-piece, and which slide-over holes you use on the cross-piece. There are multiple strong built-in clamps to set the length of the legs, from desk-top display to floor-display, and to set the depth of the top clamp for the thickness of your displayed poster or picture. There is a strap on cross-piece that you can use to velcro around the legs when you store this to keep the pieces together, The one thing i didn't like? I could not get the cross piece to snug against the legs, so it seemed rickety until i put something on display. But i fixed that by keeping a posterboard on the easel, so the whole thing is solid while i am adding or changing items on display. Easy! Another minor note, the depth of the cross-piece can only hold an item about half-an-inch thick. But you can rest a thicker item on it, so for most uses it works fine." – One Ringtwo, Amazon review
Best for displaying various sizes of finished artwork.
Price range $12.50 – $45.00
H Frame/Convertible Easel
An H-frame easel is the heavy-duty, all-purpose cousin of the standard A-frame design, and a very common choice among professional artists. The H-shaped frame provides much better support across the entire canvas, so you can paint or make marks with as much enthusiasm as you want without worrying about knocking your work off the easel. If you work in multiple medias or desire flexibility, H-frames are often highly adjustable and can convert from vertical to horizontal. Association member Phyllis Green recommends the *Creative Mark Mirage All Media Studio Easel.
"I can work on two paintings at once on it!" – Phyllis Green
Another convertible H-frame option with good reviews amongst Association members is the *Jack Richeson Best Deluxe Lobo Wood Easel.
"I love being able to lay my paintings flat to do add mixed media or detail work. It's GREAT!" – Beth Picard
Best for All media, artists who need a high level of flexibility or like to move their easel around the space- even outside!
Price range $120.00 – $250.00+
Lyre Easel
Also called an A-frame easel, the lyre easel is a popular choice for casual painters. The rear leg usually folds in for easy storage, and they come in a wide range of sizes from floor to tabletop. The caveat is that they tend not to be as sturdy as an H-frame, there is less support for the painting, and they may not be as adjustable or convertible. These are great for hobbyists and beginners because of the folding style and low price point. A good choice is this *Adjustable Wood Travel Easel by US Art Supply.
"Great art easel. I am a pretty new painter, but this easel was a piece of cake to get set up straight out of the box. It holds everything from my smaller canvases to much larger ones with no problem." – Jessica S., Amazon review
Best for hobbyists, portability, tabletop painting.
Price range $7.00 – $90.00+
French style
If you paint frequently and want an all-in-one option, a French-style easel will be really appealing. What starts out as a wooden art supply box can be opened up and the legs expanded to become a full-sized floor easel (or a tabletop easel) with built-in materials storage. French style easels tend to be very portable, making them ideal for artists working outside of a studio, whether that's painting in the kitchen or doing plein air work. A popular choice is the *Tangkula Wooden French Easel.
"I am very happy with my easel. I can use indoors and outdoors and is light enough to carry. The drawer has enough place for the materials. Requires minimal adjustment and can hold small and big canvas." – Karla, Amazon review
Best for plein air, working both in and out of a studio setting, painters and pastel artists.
Price range $50.00 – $200.00
Pochade Box/Plein Air Easel
The primary difference between a Pochade box and a French style easel is the lack of legs on the former. Also known as plein air easels, they are meant to sit on the ground, in your lap, or on a table top. They fold up into a wooden supply case with a handle for very easy portability, so you can trek into the blue yonder and paint to your heart's desire wherever you end up. Association artist Nathan Brandner shared his favorite with us: the *Sienna Plein Air Artist Pochade Box.
"I get super excited about materials questions! I use the large Sienna Pochade box for Plein Air painting. It is very light weight and portable. I can have it set up and ready to paint within about 5 minutes." – Nathan Brandner
Nathan was kind enough to share an image of his Pochade box in action! In this photo he has his easel mounted on a tripod so he can work standing up.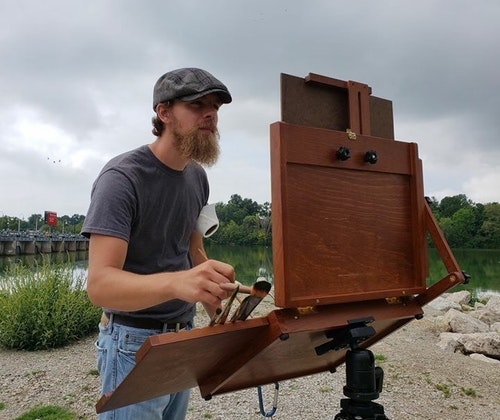 Best for plein air painting, super portable.
Price range $25.00 – $200.00
Whether you're a beginner ready to get away from hunching over the table, or you're a pro ready to upgrade to something that will better support your workflow and habits, there's an easel out there for you.
Did we leave out your favorite style or brand of easel? Let us know in the comments!
*Asterisk denotes affiliate link
For more deals and recommendations, check out:
8 ways to save money on art supplies