Let's talk about money.
Specifically, let's talk about money in the Fine Art world. Check out this quote:
"So much money has entered the market that the dynamic has completely changed. Older gallerists may pine for those early days. Younger gallerists are more comfortable discussing money because today's hypercharged market is all they know—it's part of their DNA."  – Tim Blum, quoted in The Art Newspaper
How does that compare with your own experience as a professional artist? Is it crazy?
Consider this.
Techcrunch, a blog that covers technology news, especially startups and venture capital, awarded their Rookie Disruptor award to Art.sy in 2010. Art.sy has received more than $7 million in investment cash and has art world heavyweights like Larry Gagosian on its board.
Since then, a whole bunch of other art-sales startups have come out of the woodwork. 1stdibs, Curatorseye, Masternet, Paddle8, ArtSpace (with more than $12 million in funding), and more. Tens of millions of dollars are being invested because wealthy people believe that the way art is being bought and sold is ripe for massive change. "Disruption" in tech language.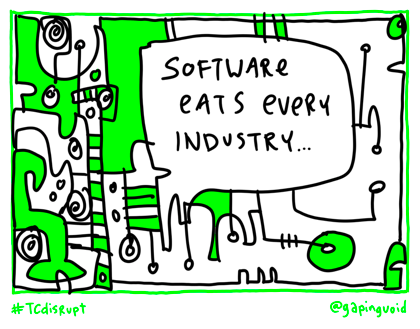 Amazon, the largest online retailer in the world, has entered the art sales space. Ebay is heading back into it after two previous failed attempts. These are BIG companies that see BIG money in Fine Art.
Yet, you're still thinking that the Starving Artist is the default position of the artist. The difference between these tech giants and you is mindset.
The Long Tail
Perhaps you aren't in one of the huge galleries that partners with these companies. That's okay too. You can still make a living from your art. Look at this chart.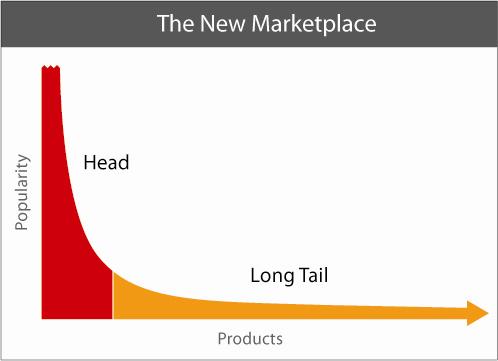 This chart is from Chris Anderson's The Long Tail. There are a couple of ways to explain this chart. Before the internet, retailers were only able to carry so much stock. Amazon came along and showed that they could stock…well, everything. Amazon didn't have to sell more copies of the NYT Best Sellers than book stores to make more money. Instead, they could sell just a handful of copies of millions of obscure books. Amazon, coupled with search engines, made it possible for people to find that rare book they'd been seeking for years. Amazon was able to serve millions of niches in one place.
What does the Long Tail mean for artists? 
Two things:
1. You can reach your niche. Conventional wisdom in the art world says that galleries can only represent artists who make "commercially viable" work. Commercially viable means interesting to the people that the gallery owners know. Period. What about people who are interested in weird, dark, twisted art? They're probably not at the galleries, but you can find them on DeviantArt. The point is that with the broad reach of the Internet, you can sell art to a lot more people than just the ones the galleries know.
2. You can piggyback on the success of aggregators. Amazon. Etsy. Ebay. Their business models are all built around aggregating a bunch of stuff in one place. They spend billions to bring millions of people to their sites. You're just one little artist out of the millions of people looking to sell something on their platform – but you can leverage that little presence into something much larger. There are now over 200 Art Malls online. You can have a presence on these sites as a way of capturing some attention, making a few sales, and drawing people in to your world so that you can eventually sell them on bigger purchases. Artists like Nathalie Van have literally sold hundreds of pieces of art on Etsy, building up a massive mailing list that she can then upsell.
Just remember that your success isn't limited by "commercial viability", by what gallery you're not in, or by where you live and work. Artists are doing it all over the world. You can do it too.