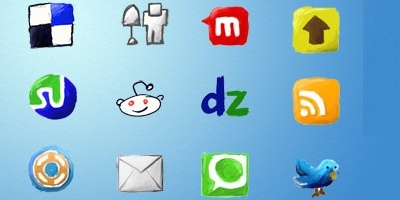 You've seen buttons like the ones above on websites all over the place. If you don't use them, you are part of a rapidly shrinking group.
The rising generation of Internet users understand that these social bookmarking buttons are there to make it easier to share content.
What is Social Bookmarking?
It's a fairly simple concept: see something you like, share it by clicking on a button that sends that content to other people. Among the millions of websites out there are sites that are specifically devoted to sharing interesting or useful tips for certain communities. There are sharing sites for all sorts of interests, and each one has its own culture and own set of rules (written & unwritten).
The shared content arrives in different ways, depending on the site. Stumbleupon has a toolbar you can install on your browser. Twitter has a real time scrolling page, as well as dozens of third-party applications that deliver your Tweets to your mobile device or computer. Other sites send you an email or text message. Facebook made a big splash at the beginning of February when they surpassed Google News as the biggest traffic source for breaking news.
How to Promote Art with Social Bookmarking
Really any increase in traffic is a good thing, so adding these buttons to your site will give you an opportunity to have people referred to your site. There are a few things you can do, however, to give your work a better shot at getting in front of the right audience.
Promote to the Right Audience. While it's great to share your art on Deviant Art and Flickr, there are other social bookmarking sites that may be more productive for you. Find some sites where your target collector is hanging out. If your ideal client is 35 – 45, high income, and is really into technology, then Twitter or Digg might be good places. If your target audience is mothers over 40 then you might check out CafeMom.com. There are endless sites that you can specialize in. There are social sites for just about any demographic.
Make the sales pitch. Just by putting these buttons on your site you are making that invitation. You can take that one step further however, by asking your readers to bookmark a blog post or a particular piece of art. You can email friends and ask them to bookmark something for you. You can also ask your followers on Twitter, Facebook, or other popular networks to bookmark your stuff.
Monkey See, Monkey Do. If you are an active contributor in a community, people will begin to know, like, and trust you. They'll be more likely to retweet, bookmark or Digg your stuff if they know you. Comment on other people's content. Share really good things you find. As you make friends you'll see more success.
I don't have time for this!
Believe, I understand the need to focus on your work. You can be an active social media participant without too much effort. Schedule 15 – 20 minutes in the morning and again in the afternoon. Don't let anything distract you. As you do this, you'll eventually build up a respectable following and see some great traffic to your site. Remember what I said about Facebook? They are sending more traffic out than Google! This is the trend of the Web. This is how information gets shared. If you aren't participating, you're missing major opportunities.
Protip: Promote your artist newsletter through social media. You need to get people from the social sites to your list so that you can promote to them regularly.
Do you have any favorite niche networking sites where you've had success promoting your art? Let us know in the comments.