How many times have you had someone tell you that they "love your work but can't buy it right now?"
What do you usually do? Tear off a piece of paper and give them your email address & phone number? Give them a flyer & a business card?
Do you immediately ask them to sign up for your mailing list so that they can hear more about your work in the future? That's what Michael Whitlark started doing four years ago, and it was the beginning of his career taking off.
If you want to remind all of those people who loved you at one time to buy your work when they have some extra cash, you need a way of getting back in touch with them. A newsletter can be your secret weapon for creating long-term residual sales and building a fan base around your work that sells your art for you.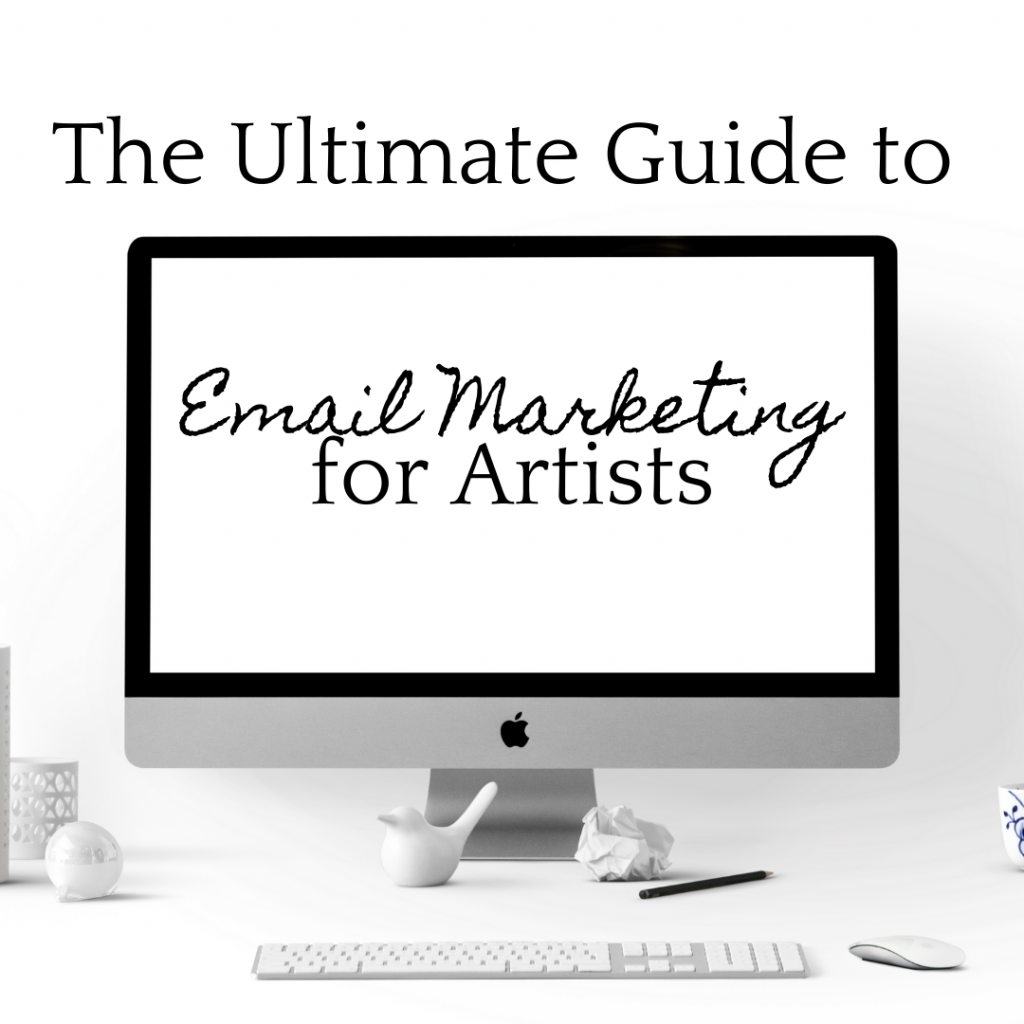 That's what the artist Ada Horn did when she wanted to move away from her home in Hawaii. She organized her contacts into a list of: previous collectors, high-value previous collectors, and fans who like her work but haven't purchased.
That was the beginning of something really special for Ada. She was able to find thousands of dollars in new sales by reaching out to collectors on a regular basis.
The rest of this post will be devoted to showing you how to be effective in your email marketing.
The HUGE difference between email newsletters and email marketing. Before we dive into the nuts and bolts, I want to make sure you understand that the reason most email doesn't work for most artists is because YOU DON'T KNOW WHAT YOU'RE DOING (yes, I'm really yelling, and no I'm not sorry).
A newsletter is what Human Resources sends to the other office employees to let them know whose birthdays are coming up and when signups for corporate softball start, or when the Homeowner's Association lets the neighborhood know that new trash cans are coming.
Email marketing is sophisticated. It's inserting your fan's name in the email so that they see a personalized message. It's tracking opens and clicks so that you know how effective your marketing messages are. It's segmenting your audience by their interests and sending different messages to fans, customers, and collectors.
The Ultimate Guide to Email Marketing for Artists
1. Collect names, email & physical addresses. When your work is shown at art shows, craft fairs, galleries, and other places, put out a sign up sheet for people to opt-in to your mailing list. Write something like this on the top of the page, "Join Cory Huff's Insider's List to find out more about my upcoming work and studio process." Then divide the paper up into three columns labeled First & Last Name, Email, and Address.
You should also collect names and addresses on your Web site. Notice on this site there is a big sign up box on each page. Next to that box there's a link to a blog post about what people get when they sign up for the mailing list.
Develop a lead magnet, irresistible free offer, or opt-in gift. Give something away to the people who sign up for your mailing list. Give them a little free taste of what you do to get them excited. Painters can offer a free postcard, or high quality screensaver or desktop wallpaper. Owen Garratt sends physical post card mini-prints to every person who joins his list.
2. Use an email management service EMS. It's easy to email from your Yahoo or Outlook email service. Don't make this mistake. Email management services will integrate your Web sign up forms with your list for you, track the number of people who open your emails, and the number of clicks your email generates. That way you know whether the things you are writing about are generating interest. I recommend ConvertKit.com (affiliate link) as a free email management service for artists with a list under 2000. It's easy to use and does a great job with email list management. Plus, the creators of ConvertKit have a great sense of humor.
Whatever email management service you use, you should make sure that you can generate a series of auto-responders. Auto-response emails go out whenever someone signs up for your list, making further offers, reminding people what you have for sale, or any other message that you might want them to have.
After you master the basics of auto responders, you can do some pretty crazy stuff with email to nurture your fans into collectors, but that's advanced stuff for artists with lots of people on their mailing list.
3. Start digital, go physical. If you have some money to put into a physical mailing, these are great. Put together a 2 – 4 page glossy magazine that will show off your beautiful work in all its glory. Add in some personal notes describing your experience with creating each piece and you've got an easy to create newsletter that lets your buyers know you have new work and how they can get it. Plus, they have something beautiful to put on their coffee table or in their office lobby.
4. Frequency. How often should you send emails? It depends on how good of a writer you are, and how much you have to say. Some artists write weekly. Some write a couple of times per month. I would recommend never going more than a month without writing your newsletter, and you should set it so that it comes out at the same time ever time. As a rule of thumb, if people are reading your newsletter, responding well to it, and you are having fun, then you are probably at the right frequency.
What to Talk About?
In our Content Marketing for Artists course, Adam Hall learned to share his personal story of becoming an artist. "If you can give people a little vulnerability and humanity then they will go on that journey with us." Adam went from not wanting to write about his work to learning to be an effective writer and communicator.
This could be its own blog post (check out – 23 Things to Talk About In Your Artist Newsletter and 7 Email Marketing Scripts). There are so many things you can write about.
I hear a lot of artists saying they have no idea what they would write about, but then I start asking them about their work, what they're doing, how they do it, and why they do it. They'll talk forever, and it's really interesting.
That's exactly what you should talk about in your newsletter. Talk about our work and how it affects you, your friends & family, and your community. Talk about your passion and your inspiration. Artists are inherently interesting. All of us have a little kid inside that says, "I wish I could do that." It's where the cult of celebrity comes from.
Here's 4 email ideas that will generate a nearly endless amount of content. 
Curation. Do you go to a lot of art shows and gallery openings? Curate a list of your favorite stuff and make that a regular email feature. You can also curate your favorite artists online, the best books you read, or the best ephemera from the Internet like Austin Kleon does in his newsletter.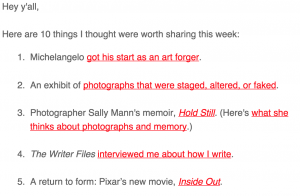 Tell small daily stories – Hugh Mcleod is a cartoonist whose work hangs on the walls at Microsoft, Rackspace, and other tech companies. His daily emails contain doses of thought provoking inspiration and creativity. I look forward to it every day.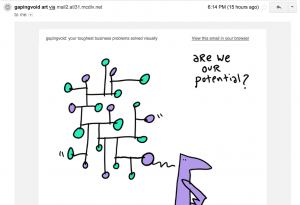 Show off work in progress – I've mentioned her many times on the blog. Jolie Guillebeau does an amazing job of this, sending 3 – 5 emails per week when she's working in her studio, telling the story of her new works of art and giving you a peek into her process.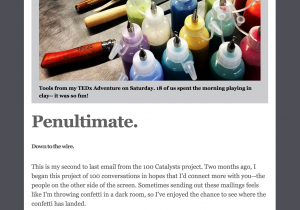 Events and shows – Kelly Rae Roberts is one of my favorite artists simply because of her relentless messages of positivity and beauty. Her email announcing her upcoming studio tour was really fun.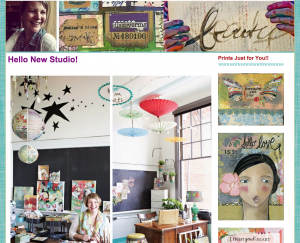 Keep it simple.
You don't need to have a well-designed html template for your newsletter. A plain white background (like a gallery wall) with a single image of your work and a simple story is just fine.
Email marketing is a powerful tool. Build it into your weekly routine. Learn to write regularly about your work. Learn to use tools. By embracing modern marketing techniques, you can grow your audience and sales exponentially.
Remember to ask for sales. It probably shouldn't be every email, but you can finish emails with a simple phrase like, "if you would like to purchase any pieces from this email or my website, click here or reply to this email."
Check Out Our Webinar on Content Marketing
Want to get a broad overview of how artists can practically apply Content Marketing to their own art business? Check out the recording that we did of our free webinar on Content Marketing.
TAA's Recommended Email Vendor