UPDATE: We've added a post on the top cameras for photographing your artwork. Check it out here.
Have you been frustrated trying to find the right light, angle, and time of day to photograph your art? I have too, and can share some tips with you that will hopefully reduce your future photography anxiety. We also know that artists are afraid of technology as a stereotype, so we are going to work on breaking through that fear for those of you who fit the stereotype as I did a few years ago.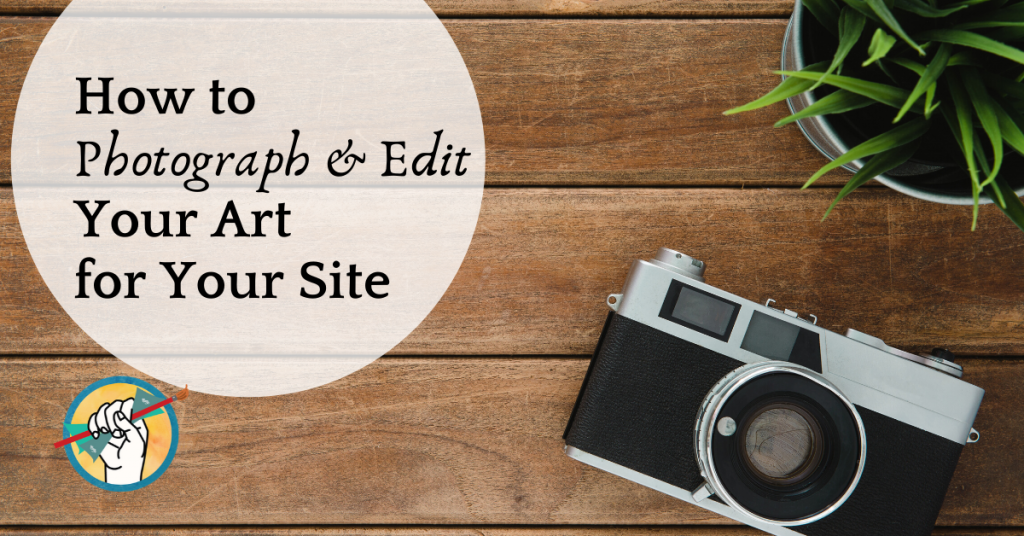 Part 1: Photographing Your Art
As artists, the most important thing after our artwork and our good name is the photographs of our work. Whether we are using photographs in brochures, artist bios, portfolio books, our email newsletters, social media, or on our website, high quality photographs that truly depict our work are of the utmost importance. The medium of your artwork will impact the difficulty of photographing your artwork. Three dimensional and extremely large pieces are the hardest because the light and shadow will impact your work more than if you are simply photographing two-dimensional pieces. I am going to focus on photographing two-dimensional artwork like paintings and drawings. I am an impressionist oil painter myself, and most of my artwork is oil on canvas or canvas board.
Light and Shadow
The most important factor that impacts your photos is light. Natural, indirect sunlight is the best. The best time to photograph your work is on a sunny day, in the shadow, without the sunlight directly hitting your work. I recommend this shooting method because I've shot artwork in all conditions, and indirect sunlight outside works the best in my experience. Some people recommend shooting in direct sunlight, and this can work sometimes, but a lot of times it produces a glare for me. So I would recommend trying out both methods and see what image looks the best for your work. I like shooting in the prime sunlight hours, usually between 10am and 2pm. This time of day is when the sun is highest in the sky, and won't shine a warm glow on your painting that you'll get in the early morning or early evening. Indoor shooting can work sometimes, but it's much harder to get the right angle of the lighting so that it doesn't cast a glare or change the color of your artwork. If you have a professional lighting setup, then indoor shooting can work great for you, but I prefer shooting outside in natural lighting.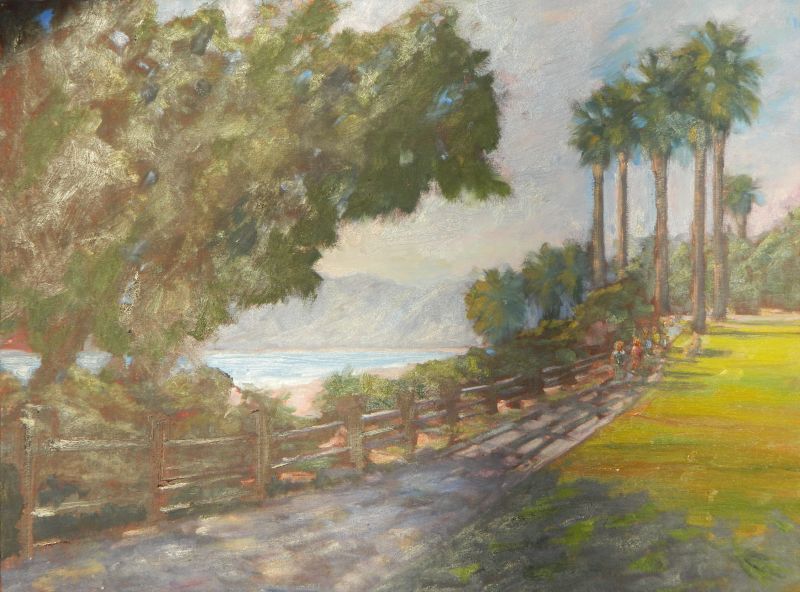 Shooting in direct sun can cause a strong glare on your work.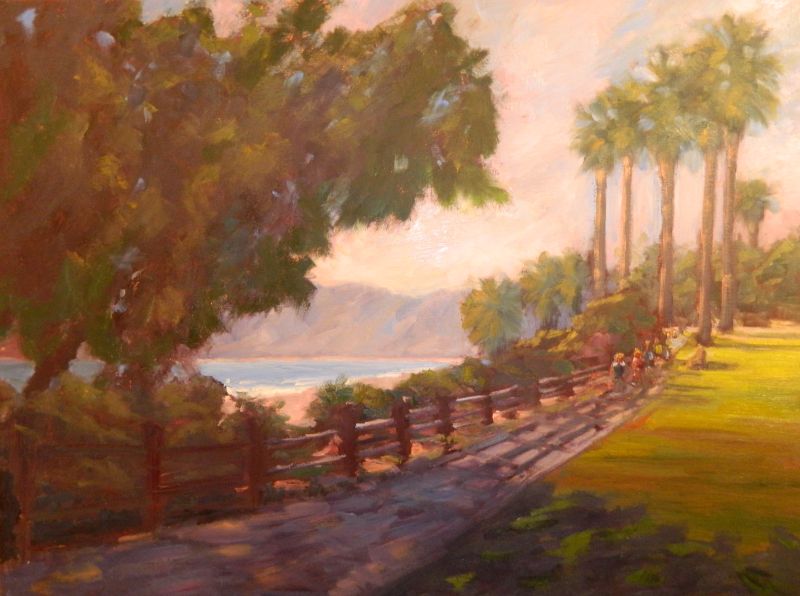 Although indoor light may produce more vibrant colors, they are not true to the painting.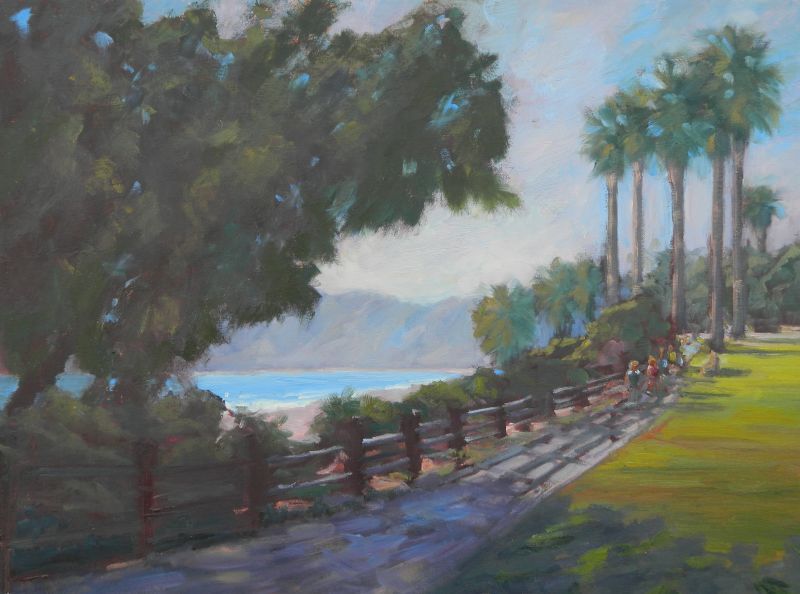 This is the result of an ideal shooting environment – in the shade on a sunny day.
Angle
The angle of your work can be a bit tricky, especially when you prop your painting up against the wall. I usually prop the painting up against the wall and then get the painting parallel and square in the frame of the digital camera before I snap, but it will take a few shots before you get that perfect one. If you want to take it to the next level, you can set up a tripod and a chair or easel to get your painting perfectly vertical while you snap the photo. I recommend zooming out a hair too far so that you get more than just the painting in the photo, you can edit out the background scenery later. This ensures that you don't lose any part of your painting.
Camera
The camera you use is important as well – but we're not talking about going out and spending $1,000+ on a camera, we are talking the bare minimum. I've experimented taking pictures with my iPhone, and compared to a digital camera, it just is not as good. There are times I will use my iPhone when I need to send a quick photo to a client or I want to get up a blog post quickly, but when you have more than a few minutes to dedicate to your photos, use a digital camera. You can get decent enough ones these days for a little over a hundred dollars, and as long as it is at least 5 megapixels, the quality will be good.
Part 2: Editing Your Photos
The main thing we want to do with our perfectly photographed photos is crop them and resize them. We will touch on editing the color a bit, but if we photographed them correctly, we shouldn't need to mess with the color. I'll also show you a few photo editing programs below that I have used in the past and their strengths and weaknesses.
Cropping and Resizing
Cropping is cutting out the areas of your photo that you don't want anymore. When you get some of the background in your photo, you'll want to crop down your photo to just the painting and nothing more. Irfanview makes this very easy. Secondly, you'll want to resize your photo to a smaller size and resolution. Your photos will come off your digital camera very large in dimensions, which are measured in pixels (px). You'll want to resize your photos to around 1000 pixels max for both the height and width. A safe size for a photo would be 800px wide by 600px high for a landscape oriented photo. If you want a fullscreen sized photo, you can go up to 1500px or larger, but the image will load much slower on your website and can cause frustration for your users. Additionally, when you resize your photos you'll want to change the resolution from 300dpi, or whatever dpi it is, to 72dpi for the web. DPI stands for dots per inch, and the higher the dpi, the better the photos will look when printed. With images on the web, however, a higher dpi does not look significantly better than a resolution of 72dpi, but a high dpi will cause your images to load much slower and slow down your website speed.
Adjusting Color
The colors in your photo may come out a bit off when you view them on your computer. If you can, look at the photos on a few different screens to see how they will look to other people. If the colors are off, you can adjust the brightness, hue, saturation, and color to get your photo matching the real-life art piece. Two of the programs below – PicMonkey and Photoshop – will allow you to adjust the color on your photo. I recommend starting with PicMonkey as it is the easiest to work with for beginners.
Part 3: Programs for Editing Photos
Irfanview – Free desktop photo editor
irfanview.com Yes it's a strange name, but it's a surprisingly simple and effective photo editor. I love this program because it does a few simple things well. All I use it for is cropping and resizing. When you get some of the background in your photo, you'll want to crop down your photo to just the painting and nothing more. Irfanview makes this very easy. Secondly, you'll want to resize your photo to 72dpi for the web. When printing you want to print in 300dpi, but online you want the images at 72dpi because they look the exact same as 300dpi and they are smaller in size so your website will load faster.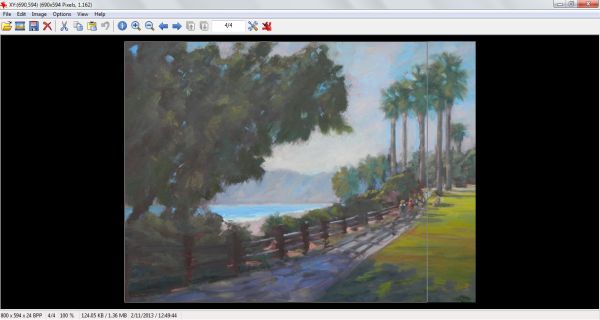 A view of editing images in Irfanview
PicMonkey – Free online photo editor
picmonkey.com PicMonkey is a very new online photo editing tool, and I must say I was amazed the first time I saw it. It is free to use for all of the editing capabilities you will need, and they offer a few premium options if you want those as well. It works right from your browser so there is nothing to download and install, and you can use it from any computer you happen to be working on if you are travelling or away from home and not using your primary computer. You can easily crop, resize, and perform any basic functions you would ever need. The tool provides a lot of fun options for playing with the color of your images with Instagram-like filters, but you most likely won't want to be altering the color of your images except to restore the look to the true color of your work.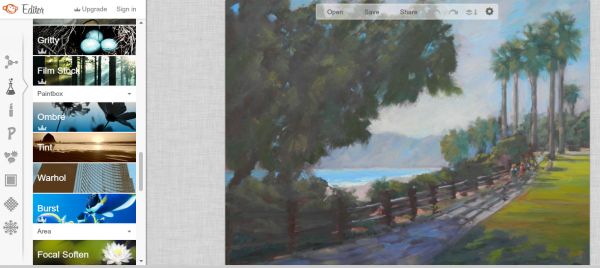 PicMonkey has a fun and intuitive interface for editing your photos.
Photoshop – Paid high-powered desktop photo editor
photoshop.com I'm sure most of you have heard of Photoshop. It is the standard of the graphic design world, and is a very powerful photo editor. The great thing is that you can do some high powered photo editing and retouching and create really powerful images. The downside is that the amount of features can be overwhelming if you just want to crop and resize your photos. Most of the time you won't need Photoshop, but if you are creating brochures, collages, or need to do some advanced photo editing, this is the program you want to use.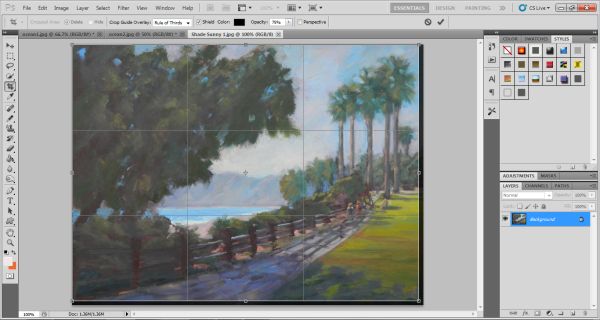 A view of the  robust editing options in Photoshop.
There are more options than ever to edit your photos for the web, and the tools get cheaper and easier by the year. Photos bring our art to our customers online and are crucial to our career's success on the internet. Now that you've successfully published your art online, your work is just getting started and it's time to share your art online with others and optimize your images for your website.
NOTE from Cory: Once you have your photos shot and processed, consider this post on Image SEO (aka, how to make sure your images are found by search engines).
Kathleen Robison is an impressionist oil painter from San Clemente, CA. She paints landscapes, seascapes, and figures and exhibits at Studio 7 Gallery in Laguna Beach. For more information, visit her website at  kathleenmrobison.com.