You've put in all the work of researching your target market and preparing to sell your artwork, not to mention the intense and emotional effort of actually creating the art. As inconsequential as a store name can feel in light of all your hard work, your store name can either give you a serious leg up or completely kneecap your ability to grow your business.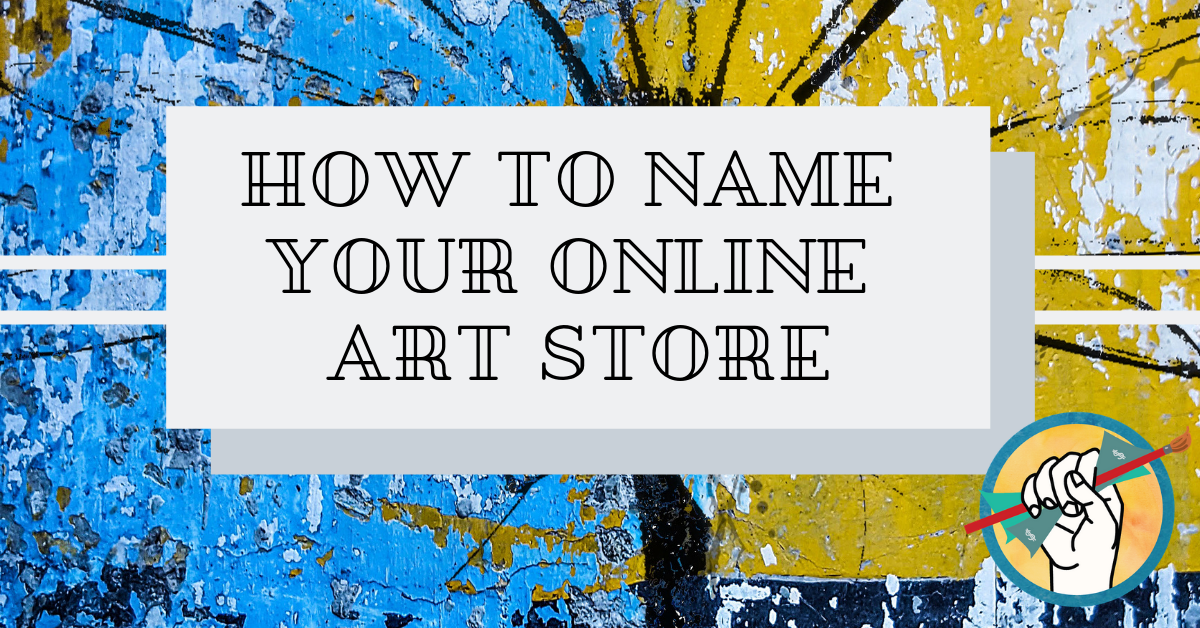 Why is your online art shop's name important?
A great art shop name will stand out and be easy to remember and provide at least a hint of what kind of art you sell. Naming your shop something too generic will make it difficult for your site to rank in Google, while a name that is very odd may be off-putting or too hard to remember.
The trick lies in finding the sweet spot somewhere between search friendly and daringly unique. The great news is that in contrast to other kinds of online eCommerce businesses, as an artist you have a little extra leeway to be creative, since creativity is quite literally what is expected of you.
Here are the key points to keep in mind as you develop a great name for your online art store, whether you're using a 3rd party platform like Etsy or your own website.
Keep it simple.
This is the most important thing to remember. Domain names can be around 60 characters, but your store name should be shorter than that. The name should be easy to say, type, and read. This is where artist websites will differ from other online shops: the URL itself in most cases should be your name. Most artist brands are built on their own name, and it makes it much easier for people to find you online. Your shop name, however, may differ from the URL and can still be a useful way to brand yourself and set your work apart.
There is nothing wrong with simply titling your shop "First Name Last Name Art" (a lot of the top artist ecommerce shops do just that), but if you decide to get more creative, keep the following things in mind:
Research relevant keywords.
Do some keyword research for common searches relevant to the kind of artwork you sell, and think about how to incorporate them into your store name in a natural way.
Keywords you can consider including: the kind of medium you use (watercolor, charcoal), the genre of art you make (pop art, impressionist), the specific subject you focus on (oceans, horses, abandoned buildings). You can also get a little more abstract and think about the feeling your art invokes. Is it unsettling, spiritual, or ethereal?
Compare your top choices with existing store names
After you've done some keyword research and narrowed down a list of ideas, research similar stores and find out what names are already in use for stores selling products like yours.
Something too close to another store name will be confusing. If you have your heart set on "Pastel Portrait Boutique" but in your research you discover that there's another shop selling under the name "The Portrait Boutique", you are going to want to run far away from that name. Your business name is a chance to stand out from the crowd, not to sound exactly like everyone else. No busy artist wants to spend half their time correcting confused customers.
Pay attention to all your selling platforms.
Be sure to include social media in your search. Even if you don't plan to have any presence on those platforms, as you gain traction it's likely that customers will look for you there. You want to ensure another artist isn't using a very similar name for their art page or business account.
A great art store name will make it easier for new collectors for find you. It will also make it easier for them to remember you, and to recommend you to others. The most important key points to remember as you consider name options are to keep your store name on the side of short and simple, consider including a relevant keyword to make it clear what kind of art you sell, and make sure that it's unique enough to set you apart. Selecting a shop name doesn't have to be stressful! Put the same thoughtfulness and creativity into building your online store as you do into creating your art and you're sure to land on something memorable.
Does your store have a unique name, and has it made a difference for you? Share with us in the comments!