What does a product description accomplish? Doesn't your art speak for itself? Sure, a picture is worth a thousand words. But when you're trying to sell that picture for cash, you may need a few extra words to get your point across. The key lies in using the right words to convince your potential collectors to click that Buy Now button. A little SEO know-how and careful thought beforehand will help your product descriptions do some of the heavy lifting of selling your art online.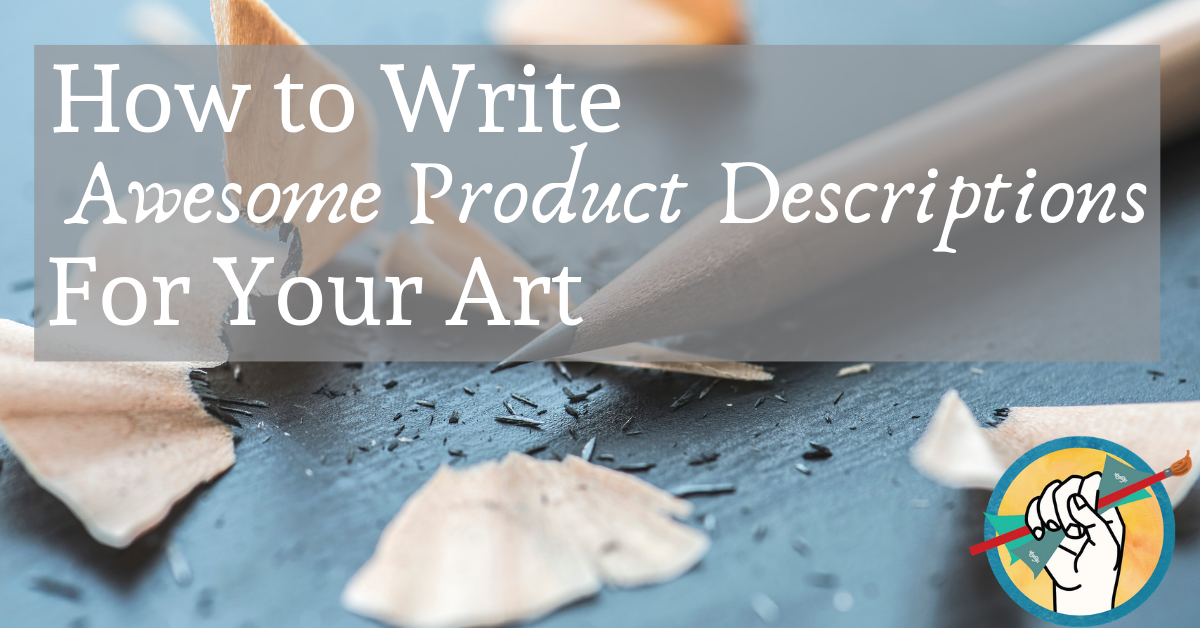 SEO basics
Search engine optimization is a tricky game to play, and for most artists working on developing a following online, it's going to be somewhat optional. By this point, Google is quite wise to every trick in the book that website owners have tried to make their pages rank higher. If you're hoping to gain some web traffic from search engines, an understanding of SEO basics is helpful for writing your product descriptions, but because you should also have strong social media and in-person presences that direct fans to your website, you shouldn't be relying on SEO to bring in traffic. And it especially shouldn't be obvious in your description that you're trying to rank for certain keywords. Savvy internet users can smell keyword-stuffing from a mile away and it's a major turn off.
These keyword tips are especially helpful for creating descriptions for listings on third-party websites like Etsy.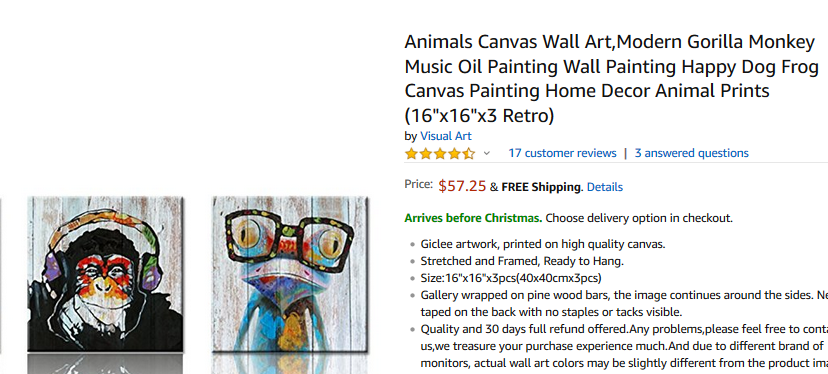 A keyword-stuffed title on Amazon.
Keywords
Pick one or two keywords or phrases that customers searching for art like yours may search for. "Charcoal forest drawing", "retro pinup watercolor", etc. Use these key phrases sprinkled naturally throughout your product description in places where it makes sense, and no more than 2 or 3 times. Here's how to do keyword research.
Product title
The product title should include your keyword. It's useful to include the name of the piece as well. "Charcoal Forest Drawing, 'Serenity', 12"x12" gives just enough information along with the thumbnail image of the piece to pique curiosity. If the title is too long, your customer's eyes will glaze over and they won't read it, potentially missing out on important information. Keep it short and sweet, and save the details for the description.
Careful not to over-optimize
Keyword-stuffing, as mentioned above, will hurt your Google ranking and also turn off potential customers. It looks like you either don't know what you're doing, or don't care. So instead of "Black charcoal forest drawing woods scene chalk art original wilderness artwork", settle on a single effective keyword or phrase and use it carefully.
Describing your art
Check out our helpful top-10 post on how to describe your art to the average person.
Focus on the colors, mood, and imagery. Specifically, try to view your art through the eyes of an enthusiastic collector. What is it that compels them to want to own your art? Is it just because it's pretty, or is it because it reminds them of a beautiful childhood memory or evokes an emotion? Appeals to emotion and nostalgia are powerful sales tactics; look for them the next time you watch a commercial on YouTube or view an ad on Facebook.
Notable features
Think about aspects of the piece that your customers may find fascinating. Some aspects to consider:
Is there a special or funny story behind the piece?
Did it take an exceptionally long time or large number of steps to make?
Did you use special or unusual materials or source them from a special place?
Is there anything special or remarkable specifically about the subject of the piece?
The truth is that you aren't just selling art- you're selling your story. And each piece of art has a story too. It doesn't have to be a long story or outrageous to be interesting to your collectors. This is why it's helpful to journal as you create your art, so you can capture those interesting tidbits that you experienced along the way. (If you're having trouble figuring out how to tell your story, HTSYAO 101 is a great place to start.)
Put yourself in the customer's shoes
Consider what kind of experience a potential collector is seeking. As mentioned above, perhaps it's a particular memory or feeling. Or perhaps they're seeking a large statement piece that says something about themselves. Whatever it is, if you can dial in on the experience your collectors are seeking and appeal to that desire in your description, you have a higher chance of making the sale. Think about ways to describe:
How it feels to own this piece.
What effect it has on the room it's hanging in and on the viewer each time they view it.
How can it make someone's life better.
Once you get going, you may find that you have more to say than you thought. If you're concerned about the length of the description, try separating it into tabs or headlined subsections that are easy to scan, like "How Was It Made?", "The Story Behind This Piece", etc.
Examples of great art descriptions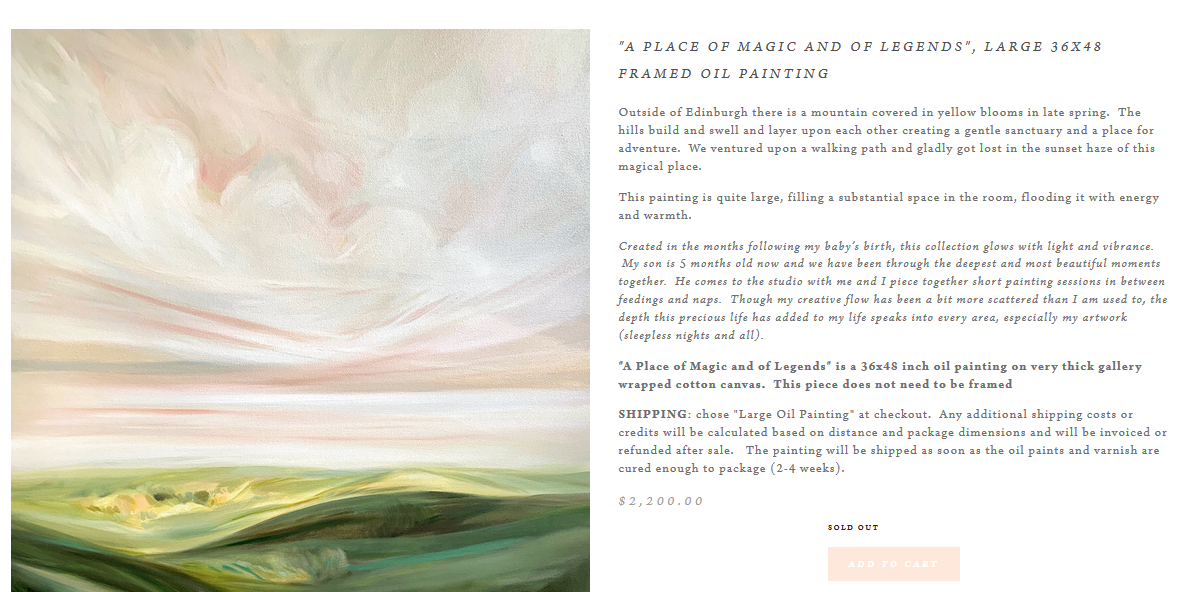 This description may be wordier than you're ready to attempt, and that's okay. This is what works for Emily Jeffords. She includes an enchanting description of the real landscape the painting is based on, how it appeals to the customer and how it will make them feel (flooding the room with energy and warmth), and the story behind this particular series of works. Her keyword is oil painting, and it's used strategically just a few times, including in the title. Nailed it!
In contrast, here are a couple of more sparsely-worded descriptions that achieve a similar effect: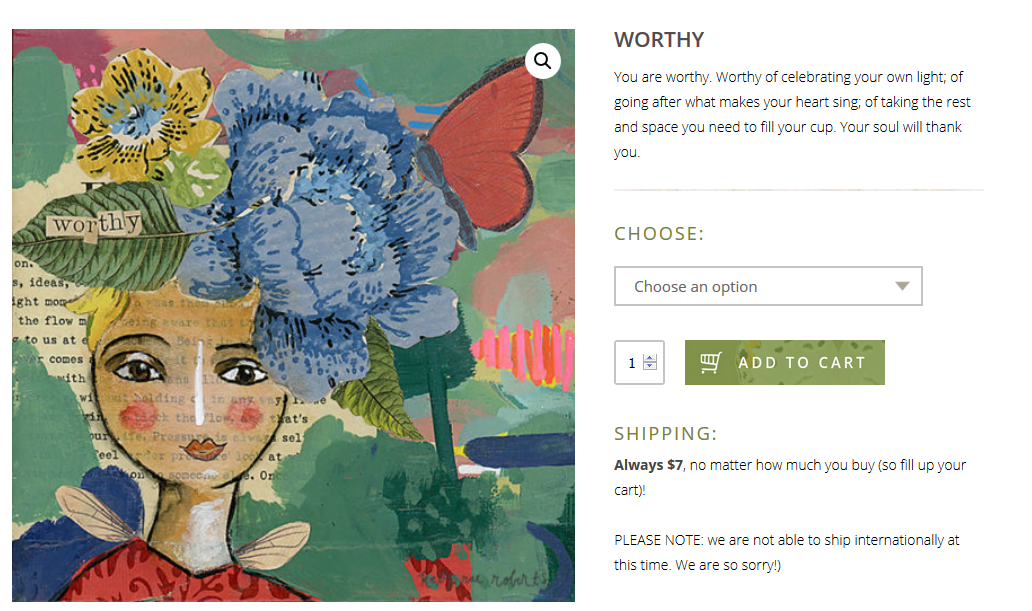 Kelly Rae Roberts is appealing to her collectors' desire for a healthy sense of self-worth. The abstract collage nature of her work doesn't necessarily warrant an explanation of the imagery, rather the spirit and intent behind it. This is something she accomplishes well, and with effective brevity.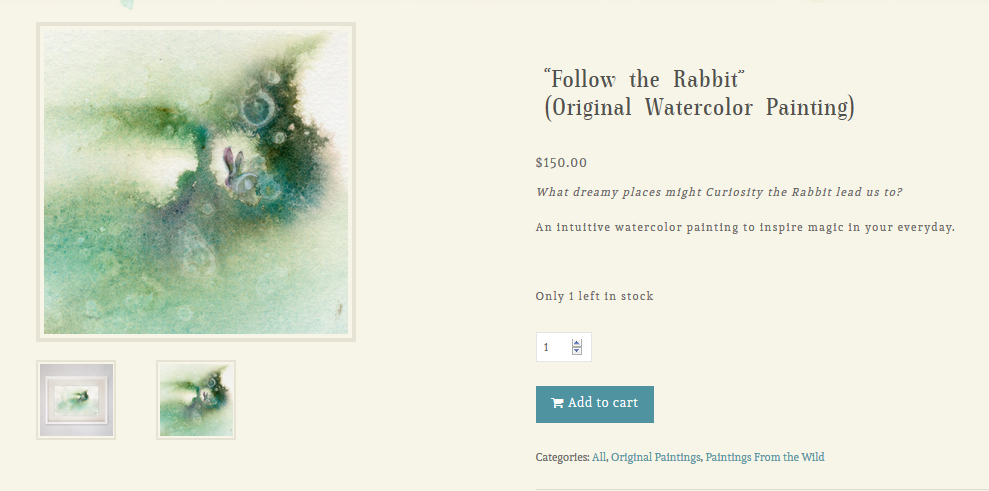 Amy Twon's description is incredibly short, but it matches the dreamy, ethereal and mysterious quality of her work and intrigues the buyer. It also explains just a bit about the process of the painting (intuitive) and shares how it can make the collector's life better (inspire magic in your everyday).
The key that makes all of these descriptions effective is a very clear understanding of what their collectors are looking for, and appealing to those desires with a carefully thought out description that reflects the best qualities of their art: whether those qualities are warmth, affirmation, or mystery.
Putting it all together
As you work out the best description that fits your artwork and your business, try this simple formula. Feel free to remove or add elements as needed, but remember that the product page should at a bare minimum list the title, materials, size, price, and shipping cost.
Title
Description or story behind the subject
Description or story behind the larger series
How will owning it make the collector feel?
Materials, size
Price + shipping
What story elements do you include in your product descriptions? Have you found it helpful to include those story bits, or are you having trouble with it? Let us know in the comments!