The availability of high-quality, low-cost courses has essentially leveled the playing field for all artists, regardless of whether they have the opportunity to attend a traditional art school. Like many opportunities that burst wide open with the rise of the Internet, an online art course is like the perfect marriage between a lonely library-book self-study in the studio and the connection, community, and critique available in a conventional classroom.
What makes an online art course worth trying? First, you have the chance to learn at your own pace. Many courses offer lifetime access to the materials, allowing you to return as often as you like to continue the course between a day job or life obligations. Online art courses can also often be much more affordable than an in-person course.
If the abundance of available courses is making researching and choosing a course intimidating, we've got your back. We put together a spreadsheet of nearly 120 online art courses with detailed breakdowns. A free membership gets you access to the spreadsheet. So go grab your copy, then read on to learn about the details inside the spreadsheet along with some of our favorite picks.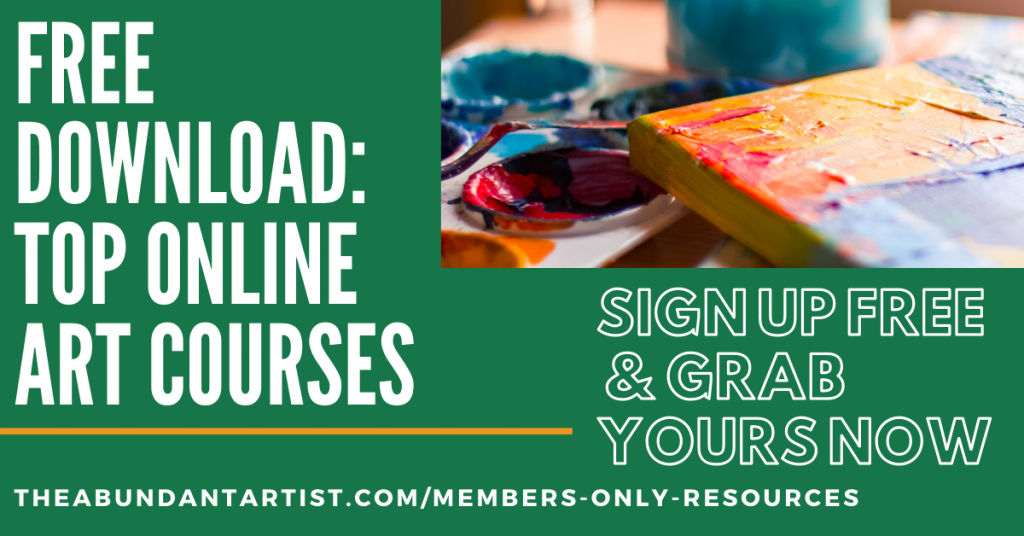 What You Need to Know About Each Course:
After consultation with professional artists who take online courses, we included the following columns in our research:
Course outcome: This is essentially the "promise" of the course. What will you be able to do at the end of the course that you couldn't do at the beginning? Where possible, this is in the course instructor's own words.
Specific painting vs. general technique: Does the course offer training in general technique, or are you learning to reproduce a specific piece?
Length of course: The way this criteria is recorded varies among courses- some only specify the number of modules, while others clarify that the week is a certain number of weeks long.
Length of access to course: Does your access to the course expire, or do you have access to the materials for life?
Price: How much does the course cost?
Instructor: Who teaches the course?
Platform/tools used: Is the course taught on a platform like Teachable? If run through an independent website, what tools are utilized to teach the course (live calls, video downloads, PDFs, etc).
Additional features: Is there a membership feature, a private Facebook community or forum, or any other additional features available, either with the course purchase or as an add-on?
Beginner-advanced? What mastery level is this course aimed at?
Top Online Art Courses Under $100:
After researching over a hundred online art courses, a few low cost courses stood out. These courses either offer tremendous bang for your buck with a wealth of high-quality material at $100 or less, or they are a unique course that's well worth the small investment for your business or personal artistic growth.
Learn How to Light Your Studio Like a Pro: No more squinting?! This was the only course we found on professional studio lighting, and at just $47 it's a worthwhile course to invest in.
6×6: 6 Canvases in 6 Days: This mini-course from Donna Downey will have you completing 6 6×6 oil paintings in 6 days. We've written before on how art challenges can improve your productivity, and at just $85 this course will be a worthwhile investment for oil painters in need of a kickstart.
Bold Rich Saturated Color: This comprehensive, approachable course on watercolor technique by Birgit O'Connor offers a high volume of content for under $100 including access to a private Facebook group and extra bonus content.
Figure Drawing Fundamentals/Anatomy of the Human Body: These courses offered by Stan Prokopenko offer an incredible amount of content for just $99. These are two separate courses. The former, figure drawing fundamentals, is great for even the newest beginner and contains about 15 hours of content, while the latter, anatomy of the human body, currently has about 55 hours of content and is still actively updating to include more content. The anatomy course is divided into three sections: torso, arms, and legs, each $99. Proko courses are highly lauded amongst artists and will be a worth investment in your art for the rest of your career.
Top High-End Online Art Courses:
Amongst the courses that require a more significant investment a few stood out as particularly noteworthy. These courses have been well reviewed and come highly recommended by some of our own professional artists within the Abundant Artist community.
Better Than Art School– Many artists who have gone the traditional university route have been grateful for the structure and challenge of their formal arts education, but have bemoaned the lack of business skills taught to fledgeling professional artists who are expected to fly without so much as a business plan. Amira Rahim seeks to bridge this gap with her highly esteemed course. The promise of the course is that you will "learn how to make art that sells in 60 days." Includes lifetime access to the course materials and alumni support group.
Foundations in Acrylic- This comprehensive acrylic technique course is a year-long intensive that promises to help acrylic painters be more successful working with color, color mixing and using color value to build better paintings and renew creative confidence. For $420 artists receive lifetime access to a year's worth of lessons, each month resulting in a finished work, and access to a private community. What stands out about this course is the value: broken down, each month costs only $35. That's a worthwhile investment for artists looking to drastically improve their acrylic game.
Fresh Paint– Flora Bowley and Lynzee Lynx join up to offer a very different kind of art course: this course will appeal to artists who view their art practice in a holistic and perhaps even spiritual way (more on this below). The goal of Fresh Paint is to find your "unique creative style" through the process of creating 100 small mixed-media paintings. The course description to Flora Bowley is: in this course, we use mixed-media art, movement, meditation, and writing to explore personal experience, individual preference, ancestry, intuition, and body wisdom. Artists receive access to the $297 course for 6 months.
Noteworthy Trends:
The spiritual approach

Flora Bowley and Lynzee Lynx's course Fresh Paint is one example of a trend we noticed as we put together this research: there is a large market for art courses that don't stop at simply teaching technical ability. It's clear through the breadth of courses available that marry spiritual practices such as meditation and yoga to art-making that a large subset of artists are hungry for a holistic, soul-centered approach to art-making. Courses in this vein include:
All courses by Flora Bowley
All courses by Melanie Rivers
Walk the Labrynth by Amy T. Won
Life Book courses by Tam LaPorte and others
Low-cost online academies

There are a wide range of online "academies" that allow a platform for anyone willing to put in the work to create a course and share their expertise with others. Other sites are run privately by one or more prolific artists who are passionate about making art lessons accessible to everyone.
These are a great place to start if you're looking for a lower investment and a wide breadth of available courses and topics. Some of these academies are focused more on digital art or fine art illustration, but the larger sites like Udemy and Skillshare have a much wider range of classes available:
Reproduce a painting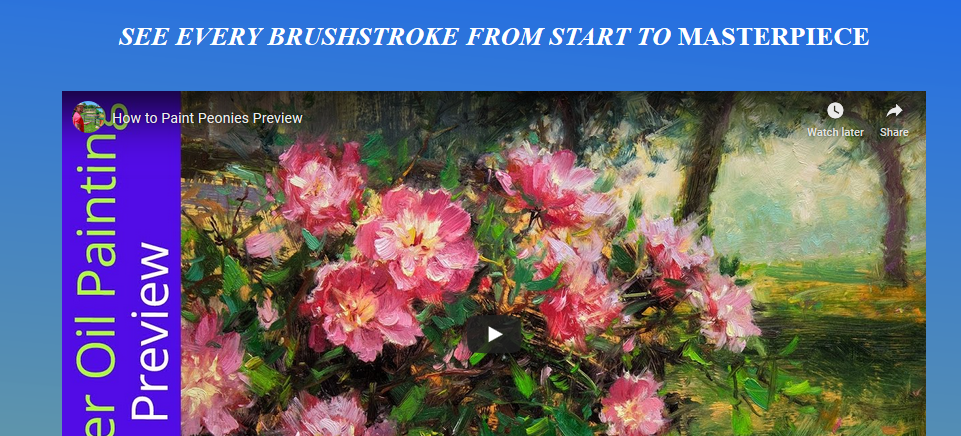 Another low-cost option is wildly popular as evidenced by Bob Ross and those "sip and paint" events you always get invited to: short standalone courses that aim to teach technique by walking students step by step through the process of reproducing a specific painting. These courses are widely available often for well under $50. Examples:
How to Paint Peonies by Bill Inman
Exotic Orchids in Watercolor by Birgit O'Connor
Dirty Flirty Birds by Jodi Ohl
As our research hopefully makes clear, there is an online learning option available for every kind of artist at every skill level and every tax bracket. When is the last time you invested in yourself? Grab your free copy of the spreadsheet now and use it as a jumping-off point to find a course that will help you improve your art practice and reach your goals. And let us know in the comments if we missed any great online art courses that should be included!