Sarah Guthrie is our very own in-house mastermind facilitator for The Abundant Artist. She spent over 20 years in communications and marketing, but dreamt of being a full-time artist & artist coach. In September of 2019, Sarah was finally able to quit her day job! In addition to creating art, Sarah coaches other artists, helping them to improve their performance, reach their goals, and find their creative flow.
Prior to the shift that enabled her to quit her day job, Sarah was actively creating art but only selling around $500-$800 worth of art a year. There were roadblocks in the way:
Sarah: "I didn't know how to talk about my art, I didn't know how to tell a story about it. I knew how to tell stories, because I was 20 years in communications at that point, and I knew how to do marketing, I just didn't know how to do it with my art. 
My husband and I had moved from Washington D.C. to Seattle, which meant a big pay cut for me. And suddenly things were a lot tighter, and I needed to make more money. And so I started thinking, "Well, I could go and get a part-time job… what could I do? Maybe I could be a bartender or work in a store… I do paint all the time. Maybe I could…"
I was like, "But nobody makes money selling paintings, so why would I bother?" Then I thought "Well, just for giggles, let's see if we can find a book about it." A quick online search later, I ordered the book (How to Sell Your Art Online) and then I started reading it. So then I went on the Abundant Artist site, and I found the 8 Day Challenge."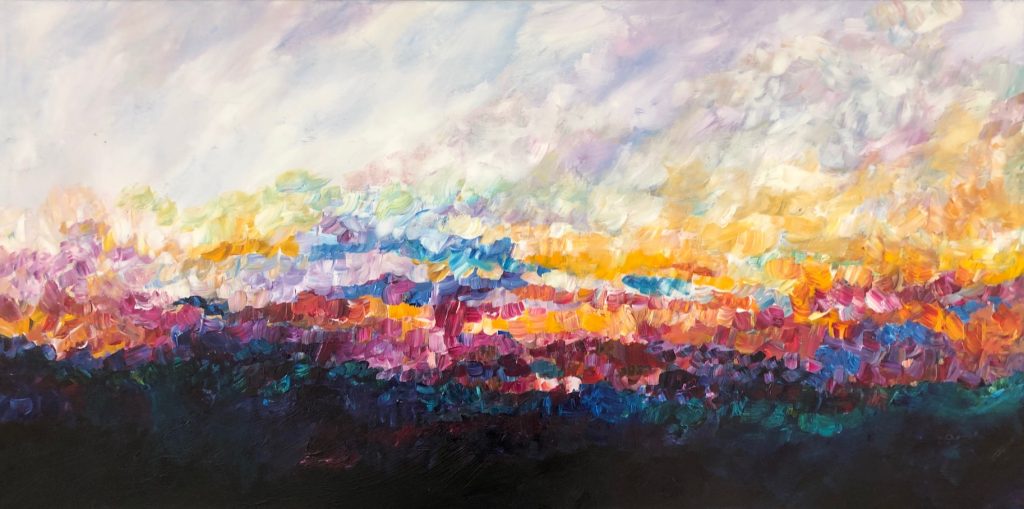 As many artists discover is the case, an increased commitment to selling their art leads to selling more art. With the 8 Day Challenge, Sarah quickly sold a painting.
Sarah: "Every time I took a step towards my art business, suddenly more sales came up. And it has to do with setting the intention, it has to do with the mindset… I very consistently found when you shift that mindset and make that decision, I'm going to do this, things start to line up for you. And while there's all sorts of woo-woo explanations for why that is, I've had enough experience to find that it's true. 
There is something about making a decision like this. It makes things happen."
The sale during the 8 Day Challenge was enough of a motivation for Sarah to take the next step. Even though it represented a larger financial commitment than buying the book and taking the free challenge, Sarah knew she needed to take the plunge and enroll in How to Sell Your Art Online 101:
Sarah: "In the Challenge, I sold a painting and thought "Oh, this stuff seems to work. Let me sign up for the 101 course… Oh my goodness, it costs a bunch of money! Well, I need to learn how to do this …" And I think I sold another piece within a couple of days of signing up for the course, which felt like the Universe saying "Hey, you're going in the right direction."
For Sarah, the most helpful thing about the 101 course was the clarity on she gained in the group coaching calls and 101 exercises about the art she wanted to make and how to fit her art and point of view into a cohesive philosophy. With Cory's advice and encouragement from the 101 cohort, Sarah knew that while she wanted to spend her days creating art, she was also passionate about social justice and unwilling to abandon it. But it wasn't until a sunset walk with her dog one evening that the way forward began to materialize for Sarah:
Sarah: "It was a rare sunny day in the Pacific Northwest in January, and the sky was filled with pinks, purples and golden colors, and I just thought "This brings me so much joy seeing all these colors." I came home and I thought I want to ask people, 'What 3 colors bring you joy?' I was curious what people would say. I put it up on my Facebook page–this was probably three weeks into the course, and went to bed. 
Next morning, I woke up and there were a couple dozen responses, which was the most engaged kind of post I'd ever had to that point. So I thought "oh wow, there's something here."There's something here about joy and about color that's connecting for people and is a way for me to connect. And so that started the 'What 3 Colors Bring You Joy?' series, which led to me thinking more deeply about joy and continuing this work that I'm doing today."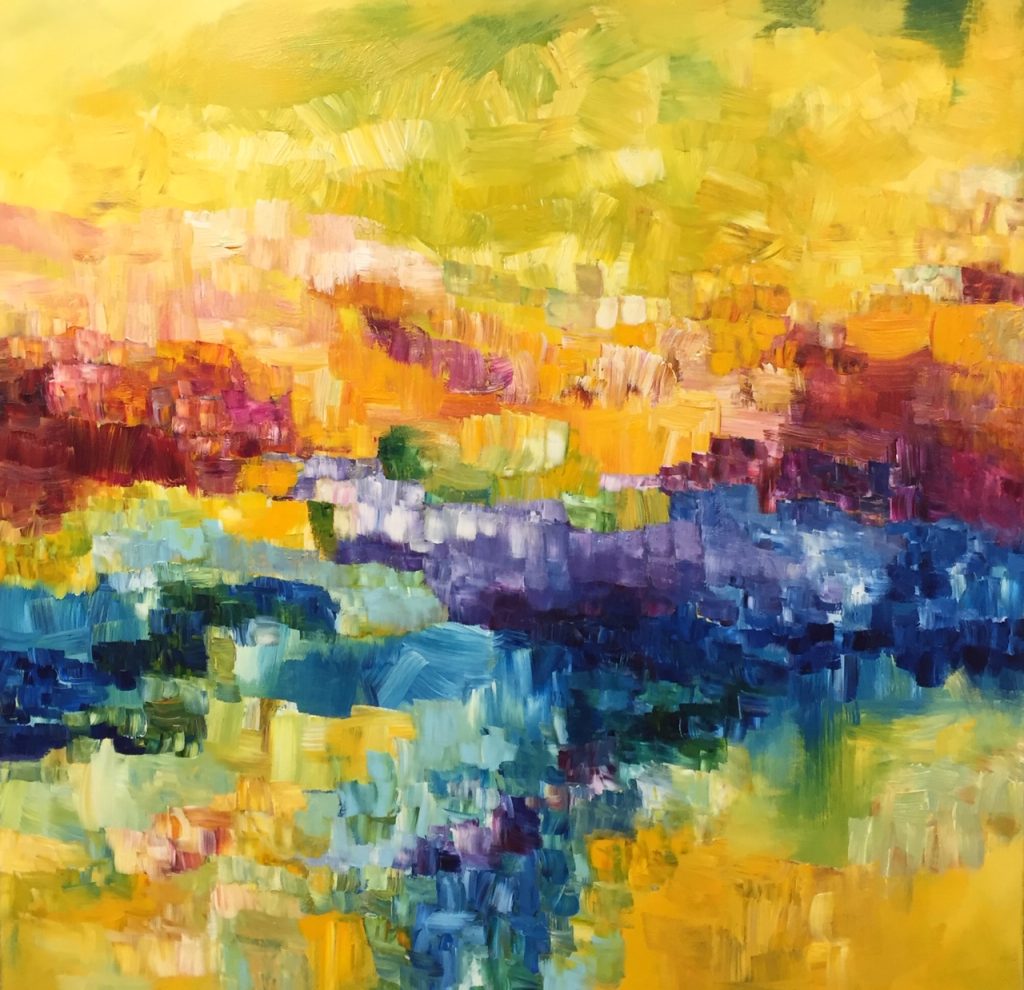 Once Sarah had completed the 101 course and had been working on the What 3 Colors Bring You Joy? series for several months, she felt emboldened to ask a friend, who also happened to be the director of a small rural museum, about the possibility of showing her work there:
Sarah: "In April of that year, a friend of mine had an art exhibit in Santa Fe, and so I went down to see her and celebrate her success. I was chatting with her afterwards. She was in the process of organizing a few of our art school alumni for a show. And so I just got bold enough because I'd been painting joy for  several months at that point, and I said, "I would love to have a show at the museum, is it possible to be a part somehow?" And she said "Yeah, we actually have an extra space and we haven't booked anyone for that yet. Can you do something for June?" It was April.
And I said yes immediately"
What followed was a month of scrambling to create 100 small paintings that would ship easily from Seattle to Virginia. Sarah also simultaneously finished HTSYAO 301 in order to make sure that her business was ready for an upsurge in publicity (a lesson Sarah learned the hard way after a Boing Boing post featuring her art went viral years ago).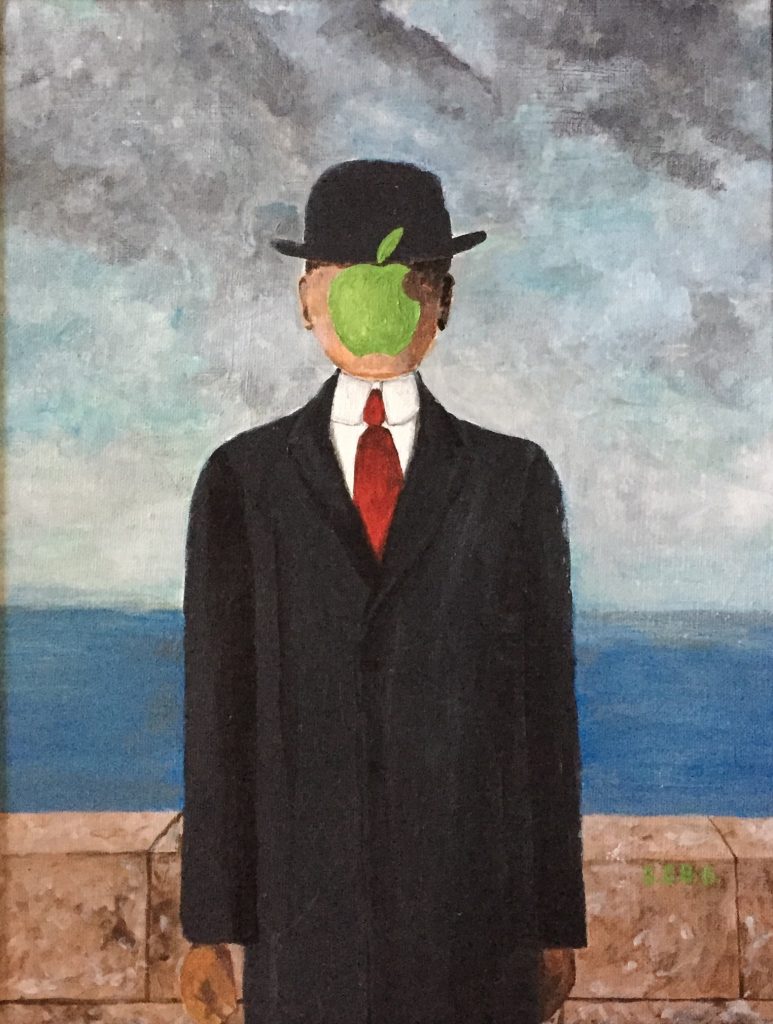 At the show opening, she reconnected with another friend and art school alumnus with a small gallery in Nashville. A similar stars-aligning interaction took place, and Sarah booked another show for the following spring! We asked Sarah why she thinks she had so much success in such a short time booking shows:
Sarah: "The biggest thing is the relationships. These were very dear friends from art school, we'd stayed in touch through social media, calls, and visits in the years since graduating.I think having good healthy non-competitive relationships with people is one of the most important  things you can do as an artist. There's this phrase, 'rising waters raise all boats.' I realized that my younger impulse to be competitive doesn't serve me well in the art world. The art world is so relational. Both shows earned media coverage, some really important exhibiting experience, and helped me push my series, push me further. Having had a museum exhibit and an invitation-only gallery exhibit has meant that other opportunities have come up. They were a sound investment of time, money, and my own energy, and I am grateful my colleagues trusted me enough to say yes when I asked.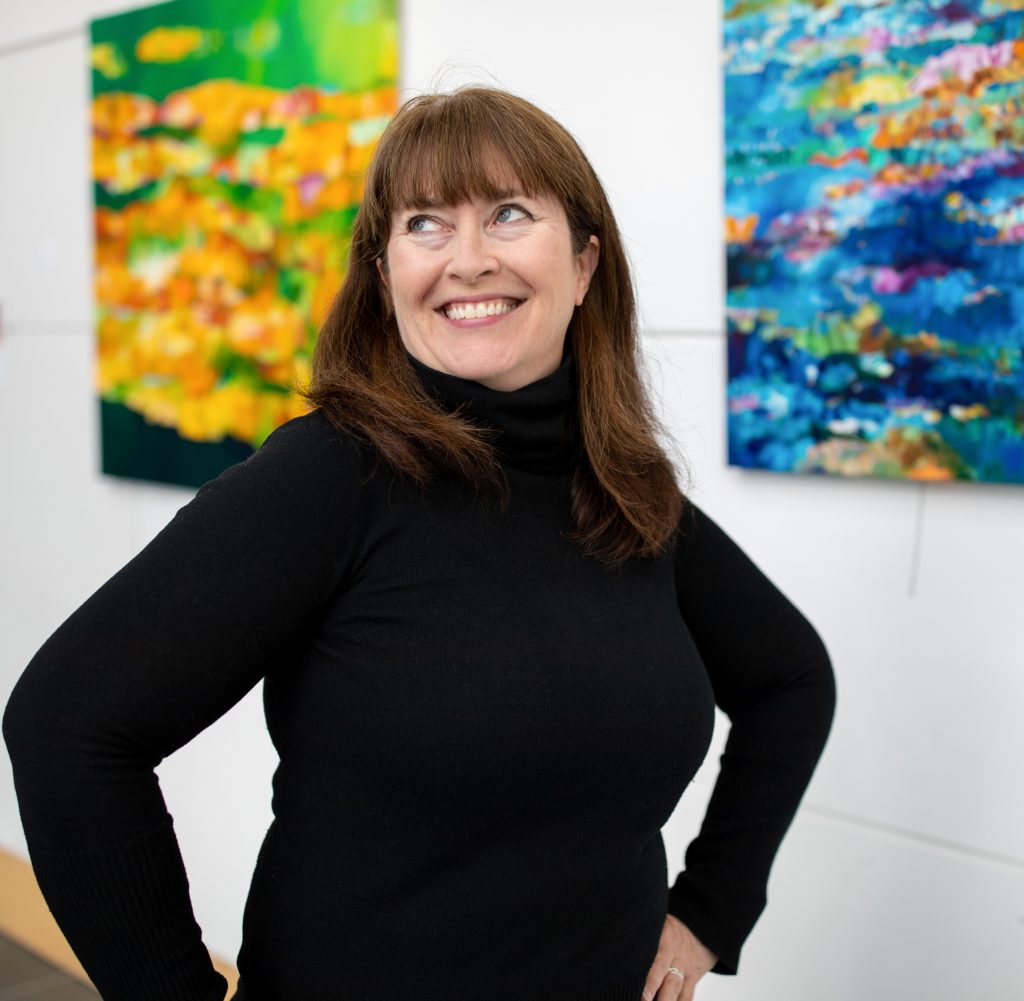 As Sarah's art business has grown and she has become more comfortable making the ask, she has also grown the coaching side of her business. As with any artist torn between two passions,  when she launched her full time art business, she soon discovered she had to choose what would be the core to the business–either painting and selling her work or coaching artist. She knew she wanted to do both, but one had to take the lead. She had hired a business coach for herself (Charlie Gilkey of Productive Flourishing; Association members can access a masterclass on Productivity with Charlie) to help her sort out these competing priorities
Sarah: "What became clear after a couple of weeks working with Charlie is that I really wanted to live the Dream and make creating and selling art the center of my business. The joy for me is that coaching artists is this great other thing that I get to do to help really make a difference in people's lives and help open up more people to their creativity and grow their businesses. It becomes this exciting feedback loop that keeps me open and growing. I love researching and sharing what I've learnt with my clients–it's mutually beneficial as I am learning for them and I am learning for me. Within the coaching, there's two branches: there's the work I do at The Abundant Artist and coaching really seasoned artists, sharing my knowledge of  business and communications and marketing, performance management, and goal setting. I love bringing that training to support artists. I've gotten a great deal of joy out of helping people who are very creatively blocked get unblocked and find the joy in their lives."
As Sarah has found her place and pursued growth in her art business, she has discovered that her early misgivings about creating a career around art were unfounded:
Sarah: "That sense of abundance at the core of The Abundant Artist is vital.. We have such a loud conversation in our society about how pursuing art is risky and will create lack in your life. But it's the opposite. Creating art actually creates abundance in your life and in the lives of the people around you."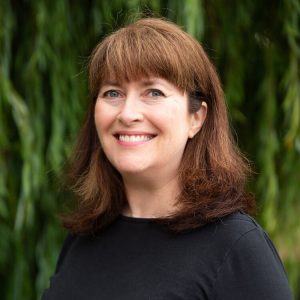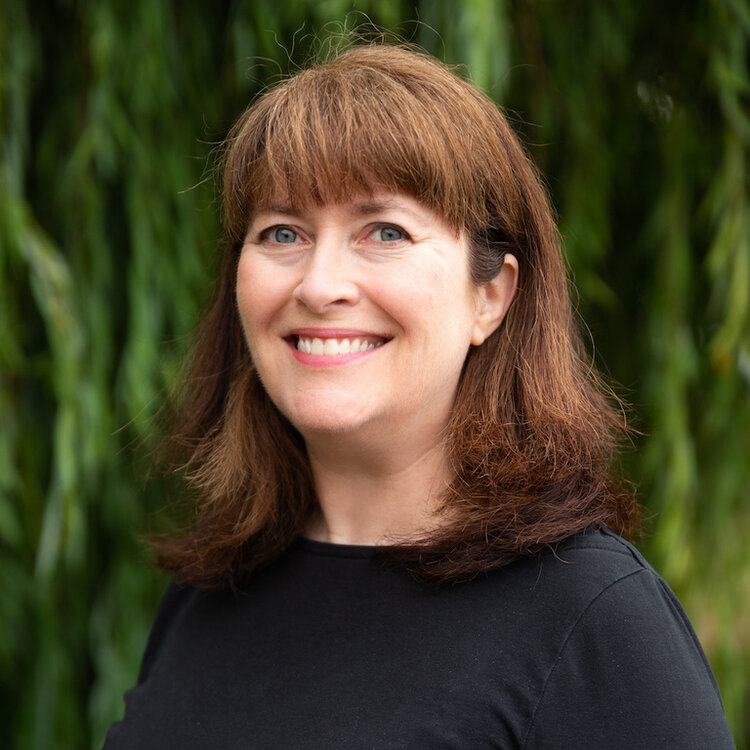 Sarah Guthrie, MFA, MA, is a Seattle-based, full-time professional artist and artist coach with over 20 years experience in painting and communications including facilitation, coaching, storytelling, marketing, performance management, public speaking, social media, and design. In 2017, she began a series 'What 3 Colors Bring You Joy?' that led to a 2018 Painting a Day Challenge, in which she completed over 400 paintings in one year. In 2019, she was juried in as a member of the Women Painters of Washington and launched her business as a full-time artist and artist coach. She is a Certified Innovation Facilitator by The Creative Problem Solving Group; a certified Development Dimension International (DDI) customer service trainer; and completed Training Resources Groups' facilitator training. She specializes in creativity, accountability, and business coaching for artists. Her website is www.ArtistGu3.com.