Open Instagram, and the first thing to catch your eye is the bubbles at the top of the screen. The accounts you follow are encircled in orange and purple, notifying you that there are new stories to watch. First appearing in 2016, the stories feature allows users to share images, videos, text, and gifs for 24 hours before the content "disappears" (although there is also a handy Highlights feature that allows you to save your stories and post them to your profile… so they won't truly disappear if you don't want them to.)
Perhaps you've never created an Insta Story before, or perhaps you're a little addicted to them. The fact remains… they work. But what is it about disappearing content that is so appealing, and how can an artist harness the mystique of ephemeral marketing to improve their business? Let's take a look at what ephemeral marketing is, why it works, and some artists who are using it for their benefit.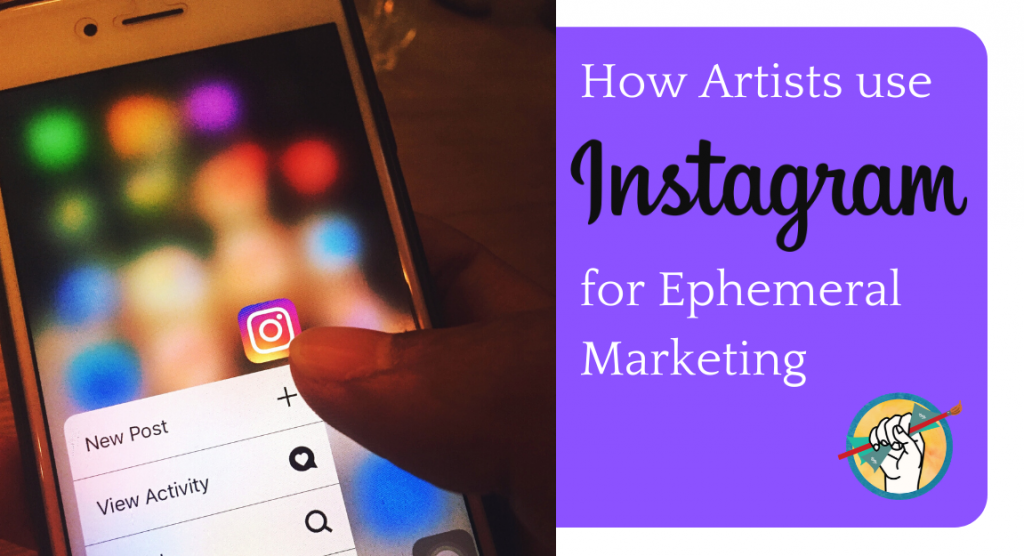 Ephemeral Marketing
Ephemeral marketing is a fancy way of saying "content that disappears". The pioneer of this kind of media is Snapchat. Founded in 2011, the company is the first social media platform to introduce a way of sharing videos and pictures that disappear after 24 hours. Instagram quickly followed suit, as did Facebook (which has owned Instagram since 2012, thus the marked similarity in FB & IG stories).
Why does ephemeral marketing work?
Ephemeral marketing appears at one end of what we might imagine as a spectrum of social media marketing tactics. On the other end is viral videos, which are shared thousands or even millions of times, and which you're likely to see multiple times across multiple platforms over the course of several days or weeks. While a viral video can be wildly successful in the short term, it also burns itself out. By the end of its "shelf-life", so to speak, by which time it has likely been riffed on, parodied, and analyzed into the ground, everyone is tired of talking about it.
Ephemeral marketing, by contrast, cannot be easily shared, and a short shelf life is built in from the beginning. The goal of ephemeral marketing is not to spread like a virus, but rather to inspire a sense of exclusive access; it taps into that peculiar and ubiquitous state of mind known as FOMO (fear of missing out).
Another distinct advantage to ephemeral marketing is the sandbox-like nature of the platform that allows companies and brands to try new things and make mistakes without the more permanent imprint of a conventional marketing campaign. Granted, one can still screenshot a story if there is a particularly cringeworthy gaffe involved, but the fact that ALL content disappears, even the really good stuff, helps prevent the greater scandal of quickly deleting an ad that didn't go over well. According to destinationcrm.com, "For content marketing consultant and author Kate Talbot, "the ability to share your daily life in a way that is authentic and true to yourself without it affecting your overall social media aesthetic is very much why disappearing content has become so popular.""
People use Instagram stories for a wide variety of storytelling methods. The platform opens up a wide realm of creative possibilities. A story can be a static image, text on a colorful background, or short snippets of video.
Artists Doing Cool Things on Instagram Stories
We did a case study on Jessica Marie of Pop Art Puppydogs where she shared a bit about her journey (see the full case study here: Jessica Maria, Pop Art Puppydogs: A Case Study).
Jessica uses Instagram stories to document her appearances at art shows and other events, starting with a countdown several days before the event and including daily posts to build excitement. Jessica includes a lot of cross-promotion in her stories, tagging the accounts of dogs she's featured as well as sharing whenever she is featured on someone else's account. You'll notice that among successful Instagram users, cross-promotion in stories in common.
Here Jessica uses a very clever way to make sure that her audience comes back the next day to see the big reveal: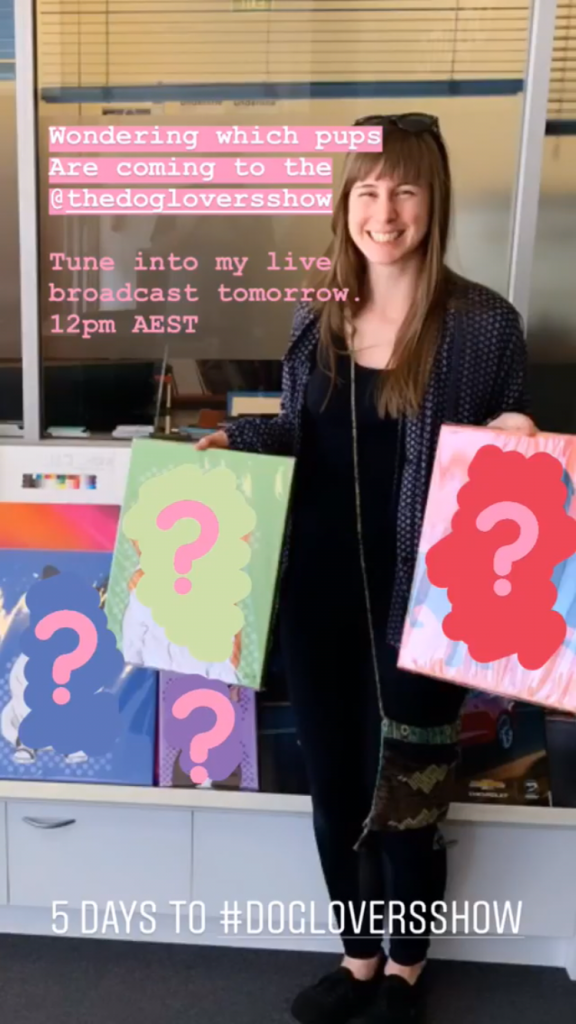 Jessica builds more interest in her upcoming show with a daily countdown, and providing her fans something they love to see- a side-by-side of the dog and the portrait: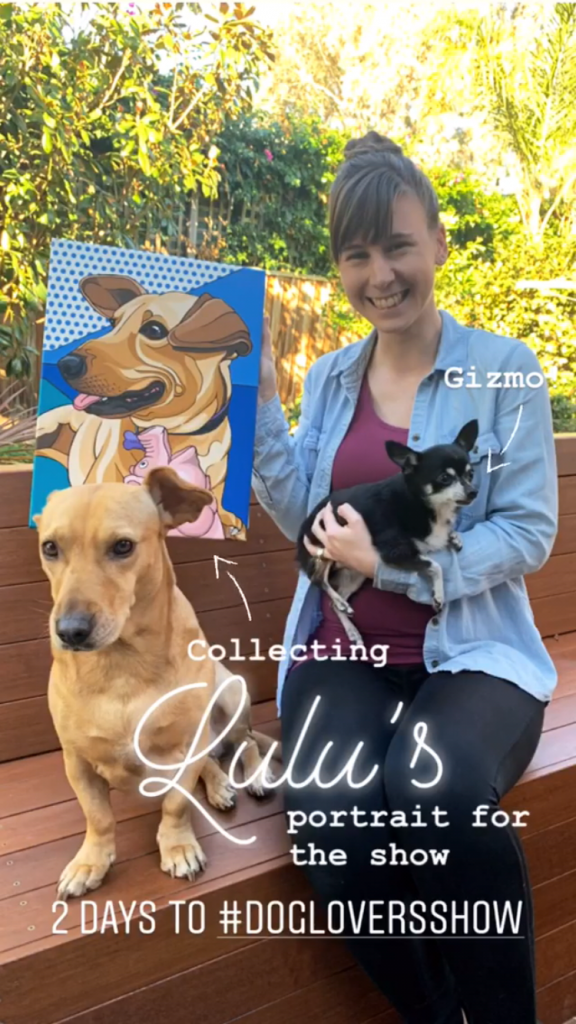 She shares every part of the process, so viewers of her stories feel invested and included in what she's doing: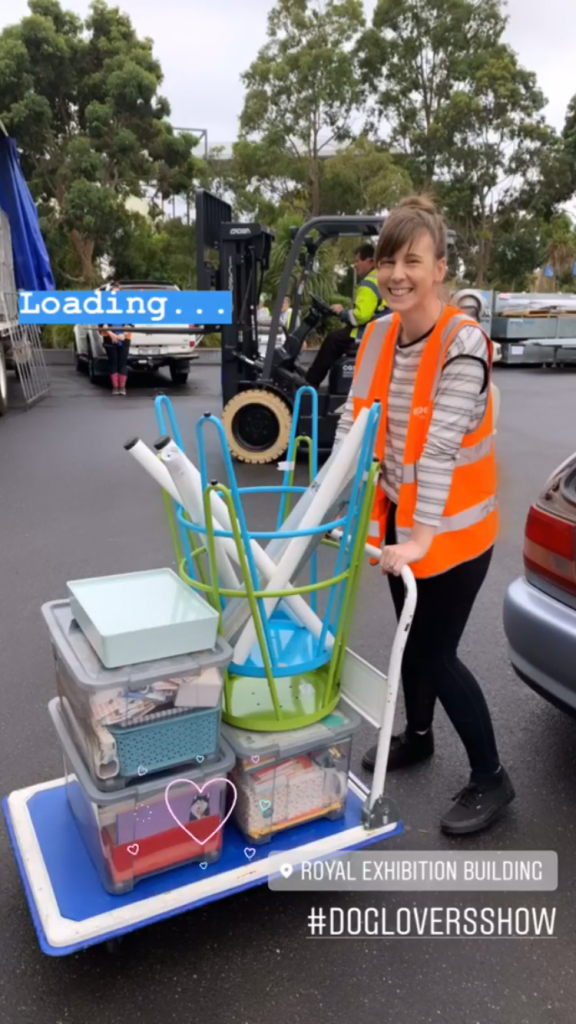 Here is an example of tagging accounts in order to cross-promote. It's likely that at least some of these accounts included her in their stories as well: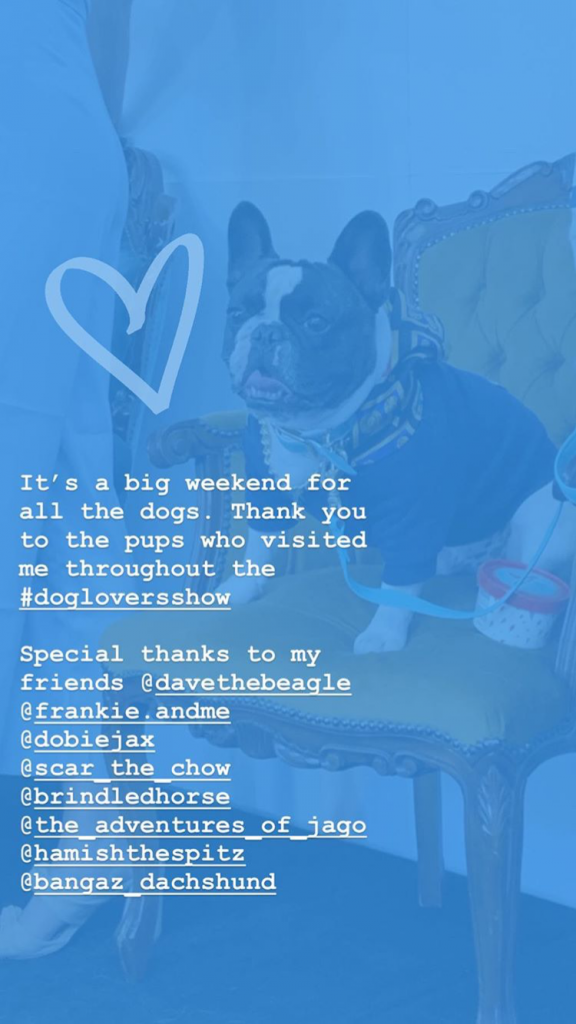 More cross-promotion:
Maggi McDonald has her Instagram game down. Check out our podcast interview with her here: Setting Energetic Boundaries & Finding Your Thing with Maggi McDonald. Maggi has experience in retail merchandising, which means that in addition to being a wonderful artist she has an eye for design and branding- a glance at her instagram account makes this clear. Similar to Jessica, Maggi uses her instagram stories for event promotion, cross-promoting with other accounts, and creating intriguing images of her art with the help of gifs and text.
Here Maggi shows us another way to cross-promote, tagging other artists whose work hangs on the wall next to hers in a gallery. Images like this are very likely to be re-posted by the other accounts who are tagged:
A little bit of storytelling and some strategic gifs make this story more interesting to look at than simply an image of the new piece: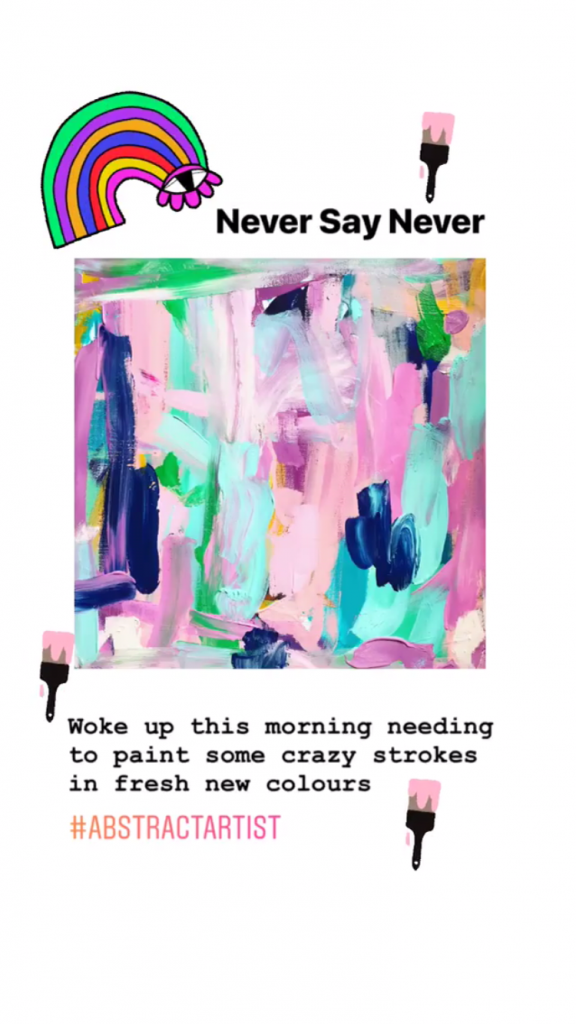 For large accounts that can incorporate links in their stories, a call to action like this is enhanced by the "free shipping" graphic. Tagging the gallery increases the chances of getting reposted: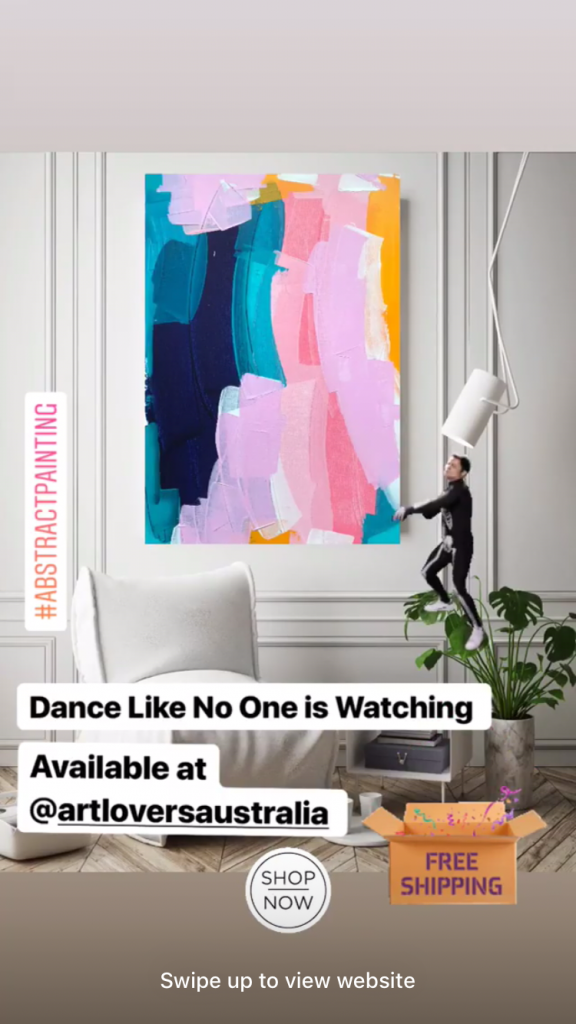 Did you know you can include polls in your stories? Here Maggi uses the poll to include her fans in the process of deciding whether to create more pieces in a certain style. This helps her audience feel invested in and attached to her work:
You can also use stories to allow your fans to ask you questions. This is a great way to strengthen your relationship with your audience, and allow them a peek behind the curtain. It's a really useful tool for artists who teach online art courses: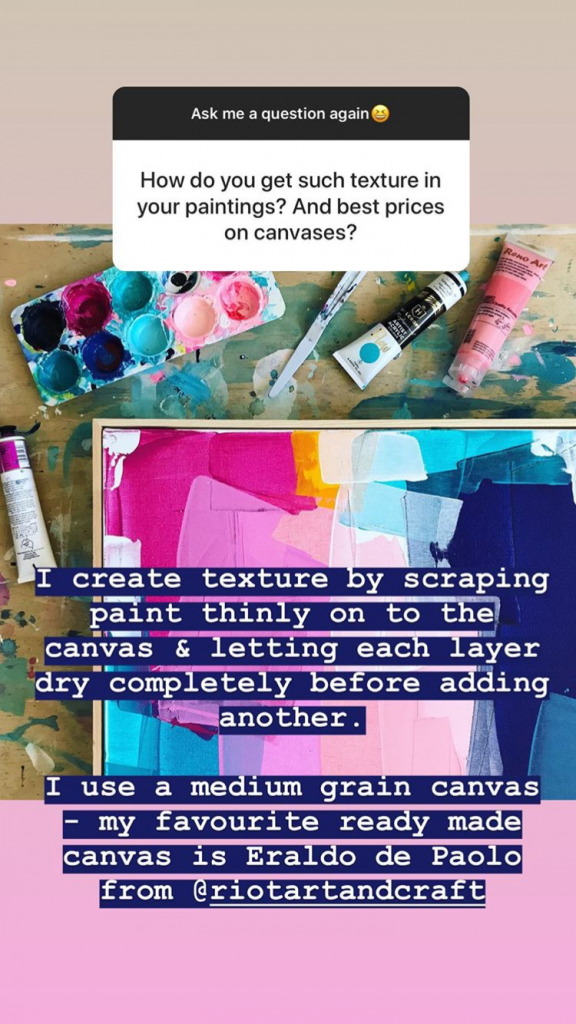 More cross promotion, this time tagging the art supply companies. Another great way to get other accounts to feature you: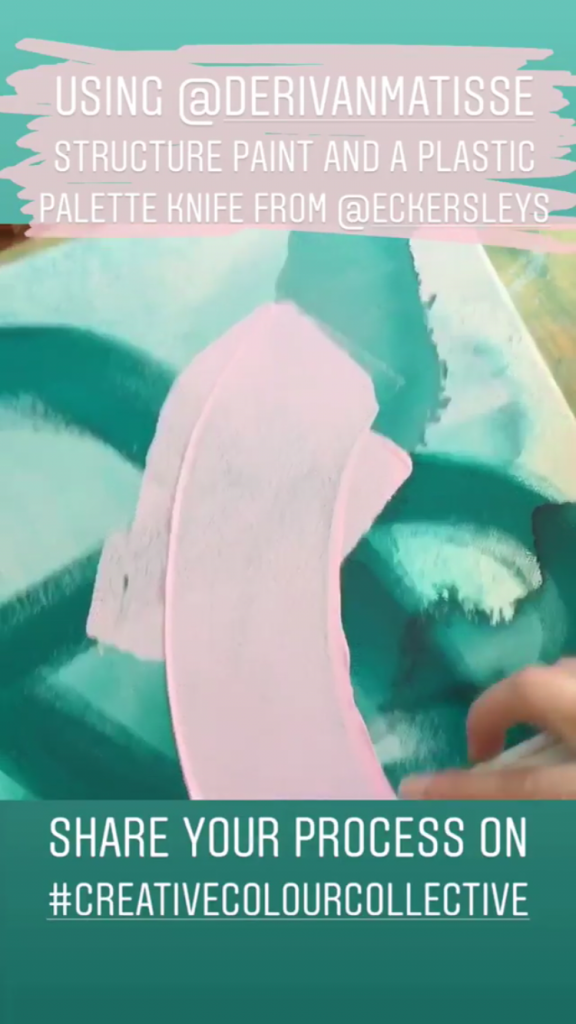 A few takeaways
What can we learn from Jessica & Maggi's Instagram stories?
Cross-promotion is key. If you hope to get other accounts to feature you, you need to feature other accounts. Create an attractive and shareable post tagging other artists, galleries, events, or products to increase your chances of having others share it and broaden your reach.
Make use of the breadth of features. Plain images and videos are fine, but Instagram is designed for image enhancement, and it's what your viewers will expect. Make use of the gifs, text, and filters that are available. That doesn't mean that every image has to be busy and moving, but a well-placed gif can make a memorable statement.
Make your stories interactive. Create a poll, invite your fans to ask questions, invite DM responses, and insert links if you have the capability. Thanks to the wide variety of interactive features available in Instagram stories, brands can forge a really unique and personal relationship with their fans that has them feeling very affectionate and invested in the product. And if something falls flat… don't worry! It will disappear in 24 hours.
Artists Using Instagram TV
IGTV is the newest Instagram fixture. An account that has IGTV will have a little television icon on their profile page. IGTV is essentially YouTube, but on Instagram. Videos tend to be a little longer than stories, and can be recorded seamlessly. IGTV is actually a standalone app, but the functionality is available within the Instagram app as well. IGTV videos can actually be up to an hour long, rather than being limited to 60 seconds (if you're uploading a pre-recorded video to Instagram. You can upload nearly as many 15s snippets to your stories as you want.)
Like YouTube, IGTV uses "channels", but the channel is simply the creator's account. IGTV differs from stories in that it's simply a video platform, so you won't be able to enhance with text, gifs, polls, etc. But if you have an audience built in to Instagram already or are looking to grow your audience with video without branching out to a separate platform, give IGTV a try.
Maggi McDonald uses IGTV for process videos: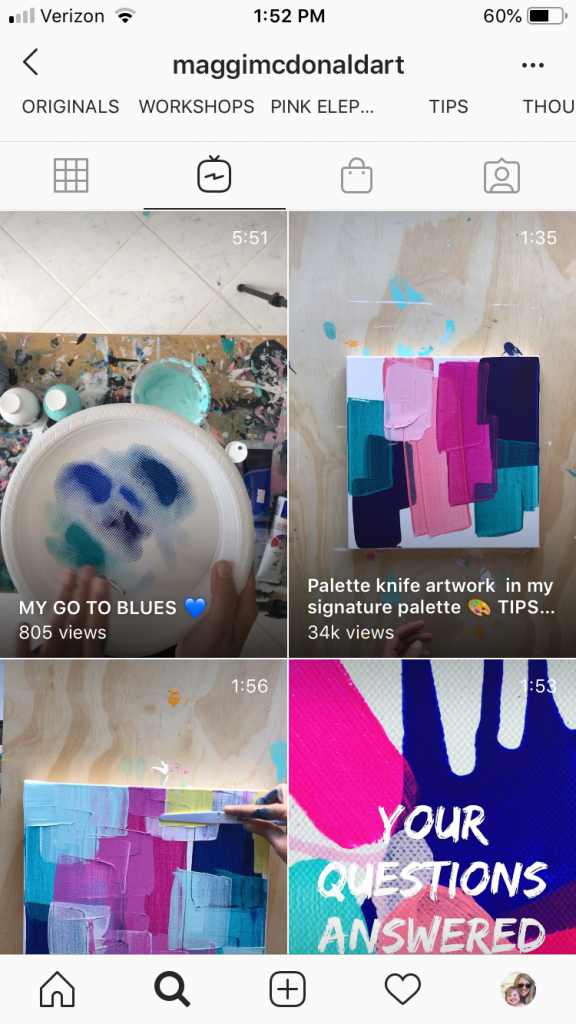 Although it's a very helpful tool to use if you're on Instagram and interested in using video to reach your audience, IGTV is not actually under the umbrella of ephemeral marketing because the videos do not disappear- they remain on your channel until you delete them. IGTV is a place for videos that have a bit more planning and polish behind them. Perhaps try some new things out in your stories, and use the Insights feature to help you determine what may be worthy of a longer video on IGTV.
Instagram Story Insights
If your Instagram account is a Business account (it's still free), you can view Insights for your posts and stories by clicking the menu icon in the upper right corner. With Insights, you can see quantities for Reach, Profile Visits, Impressions, Link Clicks, Replies, Shares, and 10 more metrics. Though not super customizable or in-depth, these insights provide a helpful snapshot of which stories worked and which did not.
You are also able to see who all has viewed your stories simply by clicking the lower right hand corner of your story once it's live. This provides a really interesting insight: how many people who began watching your story continued watching it until the end?
Are you using Instagram stories (or perhaps Snapchat) for your art business? Let us know in the comments!