This post has been updated since originally published. A lot has happened since Pinterest launched. We've seen some pretty awesome stories. Pinterest can drive a lot of traffic to your site, and drive a lot of sales.
Here's the thing, there are few best practices for selling art on Pinterest right now – but some people are figuring it out. Everyone's doing their own thing. Pinterest is still figuring out a business model – and they are also dealing with some very real challenges in regards to copyright.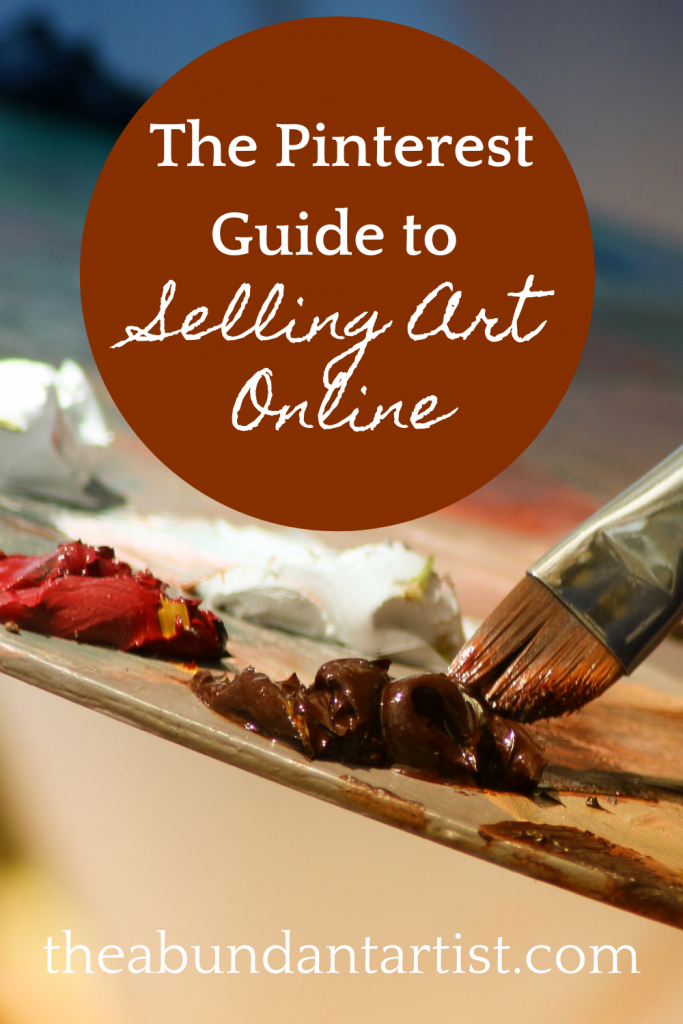 That said, I've spent some significant time looking at how artists are driving traffic and interest with Pinterest. In this post, I'll lay out:
how I'm seeing artists doing well with Pinterest
what's hype and what's not
my take on the Pinterest Copyright issues
who to follow on Pinterest
This will be a living document. I'll make changes and updates as things progress, so be sure to check back here.
How to Sell Your Art on Pinterest
Here's how many artists are using Pinterest to promote their work.
Use as a digital portfolio of your work. This is head-slappingly obvious, but Pinterest does a great job of showing off our work in a visually appealing way. They beat other social networks on displaying art, hands down.
Reference Pinboards. I think this is wonderfully savvy. Not only can you keep your inspiration in one place, but collectors can get an idea of what inspires you and make a personal connection.
Show the progress of your work. Believe it or not, some people are keenly interested in the creative process. They like to see how the sausage is made, so to speak.
Storyboard ideas. If you like to sketch ideas out before hand and see how they'll progress, this is great use and allows others to see how things are going to progress.
I've seen a number of artists who are doing all of these things and more. Here are my suggestions for additional items to be aware of when using Pinterest:
Complete your profile. People are going to want to know more about you. Add a link to your artist website as well!
Pin regularly. Like other social media, it's best to pin steadily over time, instead of in huge spurts with big gaps in between.
Add prices! If you sell prints online or other low-price items, then adding a price to your pins will display a banner on the item, letting people know your work is for sale.
Share other people's pins as well as your own images. This will bring more attention and help you build community.
Check out http://pinterest.com/source/yoursitehere – this will show you who is pinning your images, and give you a good idea of the kind of work that people are interested in.
Advanced Moves for Pinterest art vets:
Highlight your collectors. Many artists get pictures of art hung in their collector's home. Create a board to highlight your collectors – this shows that people are buying your work!
By the same token, post a board with testimonials from your collectors.
Create boards for the classes you teach, and use them as supplemental material for your students. Highlight their work as well.
Offer Pinterest exclusives. Each of your marketing channels should have a reason to connect there. Perhaps a limited print run that's only displayed on Pinterest.
Want more? Check out Andreea Ayers' Pinterest Advantage course.
Don't Buy the Hype
Keep in mind that even though Pinterest has had a meteoric rise to prominence, it's still a new site and they don't have a business model. They could go away tomorrow. Don't invest all of your hope in Pinterest. The smart play is to use Pinterest as a way to drive people to your site and get them on your mailing list or purchasing your art.
Remember that if it's free, you are the product, and you are building someone else's business. Your own site is the best place for long term marketing growth.
Copyright Issues
Oh, no! Pinterest might steal my images and make millions of dollars off of them! Artists around the Internet are freaking out over Pinterest potentially stealing their work.
I'm well aware that Pinterest's terms and conditions state that they can reuse your images for anything that they want. Let's just assume that they are going to change those soon. Facebook was in the same position a year ago and they changed. Any company that truly tried to make money off of other people's images like some people think Pinterest is going to would get buried in lawsuits.
Of course there are also issues with the way that Pinterest shares work. If someone re-pins an image, there's no link back to the original site. This is, of course, a problem. If it's a big deal for you, watermark your images. If you want to opt-out of Pinterest altogether, then go ahead and implement this code and nobody will be able to pin your images…well sort of. They could still download and upload your images, or just take a screen shot.
Let's not lose the forest for the trees folks.
Pinterest will get their copyright issues sorted out, or they will go away. It's that simple. Business just works that way. If you want to wait until Pinterest figures out their new terms and conditions, go ahead, but you're missing out on the land grab. I have every confidence that Pinterest will do the right thing by their users.
So, in the mean time…
Let's All Do Pinterest Together
Post your Pinterest profile in the comments below, and I'll be sure to repin some of your images in the Abundant Artist pinboard. Be sure to follow that pin, and me, and also share the work of your fellow artists!
Also, if you've had any success with Pinterest, let us know in the comments. We would love to hear some real-world success stories from artists who have grown their business with Pinterest.
Happy pinning!