Will Eskridge is an innovative artist who has transformed his career from making just $1,000 in two months to booking $10,000 in 1 month. Over the years, Will has consistently desired to mold his talent into a full-time art career. But, after finishing his formal education, he found himself at a crossroads. He realized that he had all of the tools required to create but little understanding of how to jump-start his art business.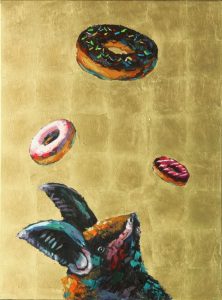 "I knew I had the talent and passion; I didn't know how to turn my art practice into a viable business. I was doing okay, but I wasn't thriving."
After several months of trial and error, Will decided to jump headfirst into educating himself on the arts' business! Not long after making this decision did he found The Abundant Artist!
Initially, Will started by taking some of our virtual workshops, How to Sell Your Art Online Courses, and reading the book "How to Sell Your Art Online" by our founder, Cory Huff. As he began to apply the knowledge from the book and the "How to Sell Your Art Online 101 Course", he began to see his art business generate revenue but felt guided step by step assistance was what he needed to scale to the next level.
After receiving advice from painter Adam Hall, Will decided to join The Abundant Artist Mastermind Group. Will said, "Speaking with Sarah and joining the group was like a ray of gold came over me. Before joining, I hadn't sold anything in about 3 months."
With the guidance TAA's head coach, Sarah Guthrie, Will was able to transform his business. By implementing the tools he acquired in the group his business skyrocketed. Will quickly transitioned from 0 buyers to turning clients away because of an overwhelming number of inquiries. 
"The first time I got on the theabundantartist.com in 2012, my life changed; it actually makes me quite emotional when I think about how much my life has shifted since becoming a Mastermind Group member."
By applying the methods taught in the Mastermind group Will continued to scale his business during the 2020 Covid-19 pandemic. By clarifying how he connected with his target audience, he managed to walk into 2021 with 50 new buyers and 5 old collectors. 
Now that Will has established his fine art business, he has branded himself by painting some of the most overlooked animals. Because of this, he has coined himself as the "Rock n Roll Animal Artist for Outcasts". One of his most well-known works is "Take a Chance," which shows an adorable bat with donuts. 
Will shared with us some of the tools he has implemented to continue to scale and expand his business:
Send out weekly

newsletters.

Focus on being more strategic on social media by utilizing analytics tools such as Planoly.

Implementing productivity methodologies such as ones found in the book

The 12 Week Year

.

Getting organized by using the Panda Planner.
If Will Eskridge's story resonates with you, then apply to participate in The Abundant Artist Mastermind Group to join a community of artists who are receiving hands-on support during the pursuit of creating a thriving art business.