There are almost too many resources that will help you sell your art online.  Here are 15 great ways to get that canvas, video, book or other piece of art out the door.  This list will be updated over the next several weeks with links to experts who will explain how to sell your art through these venues.
Ways to Sell Art Online
Need more?
Subscribe to The Abundant Artist Newsletter and get the Sell More Art in 10 Weeks e-course. It's an absolutely free gift to you! Not sure if you want to sign up for another email newsletter? Here are 6 More Reasons to Sign up for the Newsletter.
Like This Post?
Do me a favor and share this image on Pinterest and let other artists know about this resource.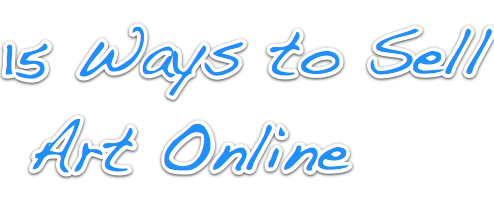 Ready to Change the Way You Think About Your Art?
Check out The Game Changer Calls with Melissa Dinwiddie and Cory Huff. In 2011, Melissa and I hosted a series of free teleseminars where we shared our experiences in growing our own careers, selling art on the internet, and talking about the state of the art business today. These calls are totally free and you can find them on the ArtEmpowers.Me home page.
Bonus: More Ways to Sell Art Offline
Swap meets
Craft Fairs
Farmer's Markets
Network – go to networking functions at local museums & art galleries
Enter competitions
Ask local shops & businesses to display your work
Submit to stock photo & image sites
* indicates paid placement on TheAbundantArtist.com.