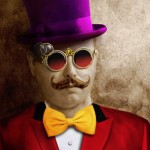 Meet Mike Savad, one of the top-selling artists on FineArtAmerica.com.
Mike was kind enough to spend some time answering some of my questions about his experiences selling art via Print on Demand (POD) websites. Mike's story illustrates some of the opportunities and some of the pitfalls with POD for artists. Mike's quotes have been lightly edited for formatting.
Which POD sites are working well for you? 
FineArtAmerica.com
RedBubble.com
Zazzle.com
"FAA and Zazzle do the best for me, but Red Bubble is catching up. It took them ages to update their site, but it's getting better. Each site is a lot of work though. Red Bubble is chaotic to navigate. Zazzle you need your images on every product, and the templates take a lot of time. It's also hard to advertise because of the amount of products, but they run too many sales there and customers learned to shop there only when that happens, so they have even more, and many of their products are unusual and kind of expensive. FAA however, you can make money there. But you have to do all the advertising and the search engine is tricky there." (emphasis by TAA)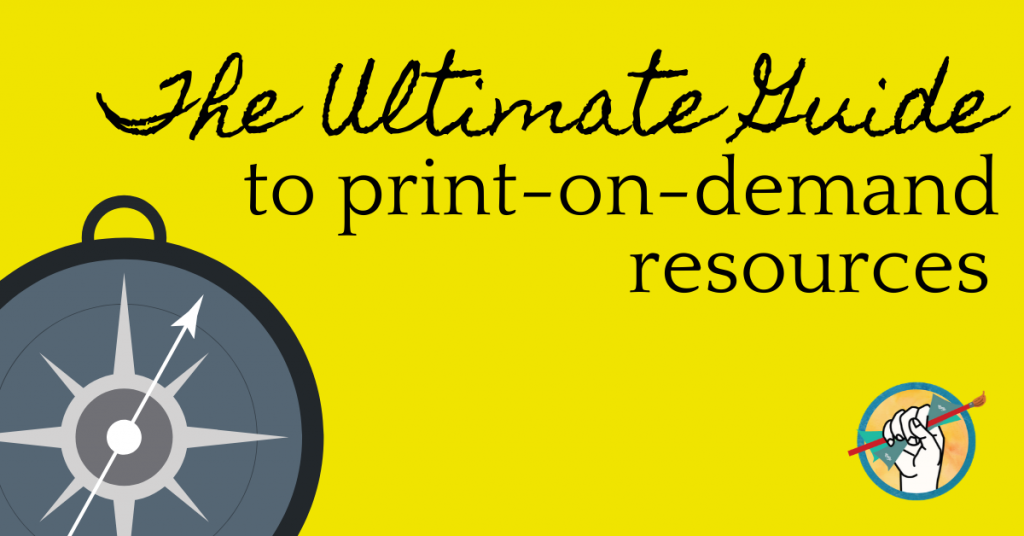 What tips do you have for artists using POD?
"Have a large body of consistent, high quality work that is both eye catching and shows a certain style. Don't follow trends because if you do what others do, it won't be unique any more. Always upload more, keyword well, provide great titles and descriptions – don't just say, this is a cat. Because that's boring. Don't spam words either, it will backfire.
Make sure your images are in focus, there are no compression or sharpness issues. Some sites aren't fussy about quality, where as FAA will reject it if it's poorly made. While that is kind of annoying, it's also a good sign of a good site that wants quality to (win) out.
If you're a painter and your photos suck – don't upload photos, it will only drag the rest of your work down. Some sites will have users there that can critique your work, let them, (ask them first), and learn from it. It's often hard to hear the work isn't good, but it's better to find out now then later on after waiting for sales.
Just because it's called a gallery doesn't mean you'll sell anything or make any kind of money.
It often takes years of work, advertising, and art before you're seen as anything. There is a ton of competition so you have to make things that stand out against the rest. Before uploading any work check the Alexa rating (of the POD site), see what the rank is – a low number is good. something under 10,000. (NOTE FROM TAA: We have found Alexa to be highly unreliable. We prefer other metrics, including MozRank.)
Make sure you know the form of payment and that your country will accept it. Always check the forums to see how well people are selling. Some are dead in the water – like ArtistRising or ImageKind (which seems to just not sell anything much). If you only have a few things, upload to all the sites, don't depend on just one thing. If you're like me though – I have around 2500 images now, it's hard to copy everything over unless it's really worth it."
Thanks Mike!
Over the last three months, I spoke to CEOs, VPs and founders of most of the Fine Art Print on Demand companies. In the first post in Print on Demand series I covered the basics of how artists are using POD sites. Today, I want to share some deeper research on the POD industry.
Get my Spreadsheet
I made this crazy spreadsheet that includes details on how much each POD site pays their artists, other costs, and the features of each site. We've added that spreadsheet to a new section on the website that is a free members-only resource. You can sign up to get that page at this link.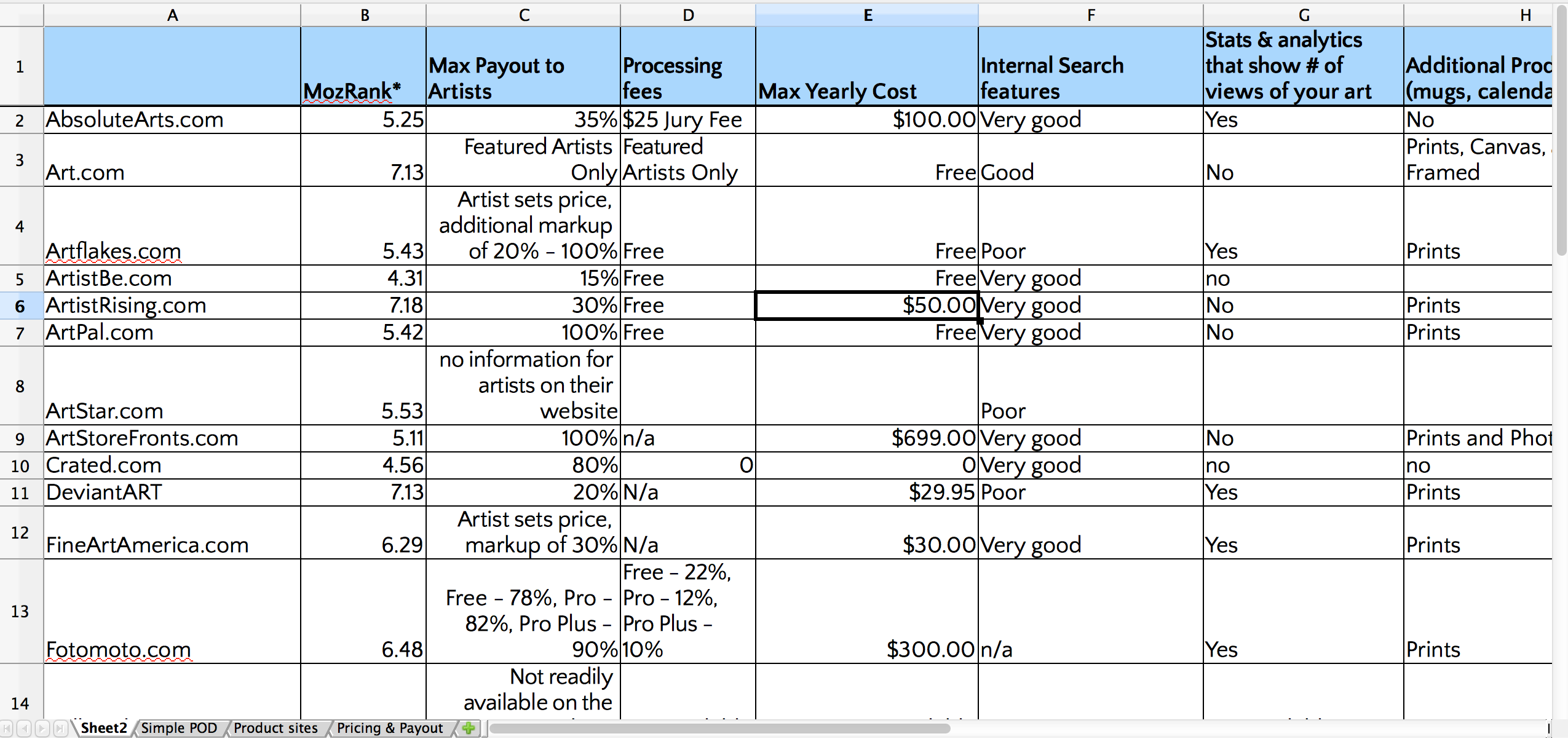 Who's the Best POD company?
The answer to that question depends on a few questions you'll need to ask yourself.
Do you want a simple platform that handles all printing, framing and shipping for you?
Do you want a web platform that handles the payments and website, but you'll handle the prints yourself or work directly with a print shop yourself?
Do you want to sell products like t-shirts and mugs as well as fine art prints?
Simple platform that handles all printing, framing and shipping for you.
There's a couple of clear winners here.
FineArtAmerica.com
SaatchiArt.com
Both sites have solid traffic, a reputation for making regular sales, and they pay out good commissions. There are some other sites that you may want to watch out for as well.
Crated.com
ArtPal.com
Society6.com
Imagekind.com
"I have used Fine Art America for just over a year now and have netted $787 in sales commissions on prints. I have also sold $3800 of listed originals there to one collector, who first found me via Pinterest…Adding good tags in the description of the art is imperative. I have found FAA to be good with search engines for my art." – Sandi Whetzel
"Using the same photos, I ordered "top quality paper for oil paintings" from both FAA and ImageKind. FAA mailed the prints rolled up in a tube. The "travel" paper in which the prints were rolled was crumpled on both ends, presenting a poor image to the recipient. The FAA quality was terrible. ImageKind shipped flat and wrapped the prints in tissue paper, a much better presentation. It took longer to receive the ImageKind prints, but the quality was so much better that I canceled my FAA account immediately. I have since ordered a sample paper kit from ImageKind so I can make more informed recommendations." – Joan Terrell
Platforms where you work directly with printers
These are website platforms. They're NOT simple to set up. Instead of simplifying the entire process for you, they focus on the online aspect of your POD business, and refer you to their printing partners for the print fulfillment. This means you set up a website using their complex platform, and they integrate directly with the printers, so the printers can receive orders from your website.
If you want a higher degree of control, the ability to proof your prints, and better customer service, all at the sacrifice of ease of use, then this is your best option. There are some considerable up-front costs, however. You'll probably need to spend several hundred dollars to get started.
POD sites that sell art-products
Calendars, t-shirts, mugs, and hundreds of other possibilities. If you want to offer your art on products, there are a handful of companies that offer the ability to do this. Based on their traffic, stories from artists, and my own interactions with these sites, I would take a look at:
Redbubble.com
Society6.com
Zazzle.com
I've had several artists tell me that they like Zazzle, and the Zazzle team was one of the most responsive companies to my inquiries. That tells me that their team is really making an effort to support their artists. A couple of years ago, they even did a guest blog post here on TAA on how to sell art on Zazzle.
Notes on POD companies.
The rest of this section applies to the above spreadsheet. It's a further explanation of the work that went into the info on the spreadsheet.
Commissions
The commissions to artists vary wildly from site to site, but a common trend that I see is companies allowing the artist to set their own price, and then the POD company adds their margin to the top of the cost. This means that you control your own payout. Some companies make this very clear (SaatchiArt.com and FineArtAmerica.com), while others have the same feature but make it very difficult to implement (SmugMug).
The minimum sales to get paid each month were somewhere between $5 – $50. If you're not regularly making enough money to meet these payout thresholds, you have other problems. This is not a huge concern, in my opinion.
MozRank
MozRank is a number assigned to a website by the SEO Tools company Moz. This number rolls together a number of estimates including site traffic, links to the site, site age and other factors. The higher the number, the more traffic the site gets in general. The more traffic a site gets, the more sales you're likely to make.
Yearly Costs
Some of the POD companies offer additional resources for a fee. This can be as simple as a personalized page on their website (like FineArtAmerica.com) to your own dedicated website (Zenfolio.com). The higher-end fees also usually come with a break in transaction fees and more personalized support. We recommend taking advantage of this support if you are going to make prints a large part of your business.
Companies that give you the buyer's contact info
Only the platform companies mentioned above like Fotomoto.com (thanks to Luz Donahue for pointing out that I missed that one), and Zenfolio.com offer you the ability to retain the buyer's contact information.
This should be a major factor in considering which POD site to use. If you can afford to use a platform like this, I recommend it – but it's not for everyone. If these platforms don't work, you can also consider building a cheaper ecommerce platform and doing a deal with printers directly. It will lack elegance and require more work from you, but you can build an ecommerce platform for prints using WordPress.
Curation of Art by Staff
For the most part, POD sites screen for image quality. They want to make sure the image is large enough and high resolution enough to produce a high-quality print. We did not find any sites that screen out certain types of art like nudes or anything else.
Search Features
Search is ranked: Poor, Good, or Very good. A Very Good ranking means that a site's search has the following features: text search, color, medium, style, price, orientation, size, and subject. Good or Poor means that some of these features are missing or are weak.
Integrations on Your Website
As far as I'm aware, there are two companies that offer you the ability to do POD orders from your own website. FineArtAmerica.com offers you the ability to embed your FAA store on a webpage, and FotoMoto turns all of the images on certain pages into POD items. Of course, with these integrations, you're still not getting the buyer's contact info, but you keep the buyer on your site and can hopefully convince them to opt-in to your mailing list.
So, at this point, what questions could you possibly have left? I'd love to read your questions and more success stories in the comments.