Have you given any thought to converting your existing collector/fan base into patrons on Patreon? While there is not necessarily a single "right" way to run a successful Patreon campaign, many of the highest-paid fine artists on Patreon are doing very similar things.
One approach in particular that stands out? Many successful fine artists put on the mantle of educator in order to find real success on Patreon. Many of these artists build up a following on YouTube by posting regular tutorial/process videos. They then send those fans over to Patreon, where they can get access to additional videos, downloads, and even personalized critiques (at higher pledge levels, of course).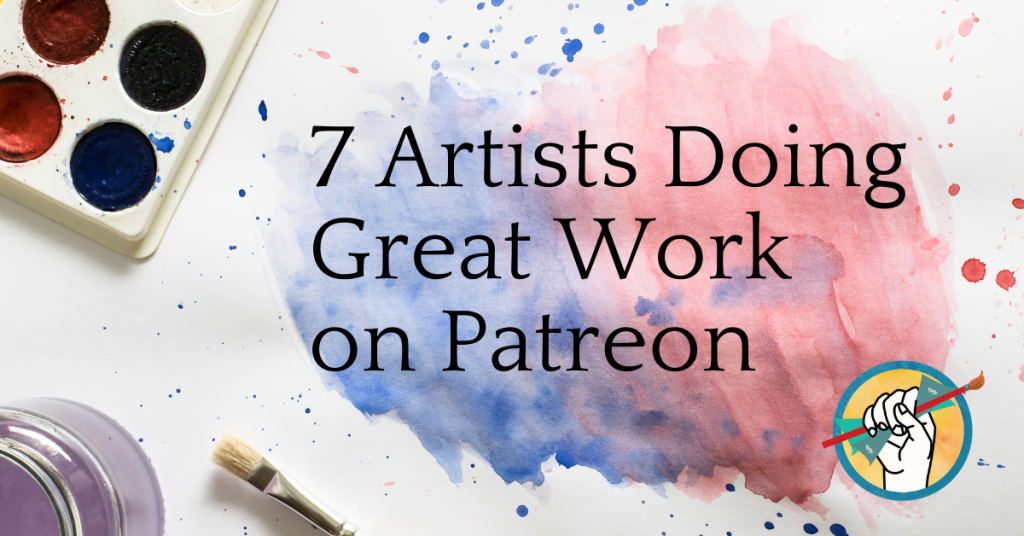 Take a look at some of these fine artists that are killing it on Patreon, and be inspired!
Lisa Clough– https://www.patreon.com/Lachri  Lisa Clough's Patreon currently has 1,638 patrons and she is bringing in an astonishing $7,779 per month. She is an artist working in a wide variety of mediums, and sharing tutorial videos (she started on YouTube), live streams, and reference photos from her videos. She has really built up a devoted community, and she cultivates and supports this with group art challenges.

Karen Margulis– https://www.patreon.com/karenmargulis Karen Margulis currently has 610 patrons. She is a pastel artist and educator. She shares process videos, tutorials, and paint-a-long demos with reference photos. She really goes the extra mile as an instructor, providing exercises for painting practice, PDF handouts, and step-by-step videos. She also offers personal art critiques for higher tier patrons.

Maria Raczynka- https://www.patreon.com/mariamorjane Maria Raczynka is a watercolor artist with 492 patrons, and she charges a flat $6 per subscription (although by popular demand she created a higher level tier for people who really appreciated her work and just wanted to give her more money.) She posts edited process and tutorial videos on YouTube, and patrons gain access to the original real-time videos as well as sketches, online classes, and other resources such as watercolor tips, color swatches, and pencil sketches.
Jason Morgan- https://www.patreon.com/wildlifeart, Jason Morgan is a wildlife artist with 832 patrons. He keeps things relatively simply, but it's working very well for him. He offers tutorial videos with accompanying royalty-free reference photos and line art. He also offers personal art critiques and additional videos for higher tiers. He has a companion website created by a fan that compiles all of his tutorial videos in one easy-to-find place and also allows patrons to vote on monthly challenges. Keep this in mind if you decide to create your own Patreon (or if you already have one) — fans love the ability to vote on something, whether it's influencing an upcoming challenge or lesson that they can participate in, or just allowing them a say in what art you create next. This is a really cool way to get your super fans closely involved, create a stronger emotional connection, and give them a sense of ownership.

Peter Mohrbacher- https://www.patreon.com/angelarium Peter Mohrbacher is doing something a little different for his 1057 patrons. Rather than tutorials, he has created a fascinating and complex lore around his fantasy paintings (the Angelarium). Rewards include access to limited edition prints and opportunities to obtain sold out prints, high-rez image downloads, layered PSD files, and time-lapse videos. Fans also get access to a Discord server where they can see behind the scenes photos and chat with the artist. This is a useful model to follow if you'd like to start a Patreon but don't want to go the route of the educator.

Angela Anderson- https://www.patreon.com/Angelafineart Angela Anderson is an acrylic painter with 1,244 patrons. She is also a YouTuber and does weekly live painting tutorials as well as pre-recorded videos. She offers supplemental materials like traceable downloads and reference photos as well as behind-the-scenes photos of upcoming projects, and personal critiques.

Wylie Beckert- https://www.patreon.com/wyliebeckert Like Peter Mohrbacher, Wylie Beckert has managed to cultivate a large Patreon following for her art without the use of tutorials. She currently has 735 supporters for her Patreon where she is creating highly-detailed illustrated playing cards with associated lore. For her backers she shares process videos, digital downloads, discounts, and access to limited-edition prints.

If you're still in the early stages of considering your income options and whether a patron/subscriber model is right for your business, you may want to read our post on taking payments outside of Patreon as you weigh your options.
Did we miss any high-earning fine artists on Patreon? Feel free to share them with us below so we can all learn from their example.