Adam Hall is a painter based in New Orleans, Louisiana. In the first half of 2014, his income had fallen off pretty dramatically, and he was actually looking for a part time job to supplement his painting income. He had had some success previously, and was frustrated about his income dip. In his words, "selling art is such a subjective business that I wondered how much I could be in control.  When someone decides to buy a painting it is their decision and I wondered if I could really influence that decision.  I think the answer is yes."
Since that time, Adam has increased his income by 60% over the previous year, to enough to keep painting full time.
How Adam Increased His Income by 60%
Before he got the job, Adam decided to sign up for the Content Marketing for Artists course. He had some concerns, "I was scared that the class might just be another dead end and that I would have to take a part time job that I would be lousy at and that I would hate."
Adam had previously been working at Whole Foods. "I'm not a good employee, btw."
I hear you Adam. I was fired from my first two post-college jobs.
Becoming A Confident Writer
"Financially, I made 2.5 times more in the second half of 2014 than I did in the first half. Thats a big difference. Personally I have found ways to write about my own artwork that don't make me cringe which is great. I also feel more connected to my customers because they know more of my story, its fulfilling for me in a way that I didn't expect."
Adam has told me that not only is selling paintings rewarding, but he's also connecting with his audience in a way that he didn't expect. "When people would buy a painting from me they would say that they liked reading my email newsletter at work. That wasn't luck. The class gave me the tools to talk about my art in ways that people connect with. I think a big part of the art business is communicating to people that you care about what you do, and if you can do that consistently then people want to buy artwork from you."
One of the things that we cover in the Content Marketing for Artists course is writing. For artists, it's not so much about being a good writer as it is about learning to write from the heart. The first couple of course modules are full of exercises that teach you how to talk about your own work, which is a challenge that many artists have.
From there, we walk artists through the steps of coming up with 6 months worth of blog and email marketing content, and how to promote effectively. We do some practice write-ups along with some peer feedback. Learning to talk about your work confidently is so important, and it's a theme that artists who've taken our courses, like Angela and Michael, have remarked upon.
Vulnerability and Connection
I think that a hard to hear truth about making art is that it takes a piece of your self to be a good artist. You have to (metaphorically) bleed a little on the canvas. Marketing is much the same way. If you want people to connect with your art, it helps a lot if you can learn to not only write well, but to share stories that people connect with on a personal level.
The image at the top is Adam's work. It's titled Beauregard Keyes House and you can read more about it at his blog post Confederate Generals and Mafioso: Why I Love Painting Commissions. In that post, you can see how Adam does a good job talking about what he's learned from doing that painting, and displays a personal connection to the person who commissioned the painting.
And, it works!
"If you can give people a little vulnerability and humanity then they will go on that journey with us. So even though I still have some modules that I still need to work on, the class, and the help of the Facebook group was one of the best investments I have ever made," said Adam.
Working in a Series
Probably the single most important thing you can do artistically is making art that is a reflection of something that is important to you. You should have something to say as an artist, and you should be working in a series.
About that, Adam said, "one of the things that seems to be helping a lot is working in a series (which I got from your podcasts).  It helps show customers that you are committed to something and also I think it helps people to buy more than one.  And its easier to market work that goes together!"
Selling more than one painting at a time is awesome!
Sign up for How to Sell Your Art Online
Adam has a strong work ethic, and a burning desire to succeed. I just showed him how to channel that energy effectively. If you are like Adam in your desire to succeed and a willingness to learn, I'd love to have you join our group.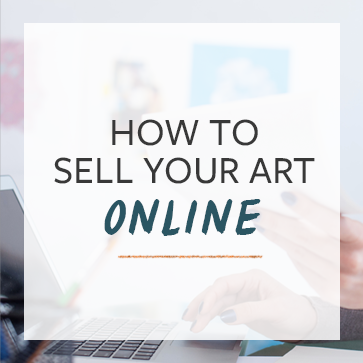 Want to do what Adam did to get these results? Check out our How to Sell Your Art Online course.