For the last five years I've been coaching artists from all over the world. If you like my Facebook or Instagram pages, you'll see that I occasionally post snippets of positive feedback from coaching clients.
Today, I want to share with you an in-depth case study around one of my students, Angela Treat Lyon.
Angela took the Authentic Marketing for Artists course in February 2014. I do this course as a group study program a couple of times each year, and it's the same content that I use when I do one-on-one art business coaching. I'm very excited that Angela chose to share her results in this much detail. Thanks Angela! The following is an edited transcript of emails between myself and Angela.
Where was your art business before taking the group coaching course?
Before I took your course, I was floundering all over the place – painting this, carving that, writing my blog here, calling an old collector there – with no real focus. There's so much to do! I simply didn't know which to do when.
Why did you decide to take the course?
At the time I took your course, I had just finished another course. That course was good – it had a lot of tactics and strategies I could now employ. BUT – due to being really busy with my coaching business, I hadn't been able to put all of those ideas into practice. And, I lost touch with most of the people in it, and I could feel myself losing momentum.
That's why I took your course – I wanted a new perspective, and I wanted the slow, step-by-step guidance and the focus it seemed your course would provide, plus the added benefit of a strong Facebook group. Which, I have to say, is the best group I belong to, bar none.
Note from Cory: Angela is referencing the fact that everyone who joins my coaching programs get access to a private Facebook group that is for students to ask questions and help encourage each other.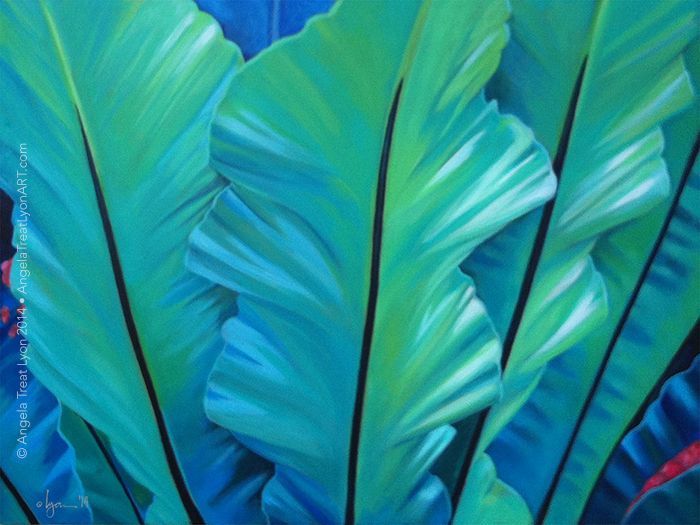 What concerns did you have about taking the course?
I was worried that I'd be so busy that I couldn't do it all, but I found that I could do it at my own pace. But the biggest challenge was getting myself out there in the world more. I had a Facebook business page for my art, but wasn't really using it.
I was concerned that frequent announcements would be reviled – Angela, stop selling to us! Angela, who do you think you are, touting your work like that? Angela, we're tired of seeing all this art!
None of that happened – the exact opposite, actually – I've been thanked so many times for posting my work that I've lost count – even thanks for "keeping us in tune with beauty in this harsh world," as one woman said.
What happened in the 9 months since the course ended?
1. When I first came into the course, my FB art biz page was at about 150 likes. I grew that to over 600 because of what I learned in the course.
Recently, I created and held an online virtual art exhibition. I really had no idea how I was going to make it work, but I announced it every day on FB and twitter and to my mailing list for a week. Just my results from FB were pretty amazing: because of my solid core 600, and my invitation to the viewers to share with their people, I got over 2400 views in one week. I made a couple of small print sales, but I wasn't concerned about that – I just wanted new eyes. New eyes down the line = sales.
2. I've also taken the time to expand into using Print on Demand sites like Redbubble, Zazzle and more Cafepress. (Cory: see our guide to Art Print on Demand sales)

So far, I've had sales of canvas prints, pillows, iphone covers and bags.
3. Another thing that has happened since your course has been that I've had several requests for the use of one-time licensing of my paintings – one sculpture, even – for book covers. They are always out of the blue, and all of them said, "I saw your work on FB…."
4. I've really improved the copy on my website, and made more of an effort to sell – I never had paypal buttons on anything before – it was more like just a portfolio site! Even now there's a lot to do to correct that – people almost have to struggle to find out how to buy there – bad me. But it's getting better. 

5. I never had an opt-in freebie on my art site before this – only on my other business sites. After I added one on my art site, I started getting email list signups, and now have a little list of around 100 people. Seems small, but they love my work, which is what you want – lovers, not lookers.
6. Other Sales:

a. I've made sales of originals I almost painted over because they'd sat around for sooo long. I love seeing many bucks flowing into my bank account! I'd say close to 10K from painting and sculpture sales.

b. My print sales have doubled – both through my FineArtAmerica.com store and Cafepress.com. 

c. I wrote 2 new books about my sculpture and another on my Land of Ammaze illustrations – published in print and ebook form – and have sold many of those – almost 50, I think, which surprised the heck out of me. I honestly didn't think people would want to buy them. 

d. My ebook on my sculpture that I placed on the Kindle sales page has even sold a few times – that was a big surprise to me!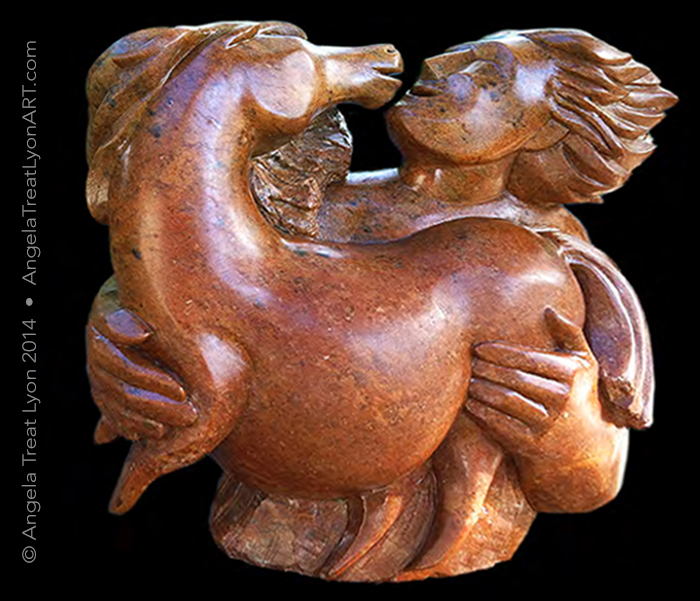 What are your biggest takeaways from our work together?
First of all, I'm way more confident about simply being an artist, doing my work, and talking about it. 

I'm actually quite shy – I like one-to-one conversations; and being almost completely deaf, I have a really hard time in public settings, like art openings.

Being with other artists in a live setting used to make me almost sick to my stomach, but now I can do it and have a good time. And talking about my work to non-artists is now – tadaaaa – exciting!

I'm even considering teaching a specific course on using Sumi inks and Gouaches for local artists – if I can get around the hearing thing, it'll work. I might just put together a ppt for it and do a webinar. Many things I could teach!

I love the online approach – it's been perfect for me – I can hear you because the head phones are right on my head – in a 'real' class I'd struggle just to be able to hear you, much less understand and keep up with what was going on. 

Going thru your course has been so good for me – the sequence is easy and kind, and there are so many things I didn't know I didn't know, and so many things I have to do – still! And there are so many resources I'd have to be awake 24/7 for years to take advantage of it all. 
The FB page – as I said, it's the best ever. You're not an overwhelmingly dominant voice, but you step in for fun and where we need help. I like that. The people there are truly committed, and don't try to sell to each other – I hate that! I'm there to learn and be part of the community – don't pitch me! So having no pitching is great.
And I so appreciate it that you have allowed it to run past the end of the course, and brought in the new people – fresh blood! It's great. I'm way more active in social media in a more focused way – before it was helter-skelter – sign petitions, respond to personal posts – now it's more art related.

Focus is a big thing – I only have so many hours I'm awake every day – do I want to use it to screw around, or do I seriously want to connect with people? Since I do want to connect, now I have a purpose behind the connections and clear intentions for each time I use social media.

I realized I was doing a lot of time-filling activities that weren't income-related, or marketing-related.

I made a serious shift from reading for hours at night to painting for hours at night – really, until I just can't stand anymore – enabling me to produce 14 new paintings in 2 months that I'm really proud of. It was a significant thing for me that I could stay concentrated on one subject matter and not get bored or tired of it, as well as do a completely new-for-me kind of painting.
—-
From Cory: Wow. Thanks so much for sharing all of this Angela. I want to point out that bottom line, after we added up all of the sales that Angela had from the work she did in this course, it was nearly $12,000 in new sales she wouldn't have had if she hadn't done the course. Angela was an ideal student. She jumped in to the course with both feet and did the work. It really shows. I'm excited to see where she goes next. If you would like to know how you can achieve similar results, please check out our page on Artist Business Coaching.