What's the purpose of your blog? Do you have blogging goals?
Some artists (like many other entrepreneurs) start blogging, because they think they're supposed to blog. That's the wrong move to make. It's important to have an online presence, but blogging is a commitment and a long-term game. Understanding your blogging goals will help you to be a more successful blogger, because you can determine what content you should post based on your goals.
Artists blog for many reasons, including:
increasing sales
having a place to share their thoughts
making connections in the art community
interacting with fans and customers
But, from my experience, it usually comes to down to a desire to increase sales. If this is one of your goals, then you don't want to commit one of the five biggest mistakes that artists make when blogging:
1. Providing bland, useless content.
If I come to your mixed media blog and the first five posts have nothing to do with mixed media, I'm gone. I'm not sticking around to look at the pictures of your cat or to read about the ugly bridesmaid's dress you have to wear to your cousin's wedding. You shouldn't leave your personality or personal stories out of your blog, because your personality sets you apart from other artists. You just need to provide relevant content at the same time.
It's important to build up a loyal readership, especially if you want your readers to buy anything from you. Let's suppose you're the author of the mixed media blog and you want readers to buy your mixed media prints. You could post about the inspiration behind each print, share pictures of your art studio, and share the process of making one of your mixed media art pieces from start to finish.
When you're stumped for content ask yourself, "How can I get readers interested in my art? What can I share that will allow them to be a part of the story?"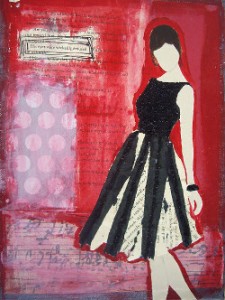 2. Not having an obvious email newsletter opt-in form above the fold.
You want to capture the attention of your greatest fans, and the best way to do this is to collect their email addresses and send them regular updates via email.
Email continues to be one of the best ways to stay connected with your readers and customers. One mistake that many successful bloggers regret making is not having an email opt-in option from the beginning. The people who sign up for your email newsletter are raising their hands and telling you that they want to hear from you.
You can use your email newsletter to let your readers know about sales, give them special discounts, send them updates when you make new pieces of art, and provide them with more information about you and your art.
3. Inconsistency.
I'm not sure where the idea that you have to post everyday came from, but it's a rule that you can break. You'll probably grow your blog faster if you post daily, but only if you post useful, relevant content. You should come up with a realistic plan of how often you can post and stick to it. Some really successful bloggers only blog once or twice a week, but when they do post, they make sure their content kicks serious butt.
Don't post daily for a month, disappear for three months, and then start posting sporadically. If your readers come back to your blog and don't see any new content over and over, they won't keep coming back…unless, they know when to come back. If your readers know that you post every Wednesday, they'll look for your posts on Wednesdays.
4. Leaving out their contact information.
Your contact information needs to be in a place that your readers can easily find it. Many bloggers include this on their about pages and/or on a separate tab in their navigation. If readers want to ask you about buying your art, displaying your art, interviewing you, promoting your art on their blogs, including your art in their magazines, or anything else that would benefit you, you should make it easy for them. If they can't find your contact information after a couple minutes of looking, they'll probably give up.
5. Not providing a clear path for readers to buy their art.
It doesn't matter whether you sell your art online, offline, or a combination of the two, you need to make it easy for your readers to buy from you. Again, if they have to search for more than a couple minutes to figure out how to buy your art, they'll probably give up.
You might have a way for your readers to buy your art, but is it easy? Don't make your readers go through step after step after step to give you money. Ask someone who's not tech savvy to try to figure out how to buy your art from your blog. If that person can't do it, make it more simple.
Keep your goals in mind when you're setting up your blog, provide your readers with useful content, and make it simple for them to contact you and purchase from you. If you do those things, you'll minimize frustration and increase the likelihood that your blog will add to your art business success.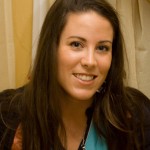 April Bowles-Olin works with creative women to lead more fulfilling lives while they make money doing it. She also attempts to add a little prettiness to the world with her art and jewelry. You can learn more about her at Blacksburg Belle and connect with her on Twitter @blacksburgbelle.