What is exclusivity?
Exclusivity, in a contract with a client who is requesting a custom piece, prevents the artist from creating and/or selling reproductions of the original work. In other words, you paint a piece, the client pays you, you transfer ownership of the piece to the client, and you can't sell prints of that piece. Depending on the way your contract or agreement is worded, exclusivity may transfer ownership of not just the actual piece of artwork, but and all associated rights (the intellectual property) to the client as well. While not always the wrong choice, this is something to be very wary of.
Exclusivity is a pretty big ask, and you may find it with large corporate clients, especially if you're an illustrator working with an existing intellectual property. If you agree to exclusivity without realizing it, and then breach that agreement by selling prints or reproductions of the work, you could find yourself faced with litigation. It's normal and expected for an artist to retain all the rights to reproduce their work and profit from sales of prints and reproductions as well as use images of the work in their marketing. If the contract you're signing prohibits this, it's extremely important that you're aware of it in advance.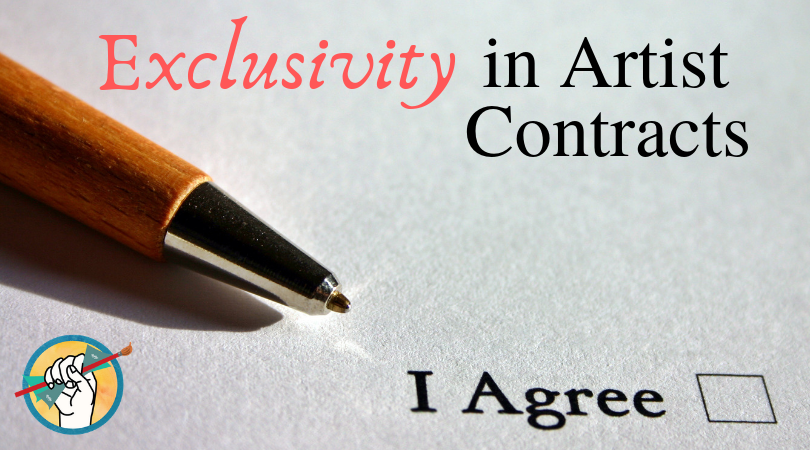 Wording that may indicate exclusivity
Wording that indicates it's transferring copyright to the client, that the client will become the owner of the intellectual property, or wording that asks the artist to agree that they will not sell any prints or reproductions of the piece all indicate a form of exclusivity. If you're unsure about what the wording indicates, ask the client for clarification, or get some legal advice.
When is it acceptable for a client to request exclusivity?
This is up to you, but if print sales make up any part of your business model you'll need to be compensated for the potential loss of income by increasing the price of the piece by a factor of two or three.
When should you refuse a request of exclusivity?
There are a few cases when you should definitely not agree to exclusivity:
If you're not comfortable with signing away your right to create prints of the piece and sell them. If you can't reconcile your personal values and your business model with the notion, then don't agree to it. You can either ask to have that section of the agreement removed, or very kindly recommend that the client find another artist. You have the right to do this.
When the amount offered does not reflect the artist's potential losses. Exclusivity must drive the price of the work up, not because it increases the value of the original (this is a fallacy) but because it must account for the artist's potential losses. If you can't sell prints and make a profit from them, you're losing potential income, and the price the client pays must reflect that. Generally speaking, the price should be two to three times what it would be without exclusivity.
Exclusivity is not something to be afraid of, and just because you see the wording in a contract or agreement doesn't mean you need to automatically refuse it. But you should be aware of what it means for you and your business, and ensure that you are in full agreement with the client to that end. You should also ensure that the price you receive for the piece also includes the price of the intellectual property, which is extremely valuable.
Have you ever entered into a contract that allowed the client to retain the intellectual property along with the finished original? What was the experience like for you? Let us know in the comments!
Extra resources on artist transcripts
For artists new to writing contracts, read Resources for Writing a Solid Artist Contract and How to Not Get Stiffed For Your Artwork.
Association members have access to the recording and transcript for Negotiation Tactics for Women on our Association Call Archive page next to October 23, which will help you to more confidently negotiate your contracts.
Check out Kiffanie Stahle's awesome resources over at the artist's J.D. (Association members can also check out our legal clinic with her over on our Association Call Archive page next to November 29.)