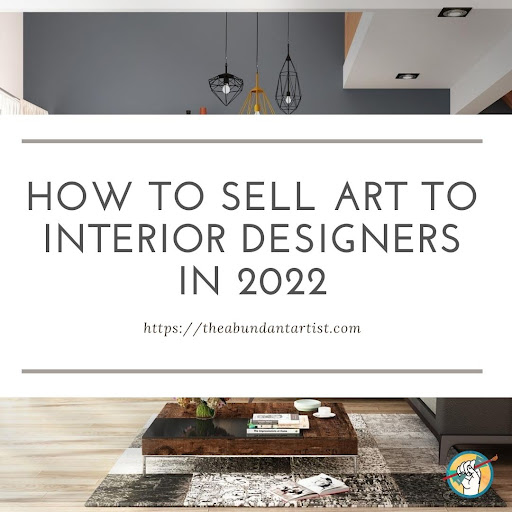 Want to learn how to sell art to interior designers to increase your exposure and supplement your income as an artist? How about picking the brain of an experienced interior designer who knows exactly what kind of art sells best in each design industry?
In this article, you will learn a reliable method consisting of five simple steps to start selling art to interior designers right away.
This article contains:
Why Sell Art to Interior Designers?
Market Your Art to Interior Designers
Pick Your Interior Design Niche
Find Your Matching Interior Designers
Pitch Your Art to Interior Designers
Sell Your Art to Interior Designers
Artists and Interior Designers: a Relationship that Sells Big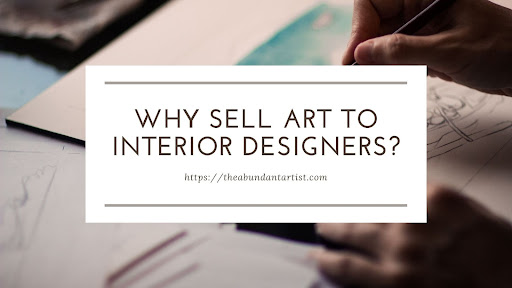 Why Sell Art to Interior Designers?
Selling art to interior designers is a lucrative endeavor, and an important part of your art business strategy. There are many reasons to sell art to interior designers:
A Large Market
According to First Research, "The US art dealers and galleries industry include 4,850 establishments in 2022". Meanwhile, according to Ibis World, "There are 123,254 Interior Designers businesses in the US as of 2022".
For you as an artist, this means that tapping into the interior design market gives you access to twenty times more clients who need art on a regular basis than if you limit yourself to art dealers and galleries alone.
Quick, Stress-Free Payment
Many designers buy directly from you and resell to their clients. They may buy from you right away or show your art to their clients first. Either way, the money is already in your hand or on its way to your bank as soon as they buy.
Repeat Buyers
The lifetime value of an artist-designer relationship goes beyond a one-time sale. If your artistic style matches the designer's vision, you'll be the first they turn to when they need your kind of art again.
Word-of-Mouth Recommendations
Selling art to interior designers creates word-of-mouth marketing opportunities. In today's connected world, a recommendation from someone who likes your art in their home leads to many more sales down the road.
CV is Irrelevant
Interior designers care a lot less about an artist's fame, education or experience than art dealers and collectors do. This makes interior designers an excellent starting point for young artists to jumpstart their careers.
Easy to Find and Approach
From official interior design societies to designers' social media groups, it's a piece of cake to find a designer whose vision matches your artistic style. When you reach out, they'll often be happy that you spared them the time to find your art.
Giclée printing lets you print any portion(s) of your artwork in any shape and size to fit any space in an interior designer's project, making it in high demand. You also get to keep the original, which will appreciate in value as your fame grows.
Access to Real Estate Investors
At some point, you may get to work with an interior designer on an art collector's or luxury real estate investor's project; a client who can afford to build a design concept around your artwork instead of fitting your art inside a design concept.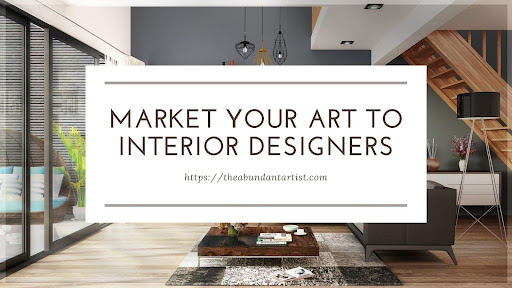 I. Market Your Art to Interior Designers
Being a professional artist means turning your art into a profession (as opposed to a hobby); making art your primary source of income. To sell your art, you need to market it first; to get it seen by an audience willing to buy it. Therefore, first of all, you need to build a portfolio of art that you can be proud to show to your audience (e.g. interior designers).
Build Your Art Portfolio: Sell Art to Interior Designers on Your Personal Website
The best place to market and sell your art to interior designers and other buyers is your personal website. Doing so:
Eliminates any third-party website's commission
Allows you to gather customer information for future marketing efforts
Grants you the flexibility to arrange and present your art in your own unique way
Your online art portfolio is the first place people look to decide if they want to acquire a piece from you. Therefore, it is worth taking the time to get it right:
Install a premium theme made for artists whose design brings out the best in your art
Use plugins to help your site load fast, keep it safe from hackers, and ensure its SEO is optimal
If that's too hard for now, get started with these top 5 picks for website builders for artists instead.
Launch Your Artist Channels: Sell Art to Interior Designers on Social Media
Social networks – especially Instagram – are quickly becoming the place to find art online, and interior designers are keeping up with this trend. Many designers confess to starting their most profitable partnerships with artists through Facebook. Pinterest is also an excellent marketing tool for artists with its focus on visual content and links to the content's source.
Using social networks to sell art to interior designers and other art buyers is very popular and, as such, very competitive. Here are a few things you can do to be seen through the competition's fog:
Post professional pictures of standout artwork on your channels
Highlight links to your portfolio website on your profile and in your posts
Follow interior designers that you wish to work with
Proactively contact designers with a collaboration inquiry
Widen Your Artistic Outreach: Sell Art to Interior Designers in Art Marketplaces
While you're better off selling originals of your art to collectors through your personal website, art marketplaces may work better to sell prints of your art to interior designers.
Build an online presence everywhere designers look to buy art pieces:
Etsy
Amazon
FineArtAmerica
Saatchi Art
Shopify
TurningArt
UGallery
Design Centers
Freelance Websites
Houzz
Design Your Art Business Card: Sell Art to Interior Designers in Person
A memorable business card incentivizes interior designers to hold onto your contact details. This makes it easier to look you up the next time they need art for their interior design project.
Here are a couple of ways to make your business card more memorable:
Add a modern twist to this old relic. A QR code can transform a mundane business card into a digital platform
Print a sample of your best art on the card. This tells viewers at a glance if your art style fits any given design project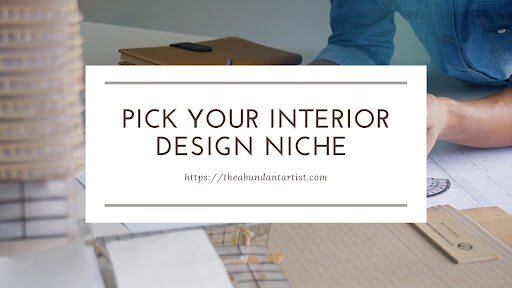 II. Pick Your Interior Design Niche
You have now set up your art business platforms, and launched your art marketing channels. Congratulations!
The next step in your journey of selling art to interior designers is finding your niche in the interior design market. In which interior design industry does your art sell best?
Sell Art to Interior Designers on the Residential Design Market
Residential Interior Design focuses on high-end properties whose owners usually have a design theme in mind. There is no 'right art' for a home – it is down to the owner's personal taste.
Nevertheless, some trends do come up when selling art to homeowners:
Homeowners disfavor portraits, except for commissioned portraits of the owners' families
Residential designers and homeowners favor joyous, uplifting themes
Most designers favor bold colors that accent or complement their color palette
Classical paintings infuse life into modern interiors
Sell Art to Interior Designers on the Hospitality Design Market
In the past ten years, hotel art has become very trendy: it creates a more welcoming, memorable experience for the guest.
The artwork must not only have relevance to the hotel's design and location but must also be memorable, and therefore make the hotel stand out from the crowd. Art that tells a story performs especially well to this end.
Sell Art to Interior Designers on the Restaurant Design Market
Fine dining restaurants will tend to have a different artistic feel than a quick-service café; but regardless of sophistication, what matters most in restaurant design is the color palette.
An excess of white or blue hues, for example, backfires in a dining establishment, because cool colors suppress the appetite. Warm tones will be your friend here; studies have found that yellows, oranges, and reds make viewers more ravenous. However, harsh, overly bold colors won't work well in a restaurant.
Sell Art to Interior Designers on the Retail Design Market
All shops require a degree of shop fitting and thus design. Attractive artwork makes a store more enticing to customers. Artwork must be the right size to entice customers without distracting them.
If it's too small, customers might struggle to see it, shifting their attention away from the goods being sold. If it's too large, it can overwhelm the space, decreasing the spaciousness of the room. Medium-sized artworks usually work best.
Sell Art to Interior Designers on the Corporate Design Market
Businesses recognize that workplace interior design plays a big part in employees' focus, comfort and morale, which helps with staff performance and retention. A couple of considerations to help you sell art on the corporate design market:
Where will the artwork be displayed?
Reception areas or commercial spaces? Create artworks that communicate the value of the business to potential clients.
Meeting rooms? Create standout pieces to inspire the staff even while discussing stressful sales targets or boring legalese.
Offices? Create calming pieces that people can relax around and enjoy without being distracted from work.
What kind of business is it?
For all purposes, match the tone of your artwork to the tone of the business brand. A quirky, creative business can afford to make a bolder statement while an elegant, formal company will likely prefer a more subdued, refined palette.
Sell Art To Interior Designers on the Healthcare Design Market
A few tips to increase your art sales in the healthcare design market:
Focus on landscape art. Studies have shown that realistic nature scenes are often patients' top choice of artwork themes in hospitals. Specifically, patients like to see art depicting landscapes with lush, green spaces, or scenes that evoke nostalgia or a sense of comfort.
Stay away from abstract art. In healthcare facilities, abstract art tends to increase anxiety among patients. Universally calming and pleasing art is much preferred instead.
Pay close attention to color. Color has an astounding impact on people's mental and emotional states. Color choice is the key for healthcare facilities, from the color of the walls themselves to the colors in wall art. Cool colors are relaxing, which is beneficial for patients.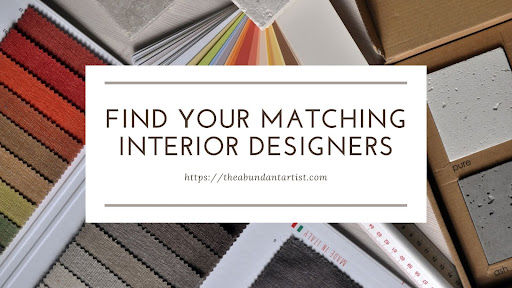 III. Find Your Matching Interior Designers
You have an idea of which interior design industries your art sells best to. Good job! Now it's time to narrow down which interior designers within these industries to approach first.
Research interior designers' styles prior to reaching out to find those whose work is in sync with your own. This will make it more likely they pick your art for their projects now and in the future.
Look at interior designers' websites. Does your art complement their layouts? Cater your offer towards the kind of art they choose to showcase in their portfolios.
Here are a few places where you can find interior designers:
American Society of Interior Designers: ASID's "Find A Designer" search box returns 50+ pages of interior designers with a description of their specialties and locations
Houzz: Houzz lists over 176,666 interior designers and decorators, offering detailed information about the designer, their services, and their social media profiles
Interior Design Society: IDS has over 2,000 interior decorators specializing in the residential design industry. It allows you to find interior designers by name or location
American Academy of Healthcare Interior Designers: AAHID is an organization of interior decorators certified to render services for the healthcare design industry
List of Corporate Art Consultants and Advisors: This is an annotated, regularly updated list of Corporate Art Consultants and Advisors. It includes their names, mail addresses, phone numbers, and websites. It also gives information on art disciplines and markets of interest
Interior Design Media: A global, industry-leading design publication, website, and events company serving the interior design, architectural, and facility management audiences
Go to Interior Design Events
Interior designers gather at art shows, gallery openings, and studio tours when they're looking for a new art piece. Having your art featured everywhere might not be possible, but being present yourself at such events to hand out your business card is feasible. Other events to keep in mind include:
Galleries, shows, and exhibitions
National and international design week
Design fairs and industry fairs
Ask For Recommendations
Ask friends, family, and acquaintances to recommend an interior designer to you or to introduce you to one. Show them your portfolio and propose a collaboration. If your style matches their needs, they will be happy to hear from you.
Browse Design Magazines
Look through interior magazines and contact designers that selected art with a similar style as your own. Let them know of your art, and you'll be the first they contact when they need your kind of art.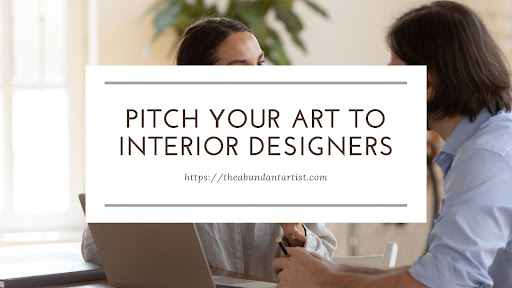 IV. Pitch Your Art to Interior Designers
So now you know how to find interior designers that may be a good match for your art. But how do you pitch your art to them?
Here are a few tips on pitching your art to interior designers:
Ask if they need artwork
Offer to stop by their office and show them art you think they would like
Send them a few samples of your best matching art along with a link to your portfolio website
Pitch Your Art to Interior Designers through Email
Only give three to five solid recommendations for a space per round. Once you get feedback on the first round, provide a tailored list of alternatives
Personalized emails perform much better than templated emails
Put attention-grabbing visuals in your email, not just a link to your work
Craft an eye-catching subject line to stand out among all the other emails
Make it easy to visualize your work. Create mock-ups of your artwork in designers' interiors
Pitch Your Art to Interior Designers through Social Media
Shoot them a short and sweet message, and they'll be happy to hear from you. You can also pay to advertise your art to a targeted audience on social media, letting you reach many people quickly.
Master the Elevator Pitch
Be able to pitch yourself, your product, business, etc. in the time it takes to make an elevator ride – about 30 seconds. Practice describing yourself and your art. As your communication skills increase, your career results will keep up.
Pitch Your Art In-Person to Interior Designers
With your elevator pitch ready, go where the designers go and convince them to buy your art.
Have an Enthusiastic Greeting
Start your pitch on a positive note. A friendly, enthusiastic greeting encourages people to stop and listen.
The tone of voice and body language play a big part in attracting and retaining an audience. If you are not fully engaged in your topic, people will sense it and quickly lose interest. Deliver your pitch with an upright stance and a smiling face.
Open Questions Encourage Conversation
Open-ended questions give you valuable information about your customers' problems and, therefore, the solutions you can offer to them. Sales pitches should evolve into engaging two-way conversations.
Rehearse Different Ways to Deliver Your Pitch
A spontaneous-seeming delivery is all important. People will be put off if it sounds like you're just regurgitating memorized sales scripts. By practicing various ways to describe the key points of your sales pitch, you will sound more natural and be more engaging.
Handle Rejections
However good your art portfolio or sales pitch, you will still face rejection. All is not lost, though; a friendly, polite attitude may yet secure a future buyer. Thank the designer for their time and attention, and leave them a business card for future reference.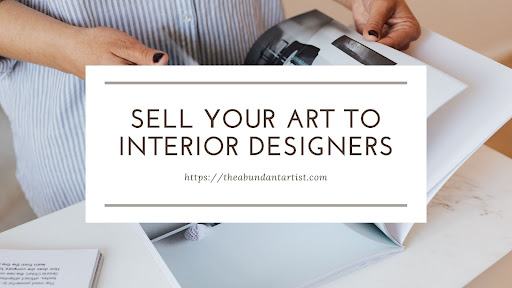 V. Sell Your Art To Interior Designers
There are several ways to increase not only the chances to sell art to interior designers but also the price of the art sold:
Follow Design Trends
For example, the Pantone Color of the Year 2022 is 'Very Petri'. It belongs to the blue family, with a violet red undertone.
You can tell this season's design trends by strolling through high-end furniture stores, interior design studios, or new home models. You can usually anticipate next season's home décor color trends from this season's women's clothing color trends.
This gives you time to create art that matches current or future design trends.
Big Sells
Reasonably priced large works (1 by 1 meter and upwards) are hard to find and often in the greatest demand.
Be Flexible
A willingness to choose or change the color palette, size, or medium of the artwork to fit the design concept can make the difference between a sale and no sale.
A designer will often show you colors and fabrics, and ask if you have art that matches. Even if you don't, if you are willing to create one to their specifications, you will make a sale eight times out of ten.
Prepare Affordable, Timely Shipping
Designers have deadlines to keep and budgets to meet. It helps them make the decision to buy your artwork if they know when it will arrive and how much it will cost, shipping included.
Keep Your Art Inventory Well-Organized
Designers don't have time to scour through every artist's workshop mess, or send out a hundred messages to a hundred artists to ask which pieces are for sale, for how much, and by when. They would like to see your portfolio organized by collections, with each work of art given a price range and a delivery date.
Give Your Art a Story
A good story can increase the value of a work of art. At the very least, explaining some of the concepts behind your work will help the buyer understand its value.
Sell Limited Edition Prints
If you sell prints at all, this will increase their value, especially to art connoisseurs.
Be Prepared for Last-Minute Requests
They will choose you for the sale if you can rescue them in a pinch.
Be Willing to Meet in Person with the Client
Property owners or art consultants might want to witness your personality, or at least hear the story behind your artwork before they buy. Be ready to show up and make a good impression.
Timing Matters
If you show up to a designer at the last minute with art that matches their project, they will rarely hesitate to buy.
Increase Your Productivity with the "Editioning Technique"
That means using more self-contained portions of your existing art as the basis for new, slightly different works of art.
Become a Creative Problem Solver
Instead of just "selling an art piece", sell yourself as someone who can help the designer by filling in any missing pieces and making suggestions wherever they are stuck.
Present Your Art to the Client Professionally
Help the designer's client envision the art in the space, feel personally connected to it, and justify its price.
Meet with them in person in order to review details that a digital image alone does not convey, such as scale, texture, and the story behind the art. Bring measuring tape and painter's tape with you to help the client visualize how your art piece will look over the sofa and scale proportionally within the space.
Negotiate Your Art Prices Fairly
Quality art has a high value, and great interior designers know this. Nevertheless, they may not afford to pay a high price; art is often the last detail they look for – after the bulk of their budget has already been spent.
Keep yourself happy as well as the client with creative solutions. For example, a print instead of an original fits just as well in the design at a more reasonable price point for everyone.
Consider Hiring An Art Consultant
Consultants come with contacts, marketing expertise, and an incentive to help you sell your art. Just as a good agent can skyrocket an actor's career, and a good editor is invaluable to a writer's success, so can a good art consultant help you as an artist to break into new markets and command higher prices for your art.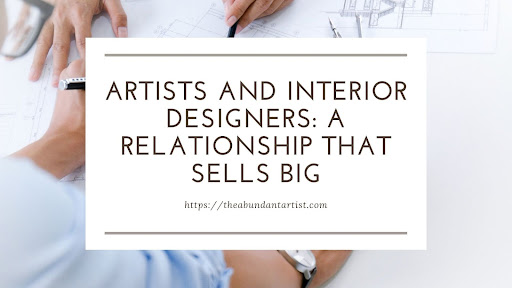 Artists and Interior Designers: A Relationship that Sells Big
The easy task of building a relationship with a designer gives you a repeat buyer who:
Pays on time while increasing your exposure through their own and their clients' word-of-mouth advertising
Kickstarts your career as a professional artist regardless of your background or credentials
May prefer prints due to their design flexibility, letting you keep the originals to sell to collectors at a higher value
From marketing and targeting to how to pitch and sell art to interior designers, this article has given you every tool you need to start selling your art to interior designers today.
Take the first step and get started on building your art portfolio right away!
About the Guest: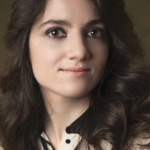 Raluca Neferu is a fine artist, interior designer, and freelance content writer. Her multidisciplinary experience aids her mission of creating successful partnerships for artists. She welcomes you to enjoy her work on her personal website and to follow her on LinkedIn, Facebook, and Instagram.