Internet Marketing professionals are big fans of the phrase "content is king." This means that high quality content created for a specific audience does a better job of ranking in search engines and being shared on social networks than content that is intentionally created just for marketing purposes.
One awesome advantage that artists have over most businesses, is that your content is already great. You don't have to go hire someone to create something great to show off on your website, because that's what you do! With a few tweaks and some hustle, you can make your art spread around the Internet like wildfire.
In my Search Engine Optimization for Artists blog post, I outline the technical things that you need to do in order to give your art a chance at being found by search engines. In this post, I'm going to take it one step further, and show you how to promote your art once you have it positioned correctly.
The Bare Minimum
Watch this video to understand the minimum things you should be doing to make your art better optimized for the web.
As the video and blog post show, the technical minimums for making your art found on the web are:
rename your image files with descriptive titles
append correct alt attributes
give your art a good on-page description
make sure your page Title tags are optimized
share your art on image sharing sites – and don't forget about Pinterest (which wasn't a thing when I first made this video) or Tumblr
take advantage of memes
In this post, I'm going to expand on the idea of promoting your images
Encourage Sharing of Your Art
Many artists are so afraid of putting their art online, so afraid of people stealing it, that the make it really hard for people to share their work. This is just the opposite of what you want to do. The root of the Internet's power is in sharing information – whether its hilarious cat videos or the latest awesome sculpture.
The idea is to take away any obstacles to people looking at your art, and to sharing these pieces of art. This starts with the way that you organize your image galleries on your website. Here's a good example of how Melissa Dinwiddie has organized her prints for sale (click to enlarge).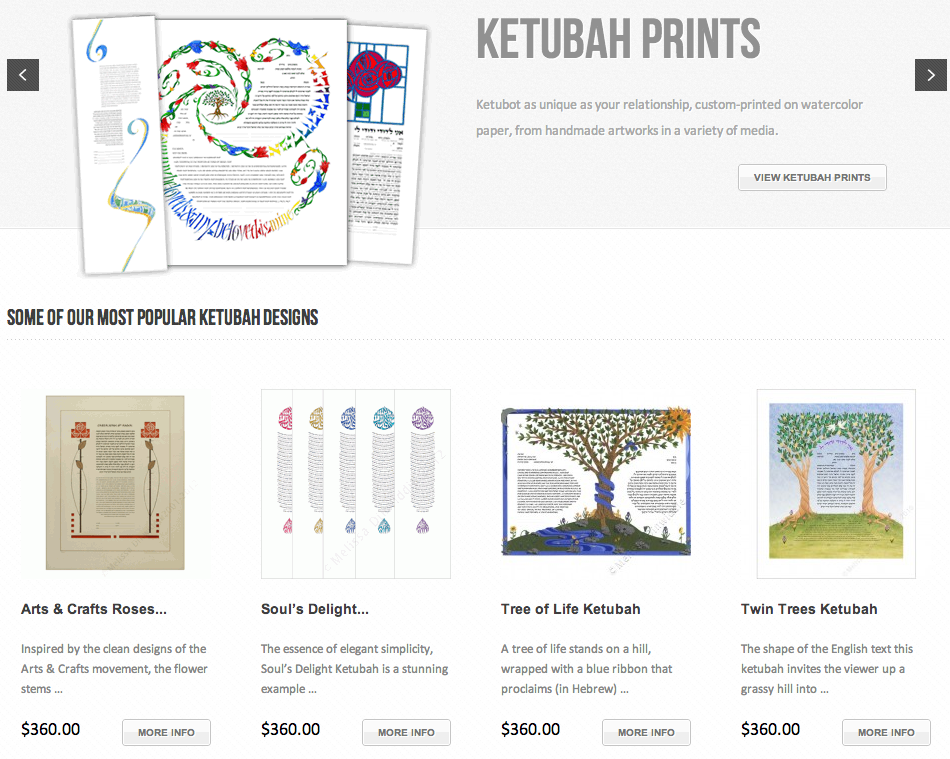 Notice that Melissa has a large slider up top to highlight her images, along with thumbnails, a brief description, and prices, with a clear link to more information. This information is clearly organized, and easy to figure out. Another version of this is Kelli Bickman's gallery: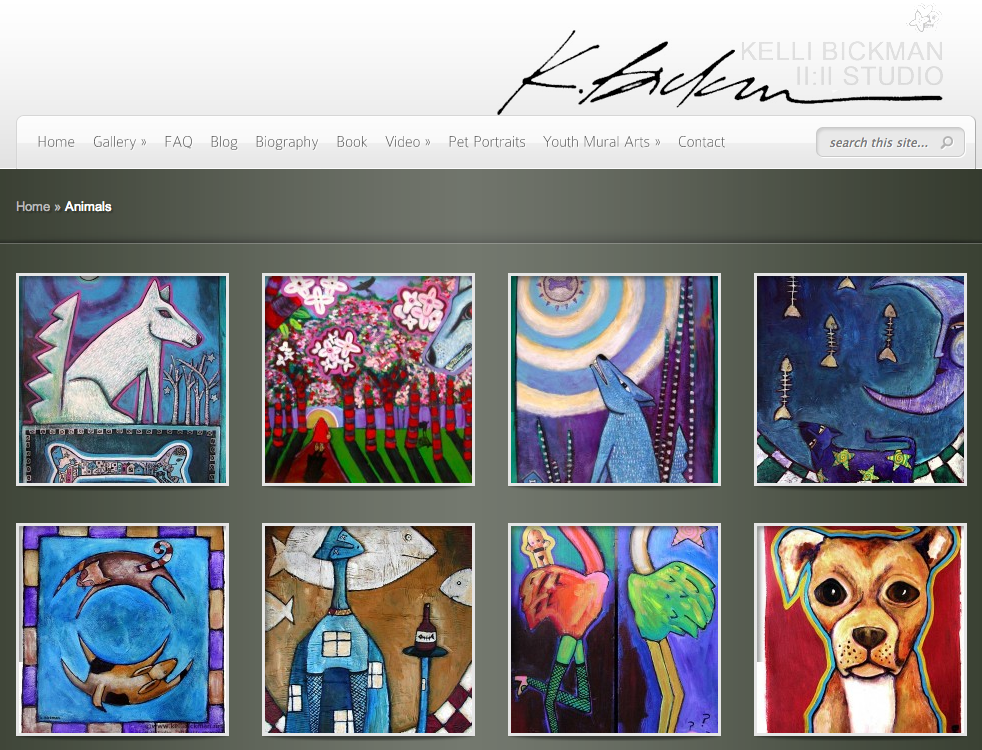 Kelli opts for showing off more of her art up front, in smaller thumbnails, and putting the prices on the main page. Either way, Melissa and Kelli have both done a good job of giving each piece of art its own page and a description. This is key to making each piece of art sharable. Without its own page, there is no context for the art when it is shared.
If you want to ensure that people share your work, I would suggest you add social sharing buttons on your individual art pages, like Art.com's listing of Natasha Wescoat's work.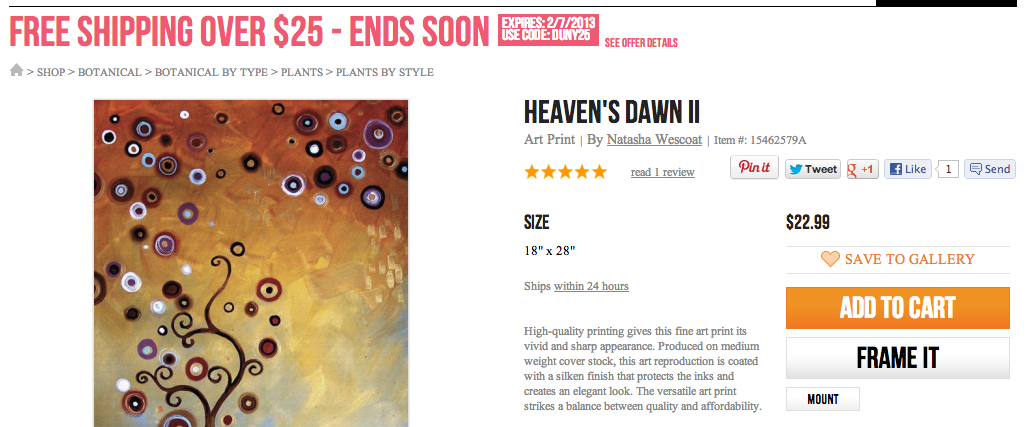 Form Sharing Alliances
One of the most important things that I do is have a close cadre of people who are willing to share the things that I post online. It's not every post, but when I have something that I consider especially good, I will reach out to them and ask them to share it on social media or with their email newsletter audience. I do the same thing for them.
Here are a few things that your allies should have:
an enthusiasm for your art
at least a few of them should have larger followings than you
a strong presence on at least one social network that is relevant to artists – deviantArt, Facebook, Twitter, Stumbleupon, Pinterest, Etsy, and many others
a strong mailing list
Other things you can do to encourage people to share your content: 
Ask other people if you can help them promote their work – this works wonders. Try emailing them and saying something like, "Hey, I'm trying to become more active in sharing things online. I really like your work, and I was wondering if there is anything in particular you are trying to promote right now? I can share it on my social networks, email list or …(come up with something else). Send me a link and I'll see what I can do!"
Generally, most people will jump at the chance. Just remember, it's not a direct "I do this for you, you do this for me" kind of relationship. You're building up good will so that people are more likely to share your work in the near future.
Actively comment on others' blogs
Triberr.com is an interesting way to form a tight knit community for sharing.
Do what crafters do – Etsy collections are all the rage. Share your favorite art with your audience on a regular basis. People you highlight will be flattered and notice you back. This is highly effective in the handcrafted items niche – more artists should do this!
The Websites for Artists Course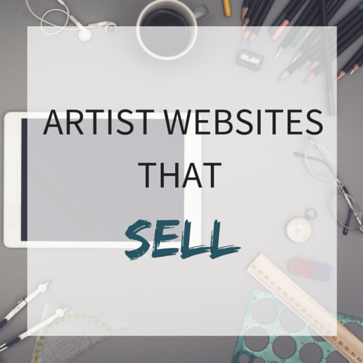 Over the last few blog posts, we have highlighted some very effective content marketing techniques.  Before you can really take advantage of blogging and social media, you need to have the basic elements of a good website in place.
The Artist Websites That Sell course was designed specifically to make sure you get those elements in place.
The goal of this course is for you to:
create a well built website that adequately represents who you are as an artist
pick the right website service
generate traffic to your website from search engines and social media
If you'd like more information about this course, click here to check it out.
image courtesy Ayo's web design