An artist recently asked me for some advice on how to sell more of her art. After going back and forth via email several times, I suggested that she try some artist studio visits. Her response:
"This may sound stupid, but how do I make anyone interested in that? Please understand, I am an introvert. Yes, I can make myself pretend to be outgoing, but it's just an act. I guess the other part of this is I need to understand why anyone would even want to see a studio? I'm not trying to be silly, I just understand it. It's a place where I work. I'm not trying to be difficult, but as I don't understand the appeal, what would I say or do if someone wanted to see my studio."
Let's talk about it.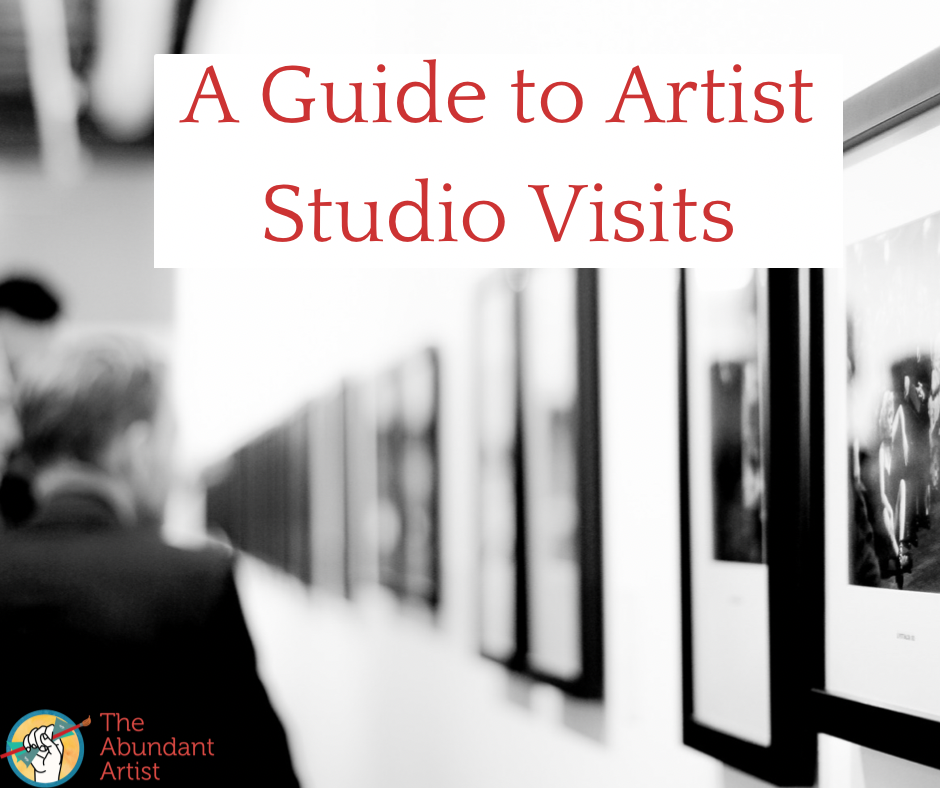 What is an artist studio visit?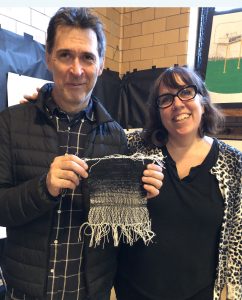 In simple terms, an artist studio visit is nothing more than fans or collectors going to an artist's studio, seeing their work, and talking to the artist, like this picture from Ianthe Jackson with a collector at her studio.
In-person visits. There's a wide variety of ways in-person visits can happen. The most common ones include open studio tours hosted by arts organizations, open invites from artists to their general fans, or invite-only one-to-one visits. It often also includes watching the artist make work.
Virtual visits have been rising in popularity and exploded in 2020. Whether its direct Facetime, Zoom, or some other tool, there are many ways to video stream a tour of your studio.
Why would anyone want to visit an artist's studio?
Curiosity and entertainment. Many people love to see an artist's studio because it's inherently interesting. Many artists forget that making art is magical. It might seem normal to you, but it's definitely not to the average person. It's fascinating to watch artists make their work. You don't have to put on a show, but just welcoming people in while you work and showing them around is enough.
To feel good about making a purchase. Some collectors just want a personal connection with the artists they collect. They want to hear your stories, your voice, and your worldview. They want to know the mind and background that created the work that they love.
How to host a studio visit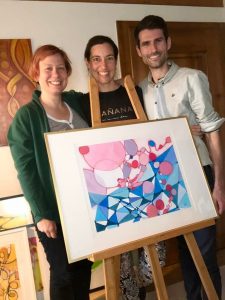 Show your work. Hang your work in your studio. If you don't have a big studio, that's ok! Host a virtual visit of your home art making space or hang your work in your living room and invite people by appointment. Whatever you choose to do, make it about showing your work – the finished pieces and the works in progress. Give your visitors time to connect with you and ask questions.
Be welcoming. Put out some snacks and drinks (even if it's just water). Refreshments always make people feel like they can linger, and you want people to linger over your work. Smile and welcome people, make polite conversation and ask them questions about themselves and what brings them to your studio. Some artists will make small cards for themselves with notes on what to talk about and ask. Take pictures with them like this one from Vrenni Renggli.
Set a time and invite everyone in advance. If you're not working with an arts org, simply set a time and let your people know you're doing it. You can email 10-20 friends for a practice session if you don't have a mailing list. If you do, email your list. Be sure to also post on social media like Instagram. You can even try submitting to local event calendars like your news orgs, Facebook groups, Meetup.com and other websites. Try to schedule it at least two weeks in advance, and as long as 2-3 months if you expect a large crowd.
Personalized 1:1 visits by appointment. Scared of illness or just don't want a lot of people in your space? Try doing prescheduled 1:1 visits. These work especially well for regular collectors or people with very limited time. Schedule 30-60 minutes with 10 minutes of recovery time between sessions. 1:1 sessions often lead to deep discussion and bigger sales opportunities, but they are a lot more work.
Ask for emails. Be sure to put out a guest book and if people are interested in your work, have them register for your email list. Read more about email marketing for artists.
Ask for the sale. If someone is excited about your work, be sure to let them know its for sale, and ask them if they'd like to take it home. Read more about basic sales skills for artists.
Follow up. If someone says they're interested, or if they sign up for your mailing list, be sure to follow up with them after the open house and ask them if they would like to purchase any of your work.
Studio visits are a regular part of most artists' sales process. Connecting with your collectors is the best way to build a long-term sales relationship with them. Read more about how you can count upon your existing collectors to notch up sales. If you have any additional guidance on how you make your studio visits great, please share in the comments.