I hear from artists all the time who want help reaching more of their target collectors. In a recent email one artist even had a pretty good idea of who those people were.
But the profile she shared with me was generic.
Affluent women in their 40s who do yoga, go to therapy, meditate, and like to collect art.
And it was the same one every luxury goods maker wants to reach.
These women are being marketed to by every artist, car maker, furniture maker, winemaker, and boutique grocer on earth.
So how do you break through the noise?
If you've been selling for a while there's a secret unfair advantage you might be overlooking.
Your previous collectors.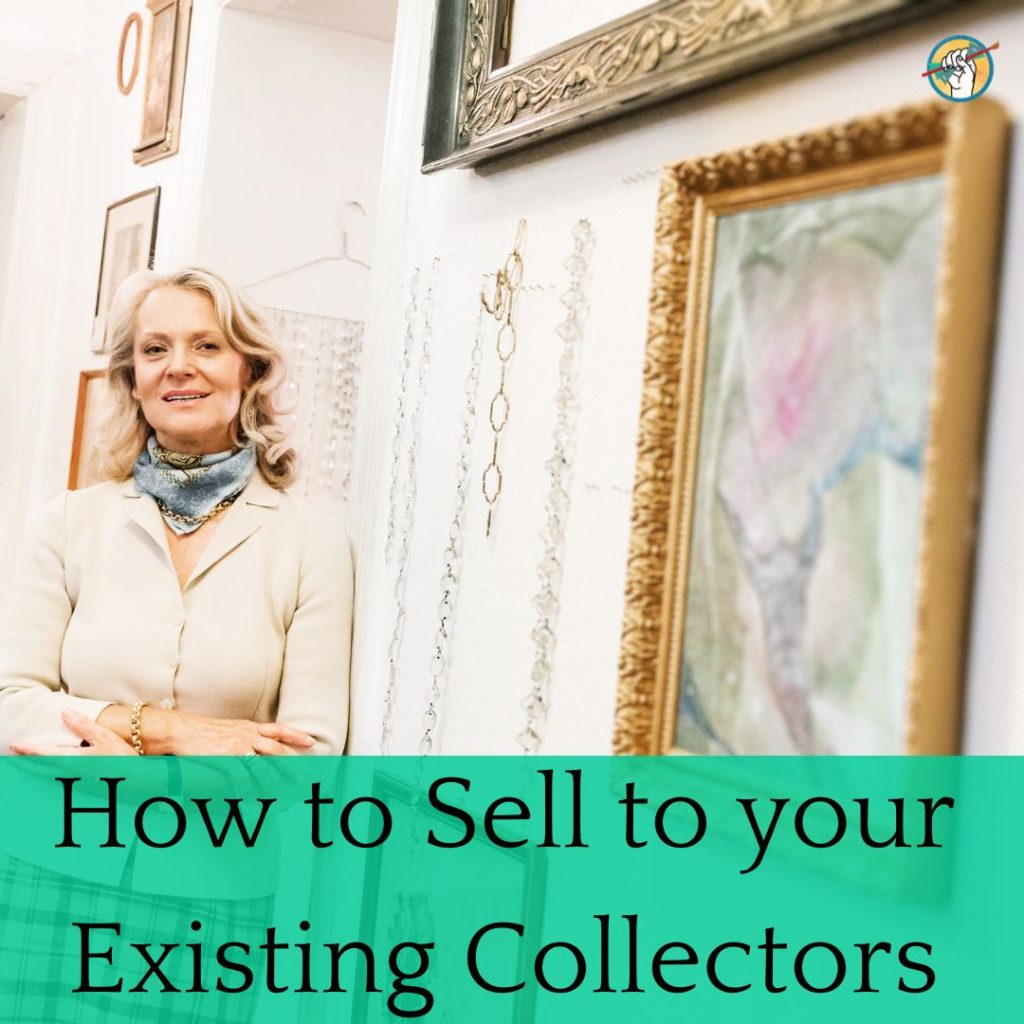 Selling to Existing Customers
One of the basic rules of business is that it's cheaper to sell something to an existing customer than it is to sell to a new customer.
Plus, it makes a SIGNIFICANT difference to your business (for example, according to one study, increasing customer retention rates by only 5% can result in a profit increase of between 25% and 95%).
This is why retail shops have loss leaders—cheap things they can sell at a loss to get a customer in the door so they can sell them something else later.
Do you know who else it's easier and cheaper to sell to?
A referral.
It's much easier to sell art to a collector's friend than it is to sell to a stranger off the street.
Why?
Well, think about it.
Who do you turn to when you're looking to buy a book by an author you haven't read before? How about when you want to try a new restaurant? Or pick a handyman to help with something that's broken at your house?
You ask your friends.
People buy from people they know, like, and trust, and when you get a recommendation from someone you already know, like, and trust, you're more likely to consider it.
1000 True Fans and Long-Term Relationships
Just last week an artist told me she sold a $155 print to someone five years ago and they had just purchased a $10K original from her. The key was staying in relationship with the collector over time.
Kevin Kelly writes about the power of having 1000 true fans in his essay, "1000 True Fans". He defines a true fan as someone who will buy anything you create/make.
Take a look at how he breaks down the math:
"You need to meet two criteria. First, you have to create enough each year that you can earn, on average, $100 profit from each true fan. That is easier to do in some arts and businesses than others, but it is a good creative challenge in every area because it is always easier and better to give your existing customers more, than it is to find new fans. (emphasis added)
"Second, you must have a direct relationship with your fans. That is, they must pay you directly. You get to keep all of their support, unlike the small percent of their fees you might get from a music label, publisher, studio, retailer, or other intermediate. If you keep the full $100 of each true fan, then you need only 1,000 of them to earn $100,000 per year. That's a living for most folks."
So what are some ways that you can nurture your direct relationships with your existing collectors, and turn those relationships into bigger sales and referral sales?
We've broken it down into a few main areas for you to consider.
Follow, Comment, and DM on Social Media
Social media is a great tool to use to stay connecting with your collectors.
Whether you're on Facebook, Instagram, TikTok, Snapchat, or somewhere else, follow (or befriend) your collectors and invite them to follow you.
Make sure you turn on notifications for your collectors so you can have reminders to touch base with them. As they post or share, comment on their posts and/or send them relevant DMs. Treat them like friends of yours, like people you know.
For example, in an article on Artsy, Dennis Osadebe shares that he remembers a conversation with his first collector.
"When he decided to buy the work, it felt that he was invested in it, saying 'I believe in you so much,'" Osadebe said, adding that the exchange helped him set a framework for future interactions with buyers. "I want to feel like collectors are buying into a belief system, into my story, and are also just invested in my growth."
In another article, focused on social media for artists, Hannah Ray, a social media specialist, recommended that you "Focus on the real people who are jazzed about what you're doing—interact with them in DMs, comments, follow and like back—be as interested in their real lives as you want them to be in yours."
Social media is great for direct interactions, but if you don't like social media, don't worry! There are other ways to build and maintain those relationships.
Send Email Newsletters
Like…sending regular email newsletters.
Setting up a newsletter is a fantastic way to keep in touch with all of the people who are interested in your work, whether they're a fan, one time buyer, or collector.
Pick a day/time when you'll email them and stick with it. That could look like emails monthly, or twice a month, or even more frequently, if you'd like. The key here is to make sure you're sending the newsletter regularly.
(Need more info on newsletters & email marketing for artists? We have you covered!)
You can also segment your email list by your most important collectors. Think about sending them special behind-the-scenes info once in a while, or other unique sneak peeks. Doing this helps strengthen your connection with them.
And, when people respond to your newsletter, write back to them. They've taken the time to reach out and when you reciprocate, it helps grow your relationship.
Offer Studio Visits (Both Private & Public)
One fun and unique way to build relationships with collectors is to offer studio visits so they can come to your studio, see your work, and have a conversation with you.
We've written a guide to artist studio visits with many recommendations and suggestions for hosting a studio visit. Some highlights include:
Show your work
Invite people at a set time (at least 2-3 weeks in advance, if possible)
Consider private studio visits that are 1:1 (and leave a buffer between appointments)
Follow up
If you're curious about what this might look like in action, check out Anita Nowinska, a British artist who holds private studio visits and has also participated in events such as the Devon Open Studios.
Live Stream Shows
If you're not interested in having people in your home studio, you might want to consider live streaming for artists (where you record and stream yourself while you create your art), instead. Today, there are a plethora of ways and spaces where you can do this: Instagram, Twitch, and YouTube are three of the main hubs.
There are a lot of reasons people enjoy watching live streams of artists; one of them, according to a CTRLZ article, is that often artists end up having intimate conversations with the audience.
Although this might seem like a new(er) approach, Bob Ross is one of the original implementers. Remember "The Joy of Painting" which aired from 1983-1994? A more contemporary example would be Ali Sabet, who has a YouTube channel where he's livestreamed. He also has a strong Instagram presence where you can find live streams of him sketching, painting, and more.
Host Living Room Shows
Did you know that before Pablo Picasso was famous, he had folks come to Gertrude Stein's living room salon?
There's something about hosting a living room show that is incredibly intimate and personal (or in Will Eskridge's case, a backyard party show—check out this podcast episode to learn more about how he approaches them).
Plus, it's easy! Most people know at least 5-10 friends they could invite over to their house, and it doesn't have to be high pressure or high stakes. You can socialize for a chunk of time (I've found 45 minutes to be a good amount) and then speak for 5 minutes and share that your art is available for sale. After, go back to socializing.
It's that simple.
An added bonus is that living room shows can offer GREAT material for your social media channels and/or your newsletter. Taking a selfie with participants and tagging them, artistic pictures of the food, photos of your art—it all invites your audience into the fun experience with you. AND, the pictures of everyone who's there offer powerful social proof that people are interested in your artwork.
There, you have it!
Above all, remember: whichever of the five strategies (or combo of them) you choose to implement, it's about creating, nurturing, and strengthening your relationships with your collectors and your True Fans.