I've used a LOT of email marketing tools. I've worked in marketing in various industries for 15 years, and I have tested a number of tools with The Abundant Artist. There are a lot of email marketing tools, many of them purpose-built for large companies or to do very complex tasks that 90% of artists will never need.
What most artists need when it comes to email marketing tools is something that is easy to use, simple, but powerful enough to grow with your audience. In the past we've recommended Mailchimp, but they've become a large behemoth with a tool that is heavy-duty and quite confusing. They were also recently acquired by Intuit, a company famous for acquiring great software and making it worse (RIP Mint, my favorite personal finance tool).
We also considered alternatives like ActiveCampaign (more expensive), Mad Mimi (too simplistic), Hubspot (too complex), Constant Contact or AWeber (too old and out of date), Substack (too political) and Drip (explicilty going up market to serve bigger ecommerce customers).
Why We Recommend ConvertKit for Artists
ConvertKit is an Email Service Provider (ESP). They send emails to large numbers of people for you. There's a lot of reasons you'll want to use an ESP over just sending from your personal gmail account, but the biggest one is that your personal email provider doesn't allow email marketing activities (this is included in your terms of service).
We like ConvertKit over other providers for a few reasons.
They are built explicitly as a marketing platform for creators. TAA uses ConvertKit. If you're on our list, you're getting an email from ConvertKit. ConvertKit specifically supports artists, writers, musicians, and other creators.
Simple & Easy. We used to recommend Mailchimp, and that's still a great platform. But part of the reason we like ConvertKit is the fact that it's simple and easy to use. Other platforms are more powerful, but especially if your business is small, you don't need all of that complexity.
We know them. Nathan Barry, founder of ConvertKit, helped me get my first book deal. He literally emailed his agent and introduced me, which led directly to the publication of How to Sell Your Art Online with Harper Collins about a year later. I'm friends with several members of the current and former team. They're good people that I trust to take care of you. In addition, they're a privately owned company that isn't beholden to investors, so their customers are their top priority.
We make a little money from recommending them. Full disclosure: we have an affiliate relationship with ConvertKit and make a small percentage on any paid accounts we refer. We would recommend them anyway, since ConvertKit is what we use.
Here's a few examples of the core features that ConvertKit does well.
Sending Emails
This is obviously the basic function. It's very easy to create simple, elegant emails in ConvertKit. Note that we often teach artists to create simple, undecorated emails that focus on the artwork, rather than elaborately designed templates. This is for a variety of reasons, primarily the fact that simple emails usually perform better than elaborate designs.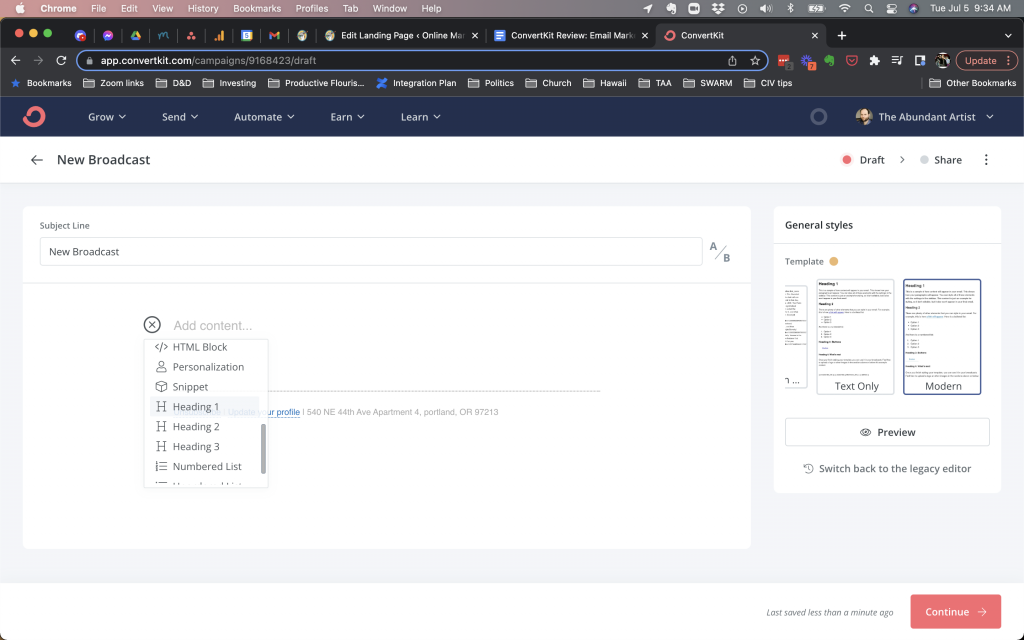 List Building: Forms, Pop Ups, and Landing Pages
ConvertKit makes it easy to set up email marketing opt-in forms like this: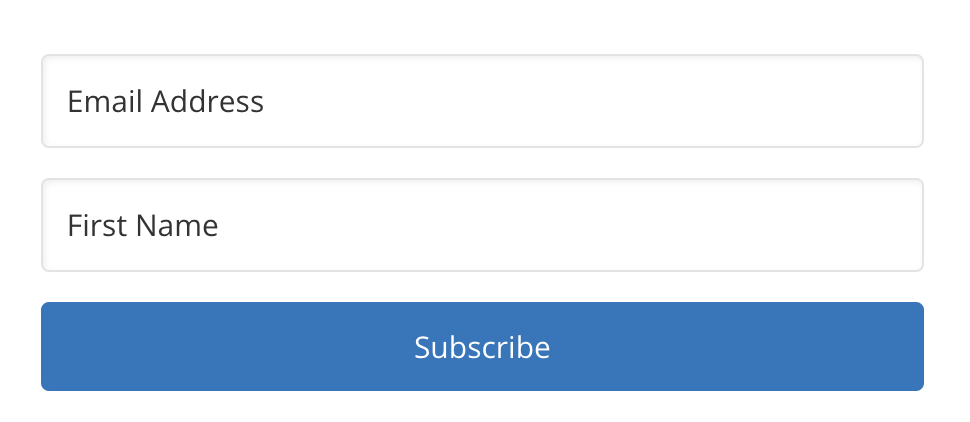 It took five minutes of setup inside Convertkit's website to create, and then all I had to do was paste a single line of text like this onto the page I wanted it displayed.
<script async data-uid="XXXXXX" src="https://example.ck.page/b7d0d9ca56/index.js"></script>
Metrics
While email open rates for any service are no longer a terribly reliable performance metric, ConvertKit does a great job of surfacing open and click rates, and making it easy to understand how your list is growing (or shrinking). This image is from a recent email to our list:

This graph shows daily opt-ins and unsubscribes for TAA's list.

Easy to Switch and Get A Fresh Start

In the month of July, ConvertKit is running a special fresh start program that includes 30 days free and other bonuses.
Those other bonuses include an email strategy series, an email marketing strategy call, and if you have ore than 5,000 people on your list, they'll do a custom audit to make sure your migration is set up in a way that works best for ConvertKit.
Tips for Artists Switching to ConvertKit
If you're switching from Mailchimp, you'll want to export your existing lists. Here's the instructions for exporting from Mailchimp. If you're just getting started, you'll want to assemble your list.
From our blog post guide on email marketing for artists:
Collect names, email & (optional) physical addresses. When your work is shown at art shows, craft fairs, galleries, and other places, put out a sign up sheet for people to opt-in to your mailing list. Write something like this on the top of the page, "Join my collector list to find out more about my upcoming work and studio process." Then divide the paper up into three columns labeled First Name, Email, and Address.

To get started, put those addresses into a spreadsheet or csv file (here's a template). Then upload that file when you set up your ConvertKit account.
This page from ConvertKit has a video that shows you Adding & Importing Subscribers in their system.
How do I tag & segment my list?
Check the Tags & Segments video on the ConvertKit onboarding page to see how tags work inside of ConvertKit.
Learn More About Email Marketing for Artists
We have LOTS of resources on how to be successful with email marketing as an artist, ranging from free to paid.
If you're new to email marketing, check out our free Email Marketing for Artists Challenge. That will get you up and running with your first email campaigns in less than 8 days.
If you want to learn more about email marketing and get some basic tips, we've got several blog posts:
How Are Other Artists Using ConvertKit?
Email is a constantly evolving, ever-changing process. The best way to get good at it is to subscribe to some of the most effective artists' email lists and see what they're doing. Here are two case studies of artists who do email well. We will be adding more examples in the future.
Shelby Abrahamsen has a case study on ConvertKit's blog and is also featured on CK's Creator Sessions.
Adam Hall is very good at email marketing. Case study with TAA.