"I sold a painting this morning on Instagram!"
When Ashley Longshore picked up the phone and we started talking, this was one of the first things she said to me. The collector had seen a work in progress picture that Ashley posted to her Instagram account, and emailed her saying, "I have to have this! Is it sold yet?"
Ashley wasn't actually quite finished with it yet.
This is, apparently, a regular occurrence for Ashley. According to the New York Post, Ashley's work sells for $30,000 or more, to some of the most elite, wealthy people in the world – despite it being highly provocative and not suitable for work.
Besides the Post, she's been featured in Vogue, US Weekly, Elle, and dozens of other publications.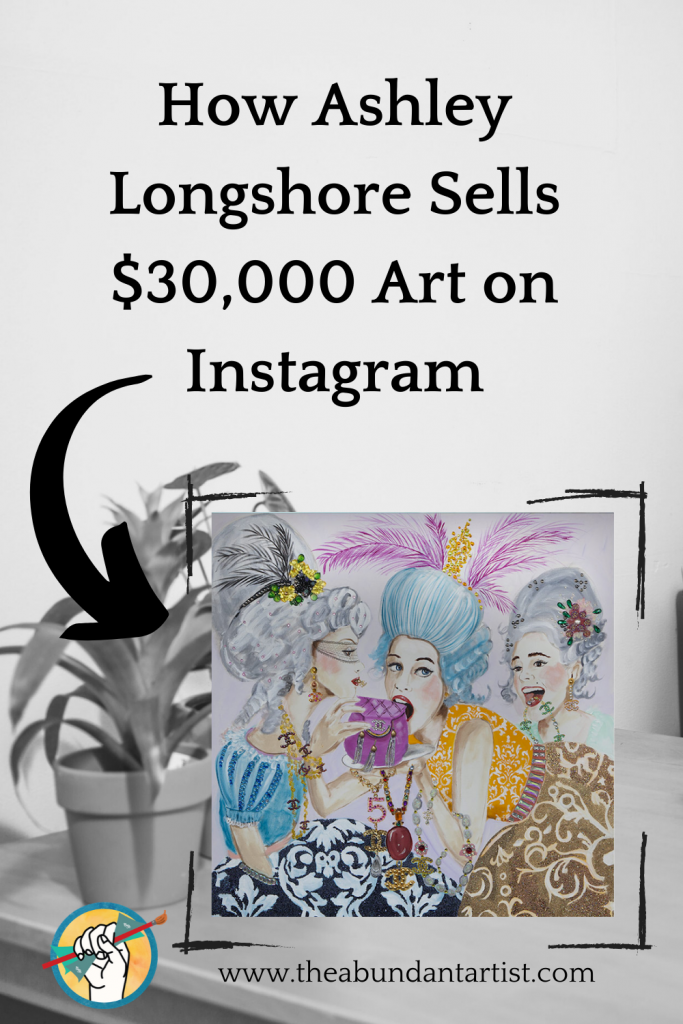 How Ashley Sells Art on Instagram
One thing that Ashley made very clear to me: art galleries are completely optional! You don't need to give them 50% of your sale price! Ashley is a big proponent of artists learning the business side of art, and agreed to share some her own tips here.
Ashley's primary focus is building relationships. Some of Ashley's collectors have known her for years. They call her up and talk to her like an old friend. They followed her to Instagram because she was enthusiastic about it, and they're enthusiastic about her. Ashley is engaging, funny, crude, and occasionally poignant. She responds to people when they email, tag, or otherwise communicate with her.
She lets her freak flag fly. Ashley's art reflects that part of her personality that many people would be repelled by – and that's a big key to her success. People who enjoy her big personality enjoy following her on Instagram. "I like to laugh. I'm perverted," she says.
We talked for a while about whether or not artists need to be like her in order to sell their art.
Ashley says no, of course not. But you should be you. Don't hide behind safe art. Say something in your work that's important to you, and the right people will connect with that work.
You'll notice on Ashley's Instagram account that a lot of what she shares are hilarious pictures from the Internet with a little observation.
I asked Ashley how she finds the weird images that are all over her IG feed. It's a hilarious combination of random stuff she finds while she's doing research for her existing work, drunk Googling late at night, and random inspiration at any time of the day.
She once wondered whether or not Richard Simmons could do a toe-touch, so she found an image of it and then saved it on her phone. Some time later, she was scrolling through the 12,000+ images on her phone and found it, then decided to share it on Instagram.
Her followers, of course, loved it.
She caters to the collector's Fear, Ego, and Enthusiasm. Many collectors, especially the wealthy ones, are seeking validation of their insecurities. Successful people, like the rest of us, fear missing out on the next big thing. Amongst their friends, that next big thing is Ashley's work, so they can't miss out.
Ashley has a very impressive press kit. If you look at it, you can't help but feel like she's one of the biggest artists in the world. Ashley has an assistant that aggressively pursues media opportunities, which just makes her even more impressive. This media attention validates the collector's choice and gives them something to brag about to their friends who don't have one of Ashley's pieces.
Ashley makes herself accessible. When her collector emailed that morning about her new piece, Ashley was ready with a sales price and the ability to take their credit card number. This way, the collector's enthusiasm doesn't get cold.
She plays the long game. Ashley Longshore has been a working artist for 23 years. She knows that if she continues to pursue relationships and is true to her own personality, the sales will come. This philosophy is working out well for her, but it was certainly a struggle early on. Ashley's been there.