For years I've been telling artists to focus on what they can do right away to start making sales now rather than waiting for a gallery to pick them. One way of doing that is to fill a living room, and let that give you momentum toward a big gallery opening or a huge mailing list.
Several years ago, Tara McMullin wrote a blog post called The Power of the Living Room Strategy. It's a simple strategy for business owners who don't have a big network or list of people waiting to buy from them.
"It's a heckuva lot easier—and often much more rewarding both financially and energetically—to fill a living room instead of a stadium."
Why a Living Room Show?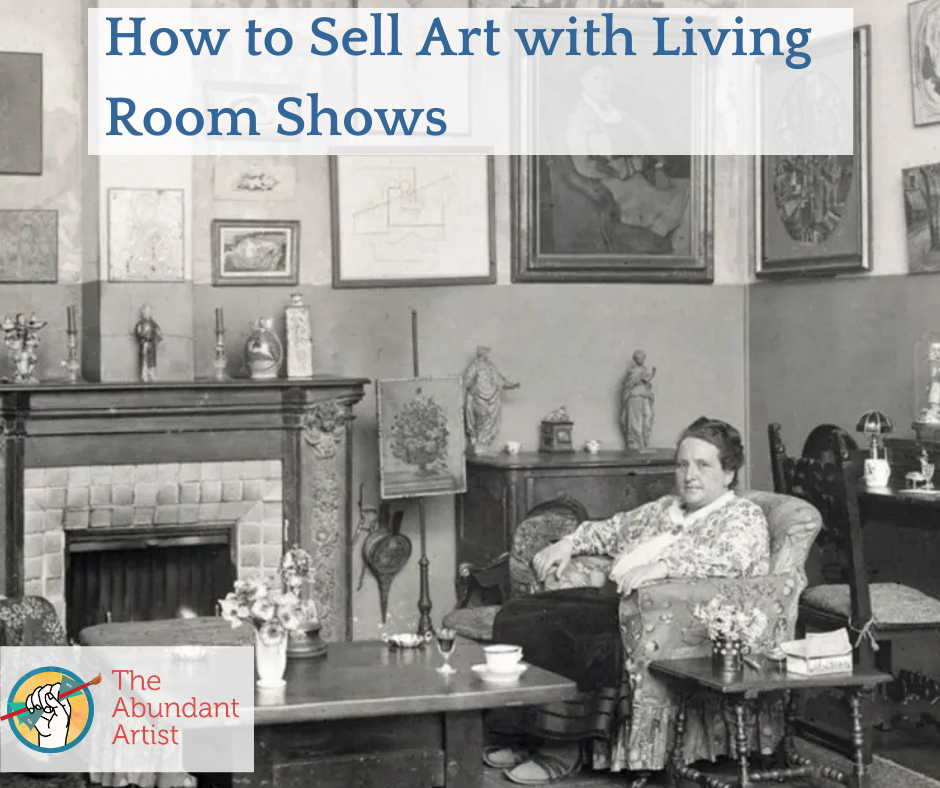 Before Pablo Picasso was famous, he had Getrude Stein's living room salon. Most good galleries have more artists than they can adequately represent, so getting even a group show with a gallery might take years. Most artists don't have the financial means to wait that long.
Selling art online doesn't require waiting, but the competition is fierce. Whether it's a social network, a print-on-demand site, or an online marketplace site, there are hundreds of thousands of artists competing for the same eyeballs. If you don't know how to draw a ton of attention to your work, and the idea of doing so makes you feel slightly ill, pursuing a living room strategy is a great alternative.
What Does a Living Room Show Look Like?
In its basic form, a living room show means:
invite five to ten people into your living room
display 3 – 5 pieces of your art in the space
share some drinks and snacks
socialize for 45 minutes
give a five-minute talk about your art, and mention that the work is for sale if anyone is interested
answer questions
go back to socializing for as long as you like
That's it. Low pressure and no direct sales pitches.
And it works. It works because most of us can find ten friends to have a fun night together. It works because when there's no pressure, people are more open to the kind of emotional experiences that art creates. It works because when the artist is there explaining some context for the art, it gives people an emotional way into the work. It works because friends of friends are the best way to leverage weak ties to grow your collector base.
There are a few things you might want to add to your living room show if you want to take it up a notch, but you don't have to do these things.
Instead of doing it in your living room, do it in the living room of someone who loves your art, especially a collector
Have your collector host invite their friends so the group is a mix of your people and their people
Practice your five-minute talk in advance
Bring your card reader so you can sell the work onsite—or at least have a Venmo or CashApp account ready
If you are just starting out selling your art, I recommend trying to schedule one living room show per month. Start with your friends and family. Then ask them to invite their friends and family to a show in their home. Most of us are just two or three connections away from people who love to buy art, even if we grew up in poor circumstances.
Also note: living room is a general term. It could be a kitchen show. It could be a house party or industrial party. You'll notice that several of the artists we had on the podcast recently, like Zsudayka Nzinga and Zeph Farmby, got their start by showing their art at parties. Jesse Reno showed his work at parties at abandoned industrial buildings.
What Kind of Results Do Living Room Shows Produce?
I've been teaching artists how to do this in private coaching sessions for years. The artists who do it find that it's not very difficult, and it creates surprising results. People they don't know buy from them, and people they don't know connect them with opportunities to show their work in museums, galleries, corporate collections, cafes, and other places.
Living room shows also create great fodder for social media marketing and your email list. A selfie with the group, tagging everyone, creates great social proof that people are interested in your art, and it makes you look fun.
A few years ago, one artist I worked with to plan a six-month living room show campaign saw fast and surprising results. This artist, a landscape painter, had just a handful of sales going into the campaign. She asked less than ten people to host and immediately booked three living room shows in their homes. The collectors invited their friends. From those shows, the artist made several sales, booked a residency retreat through a friend of a friend, and booked a group show.
She decided to double down on doing living room shows and made a plan to do two shows per month. She pursued that for a year and that acted as a springboard to launch her sales to a level that she was thrilled about. She's now working on a new series of work. She can be confident about it because she now has a track record of sales, collectors are interested in the new series, and she knows that even if a gallery won't take the new series, she has direct relationships with collectors and fans who will support her.
By pursuing a simple, achievable strategy of strengthening your network and building personal relationships, you'll give yourself a great start at selling your art.
Do you do living room shows? Drop a comment and let us know about your additional tips.