This week's featured Association member is Meena Matai.
TAA: How would you describe your art to your ideal collector?
Meena: I'm based in Austin, TX and my creative journey is as much spontaneous and playful, as it is meditative and introspective.  My art is vibrant and colorful and fits well in a contemporary comfortable home or office space. My art has a message of positivity and community and the colors I use are uplifting. If you are looking for art that you can form a connection with, that relaxes yet energizes you, that motivates you, brings color and happiness to your home, then you've found it.
I work with alcohol inks, watercolors, organic pigments, acrylics, on a variety of different types of papers and canvas.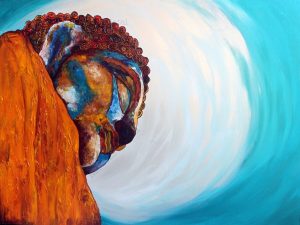 TAA: What motivates you during slow seasons?
Meena: When I find people appreciating and acquiring my art, I can draw immense joy in being able to connect with them via my artwork. I'm an artist by passion and an engineer by education. I got a bachelors, masters and worked full time as an Electrical Engineer for over a decade. After balancing being a parent, an artist, working a full time job and running educational workshops I decided it was time to pursue art full time and make it my focus. In slow seasons it helps to pause and re-connect with my original intention of being an artist.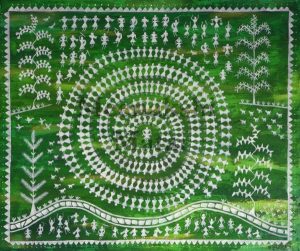 TAA: How did you settle on your current way of working?
Meena: Balance. My current way of working is all about balance. I find myself drained when I'm focussing too much on one thing and ignoring the others. Over time I've figured out a balanced approach to creating art and art business. Organizing my day and activities on a calendar really help me maintain that balance.
TAA: What is one mistake you've learned an important lesson from in your business?
Meena: One mistake I've made often and still continue to make is Comparison. I tend to compare myself, my art works and my art business with other artists around me locally and those online. This has caused me much self doubt and at times I've felt like giving up. Over the years, I've been telling myself to look at other artists for inspiration and keep my head held high while navigating this world of art.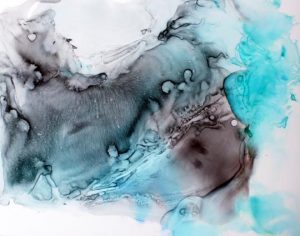 TAA: What was your greatest success from the past year?
Meena: My greatest success from the past year has been the press I've gotten. I have been featured in a number of publications, newspapers and magazines: Voyage Dallas, Voyage Houston, Austin American Statesman, Miller IDS Featured Artist of the month, Almost Real Things – Top 10 artists to watch in Austin, Austin School of Film Artist Highlight. This has brought attention to my art and some good amount of sales.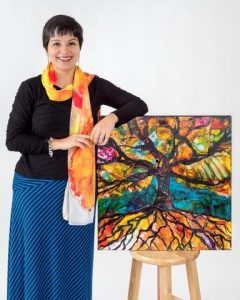 Meena Matai is based in Austin, TX. Her creative journey is as much spontaneous and playful as it is meditative and introspective. Meena's goal is to help you find a piece of art that you can connect with. She is an artist by passion and an engineer by education. She received her bachelors, masters, and worked full time as an Electrical Engineer for over a decade. After balancing being a parent, an artist, working a full time job and running educational workshops she decided it was time to pursue art full time and make it her focus. You can learn more and see more of Meena's work at http://meenamatai.com
More Featured Artists:
Ron Turner, Painting Mysterious Places
Daisy Faith, from Actor to Artist