Whenever someone signs up for my mailing list, they get an email from me asking what their primary struggle is with selling art online. One of the most common responses is fear. Many artists suffer from a fear that their art isn't good enough to sell, or that they won't be able to sell enough of their art to make a living – ever. This fear is the result of a way of thinking about life and about art – a mindset.
In order to sell your art, you have to have to understand:
that art can be sold
the various ways art is sold
how you will sell your art
Some thoughts on how to develop this mindset follow.
Art Can Be Sold
In order to be a financially successful artist, it helps to understand that there are lots of artists already doing it, and that there are many ways that it can be done. There are lots of artists making a living through their art. There are basically six business models:
Being a Gallery Artist – the gallery owner or sales agent sells the art for you. You're not involved, except for perhaps to be present at a showing or unveiling to answer questions and be seen. Being a gallery artist is the most commonly talked about, but actually the rarest way to make a living as an artist. Very few artists are represented by galleries, and of those artists, even fewer make a living. Heck, a lot galleries don't even make a profit. It's not all roses and wine.
Being an Independent Artist – selling originals directly to collectors yourself. This is very common. You develop your own following. You put on your own shows, manage your own website, and handle your own sales. We've interviewed dozens of these artists here on TAA. Check out Gwen, Natasha, Paula, and Matt to name a few.
Selling Prints – there are now enough print on demand companies that the average artist can upload images to the web and begin selling with no upfront investment in printers, paper, ink, etc. Fine Art America, Saatchi, Imagekind, Art.com, and several others. In addition to selling fine art prints, there are endless companies that will put your art on a virtually unlimited array of products. RedBubble, Zazzle, Cafepress and others will put your art on mugs, calendars, t-shirts and hundreds of other products.
Commissions – whether its pet portraits, people portraits, giant mobiles for hospitals, public street art, or something else entirely, commissioned work can be a steady source of revenue. You have to be a hustler when you get started, but after several years of hard work, you can actually build up a client base that feeds you new opportunities by referral.
Licensing Your Images – I recently did a great interview with artist Tara Reed on how she runs her art licensing business. We don't cover this too often on TAA, so it was great to get her insight.
Art careers working for someone else. Anything from teaching to comic book illustration to concept art to graphic design.
Obviously you can combine some of these business models together. The lines between gallery and independent artist are becoming more blurred all of the time, and many artists supplement income by doing commissions and selling prints. You can work for someone else while building up your own art business on the site.
Beyond having an understanding that there are lots of artists already making a living from their art, there are some powerful ways that artists limit themselves that I'd like to address here.
Limiting Beliefs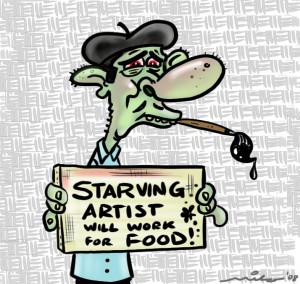 Language is powerful.
When I started learning Mandarin Chinese, I realized that it's not just different ways of making the same words, its different ways of thinking. Words come from a mindset, which is inherited from a culture. That culture can have its roots in ethnicity, religion, or professional protocol – they all generate a certain mindset.
Think about terms like "starving artist." The term starving artist is often thrown around like its some sort of joke. Artists will throw starving artist shows or sales, in some kind of semi-serious plea for money. Using this kind of language, even as a joke, affects you. Other bits of language that artists use to limit themselves include:
"I'm not a business/technology/whatever person" – this is an excuse for being too lazy to learn the basic skills necessary for running an art business, letting yourself off of the hook and abdicating responsibility.
"The economy sucks" – sure it does, but what does that have to do with you? Very little. There are artists making a living despite the economy. Find a way.
"I don't have time/money/other resources" – I get it. We're all busy. We're all resource constrained. Successful artists find a creative way around resource constraints to reach their goals. If you can work around constraints when creating, you can work around them in your business.
"Person X thinks I should do Y" – I hear this one a lot. The artist's spouse thinks they should give up. The artist's teacher thinks they should work on their technique or find a gallery dealer. The artist's friend thinks they should paint more commercial work. There's only one person who can decide what you do.
"My gallery owner/agent sucks" – well, first, good on you for getting into a gallery and finding an agent and, second, so what? They don't owe you anything. Have you talked to them about why they're not selling your work? We all look after ourselves first. How can you make your partnership with this person higher priority? If you can't, go make it happen yourself.
"I'm not a good enough artist." Work matters more than talent. Research shows that people with an abundant mindset are better negotiators, helping everyone involved win even when there's no obvious solution. Don't be insecure about your talent.
How to Shake Limiting Beliefs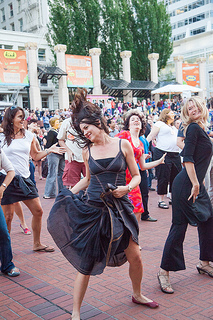 Get out of your head and into your body – socialize, get physical. One thing that was made abundantly clear to me earlier this year – artists everywhere lead isolated lives.
While some of us are extroverts, many of us are introverts (not me – come on), and its easier to stay in the studio. We might even rather be in the studio. But it's absolutely necessary to build time into your calendar for exercise and socialization.
Exercise releases endorphins, makes you happier, and being happier makes you more creative and better able to do business.True story. Socializing, even for introverts, helps you build connections with other people.
When I say socialize and exercise, I recommend dancing. I mean, check out how much fun this lady is having at the World Domination Summit, attended by myself and hundreds of other crazy creatives. Thanks to Chris G.'s Flickr page for sharing this.
In all reality, though, socializing and exercise can take many forms – just get out there and do it!
Surround yourself with positive people. You might be amazed, and deeply saddened, by the number of people who email me to tell me that this blog has made them believe, for the first time, that they actually can sell their art. They have been told no by parents, friends, and other well-meaning people they love and trust.
It's important to surround your self with people who can help you. I recently attended a screening of a great little documentary called IndieKindred, which follows the lives of several artists and shows how their small group of artists supports each of them individually. Very interesting stuff.
The Praise File. Whenever I get an email from someone telling me how much they enjoyed a blog post or a class, I drop it into a file called "Praise." I know a number of artists and entrepreneurs who do this.
Not only is it a great way to keep press clippings and testimonials, it's also a great way to make you feel better about yourself when you fail at something or when someone criticizes you. The world wants to tear you down – its important to have a way to build yourself back up and the Praise file works well for me.
The Ways Art Can Be Sold
In the next blog post, we will discuss ways to address the other two aspects of mindset – ways to sell your art and how you personally will sell your art.
For now, I'd love to hear from you. How do you address mindset in your own practice? How do you stay positive? What questions do you have? Let us know in the comments!