There's a LOT to consider when it comes to picking the right POD company—and there's no shortage of companies to choose from.
For some artists I've worked with, prints make up more than 80% of their income. But with so many POD companies, how can you know what matters most and pick accordingly?
After working with hundreds of artists, here are the criteria we came up with, in general order of importance.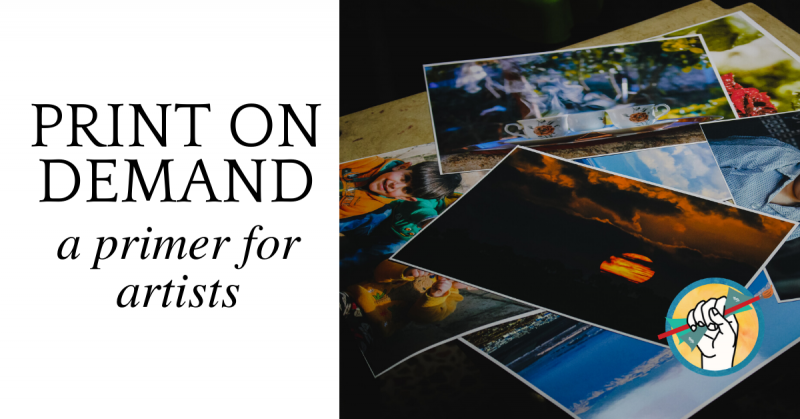 9 Important Criteria to Help You Pick a Print on Demand (POD) Service
1. What do you, as the artist, get paid?
I was amazed at how much this varied from site to site. On some sites, the artist gets only 5% of the sale amount. On other sites, it's as high as 70%!
Be sure to read the fine print.
The way artists get paid varies considerably as well. Consider that on some sites all prices are pre-set and the artist gets a tiny percentage of the sale. On other sites, the artist sets the price and the POD company adds their margin to arrive at the final retail price.
Also make sure to check how long you have to wait before you receive funds after a sale.
2. What is the quality of the printed product?
Many of the POD companies use the same fulfillment houses, so quality varies little. If you sell something on Fine Art America (FAA), it's printed by the same company that prints for Society6, Shutterfly, and others.
Most artists recommend ordering one of your own products to see how the quality comes out. Each artist cares about slightly different details and it's impossible to say which service is definitively better.
You might care more about specific colors being true than the resolution of the print , for example. For an artist whose work is highly glossy, you might want to make sure their paper has the right sheen. The details go on and on, so be sure to order a sample print.
3. How does the site assist with promotion and sales?
It's one thing to get thousands of artists to sign up for a website that promises to sell their art—but it's another thing entirely to attract qualified buyers regularly over time.
Usually, sales depend on the following:
The number of collectors visiting the site (the site's search engine rankings and how much marketing they do for their own site heavily influence this)
The number of artists sending their own buyers to the site to make a purchase
The location of your art listing. For example, having your art featured on the site's homepage means more people will see it. Many sites have specific collections they assemble in order to help people find art they like
If placement on the homepage is one of the most important factors in numbers of sales, how do sites choose which artists to feature?
Well, most sites have different methods that influence which artists they highlight, and it's usually one of the following factors:
Curation of content – Some sites have employees who comb through their artists to find art they think is likely to sell. On the other hand, some sites use algorithms to automatically promote artists who are selling regularly to the front page. Their logic? If an artist sells well on their own, they'll sell really well if they're featured on the front page.
Internal search – The importance of the quality of a site's search function really can't be understated. If your work can't be found, then you won't make any sales. Search functionality should give you the ability to filter by style of art, color, artist names, location, and other factors.
Paid promotion – This usually takes the form of paying to be on the homepage of the site or to be featured in a newsletter. Not all POD sites offer this option.
4. What's the design quality (and user experience) of the site?
It's more than just looking pretty. Good design includes ease of setup, mobile responsiveness, ease of purchase, discoverability of work, performance of the site, and other elements.
A well-designed site matters a lot. You don't want your print to languish in someone's shopping cart because they had a hard time checking out from their mobile device.
5. As the artist, how much control do you have over your store?
How much can you customize the look of your store? Does it look good with your art? Most of the POD companies don't offer much in this area, but a couple of them do interesting things with allowing you to embed your products on your own site, which we'll address in a future post.
6. Do you have the ability to interact directly with the end customer?
Many POD sites don't tell you who your buyers are, and this is a huge problem for an artist trying to build a business. Without customer contact information, you're completely reliant on the POD site to sell your art. Gathering customer information can be pivotal for creating a sustainable long-term business.
7. Are there available stats & analytics?
Sadly, this is an area where nearly all of the POD companies need to make major steps forward. In addition to seeing how many sales you've made, it would be really helpful to see how many views each piece has had, where those viewers came from, and a little info about those viewers.
It'd be even better if you could see how much time they spent on each piece of art, and whether they looked at any particular formatting options. All of this data could inform your future marketing and promotions.
8. What is the culture & community on the site?
Pay attention to the target audience of the site.
DeviantArt.com has a very different audience from FineArtAmerica.com.
Go where your art makes sense.
Also, getting deeply involved in the social aspects of some of the POD sites can be hugely helpful to your sales. When you're part of a solid community, you're more likely to have your art shared and suggested by other members of the community.
9. Is the art juried or curated?
Some artists appreciate being part of an exclusive group, and some collectors want to know that the artists they're considering buying from have been vetted in some way. That said, the artists I spoke to who have been part of these curated sites have not seen higher revenues than sites that allow everyone to join.
One additional note on curation: many of the more popular sites have rules about image quality. The photography or scanning has to be at a certain level before they'll accept the image. This is different from having a panel of judges who pick artists who match a theme or style that the site wants to highlight.
10. Does the POD site offer image protection & attribution?
Quite frequently POD sites feature an artist's work in their marketing without crediting the artist by name. This may not matter to you, but some artists find it concerning.
Additionally, some sites prevent people from right-clicking on images to save them to their desktop. While many artists find this to be a plus, it also makes sharing your art more difficult.
What are some Print on Demand companies & why are there so many?
Now you know what criteria to keep in mind as you look at Print on Demand Companies, here's a closer look at some of the POD companies you might want to consider for your art.
For the purpose of this blog post, I've only listed POD companies that make art prints. Some of them also offer t-shirts, mugs, posters, and other formats, but they all offer giclee or high-quality fine art prints.
Here's a (non-exhaustive) list of POD companies (visit our free resources library for more):
Ecommerce, especially print on demand, is a booming business. According to a Business Growth report, between 2023 and 2027, the global Print On Demand market is expected to expand at a compound annual growth rate (CAGR) of 25.55%. Additionally, a 2019 ComCap study found that, "While the overall growth in art sales has been nominal over the last 5 years, its online component has expanded at a CAGR of 31.8%" (emphasis added). If you're interested in reading more data, Printful gathered 100+ need-to-know statistics and trends for 2023.
Why are so many companies getting into POD?
It's relatively easy. Some of these companies make a claim to having higher quality prints. The reality is that many of these companies use the same group of printing and fulfillment centers. These POD companies' only startup costs are getting a website built and finding enough artists to attract buyers.
The profit margins are high. Prints can be a very profitable business. For some of the more successful artists I spoke to, prints were more than 80% of their income. Artists can mark up prints quite high from the cost of production, so having lots of popular artists on the site means more profitability for the POD company.
In our next post, The Ultimate Guide to POD Services, we share some stories and case studies from other artists. We've interviewed artists who are pulling in five-figure incomes each month from prints. We'll include the good, the bad, and the ugly.
If you're an artist who's benefitted from POD, could you let us know in the comments (or via email) what works for you? Do you have a company you swear by? One you avoid? Any great stories to share?