Probably one-quarter of the questions I get here at TAA boil down to this:
How do I pick the right artist website?
In this blog post, I'm going to break down some of the primary considerations for building an artist website.
UPDATE: We surveyed 1000 artists to find out which are the most popular website builders. Check out that post here: The Ultimate Guide to Choosing an Artist Website Builder.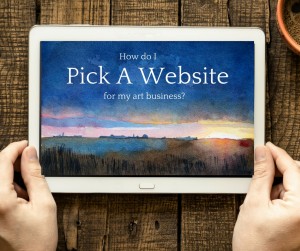 Here, you can watch me talk through the logic in this post (mobile users click here to watch the video).
Artist Website Prerequisites
There are a few things you need to consider before you ever start evaluating services, and way before you start building anything.
Make an Artist Website Feature Checklist
Make a list of all of the features your website needs to have. If you aren't sure, download our checklist by clicking here (no opt-in required).
What Kind of Art Business Are You In?
Selling Originals & Prints directly to collectors – in this kind of business, ecommerce becomes absolutely required. Most people are used to buying things online at this point. Make it as easy for them as possible. Check out our blog post on accepting payments online.
Commissions – if you are taking commissions on a regular basis, you know what a challenge it can be to walk something through the process. Get a reference picture from them. Get a due date. Collect payment up front. Sign contracts. All of this can be done through your website with an intake form. Make sure your website provider has a form builder that will collect the info that you need.
Selling through galleries – the only time, in my opinion, that an artist should not have ecommerce is if the artist is represented by a gallery that doesn't want them to have it – and here's the important part – that gallery is bringing in significant revenue for the artist. Don't let a gallery dictate your business, especially if they aren't doing anything for you.
3 Mistakes Most Artists Make
Making sales too hard. This goes back to ecommerce. Too many artists require things like emailing them for pricing, which means there's delays where the collector's enthusiasm cools. When you think you're ready to launch your website, ask 5 friends to pretend they're going to make a purchase and get their feedback.
Poor design. Get rid of clutter. Design shouldn't distract from your art. The primary graphics should be high-quality pictures of your work. Do your research and find some artist websites that are exciting to you, and see which elements of their designs you can emulate.
Context & writing. Basic elements like sizing and medium are an absolute minimum. Giving a sentence or two about the piece, describing it and and describing a story behind the piece will help a lot. Blog posts and social media posts will also help a lot. We've written about this extensively here, here, and here.
Technical Skills
Let's talk about technical skills for a moment. You absolutely do not need to know how to code to build a website. It's helpful to know a little CSS and HTML, but if that alphabet soup scares you, no worries.
If you are the type of person who likes to DIY, or you just like having the ultimate control, then you might consider WordPress. We've written extensively about building websites with WordPress, a free software that allows you to build your own site. There are lots of free templates that will help you get started.
How to Build An Artist Website in 10 Minutes – with free themes like the one outlined here, you can get a site up and running in very little time. But you have to be comfortable with doing a lot of button pushing, as well as a lot of trial and error. For non-tech savvy artists, I estimate 20 – 40 hours to get a website that is usable.
Divi Theme builder review and tutorial – there are paid themes for WordPress that make the building process easier. Many of those themes have great support and tutorials that make the process easier, cutting way down on the amount of time it takes to build a site. One of my favorites is Divi, for reasons I outline in the review.
No technical skills at all? Just don't have the time? There are dozens of website building services. TAA has done reviews of many of them.
Finally – Artist Website Services
Shopify vs. Squarespace – Shopify is, as of this writing, a clear leader in the space. They have thousands of third-party integrations, making it possible to do almost anything with their sites. Combine that with phone support, you get some solid options there. We also like Squarespace for artists who want something simpler.
Fine art Studios Online or FASO (in-depth review coming soon, see below). FASO is built specifically for artists, and they have awesome support as well. They have done a good job of updating their theme options for current mobile standards. We like what they've got going on.
Other People's Pixels and other artist-specific builders. There are dozens of providers. We put this chart together.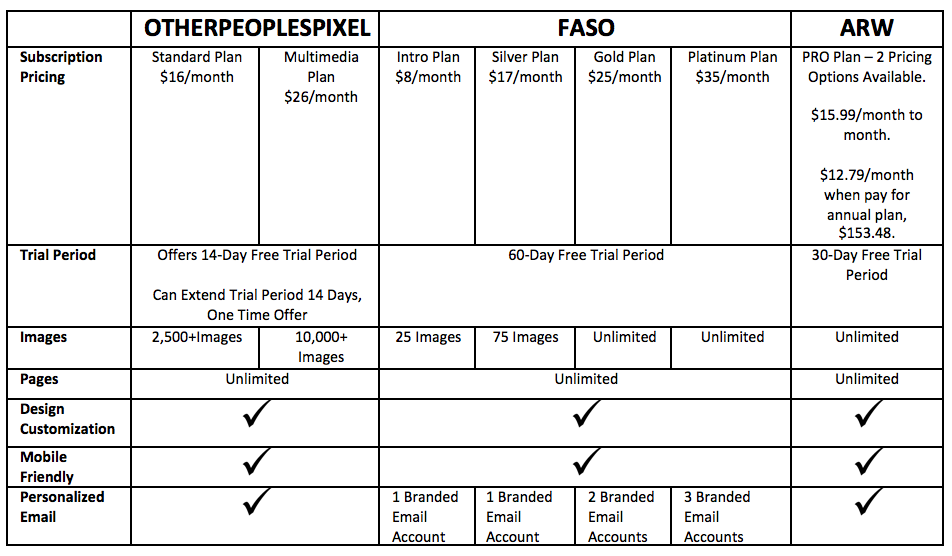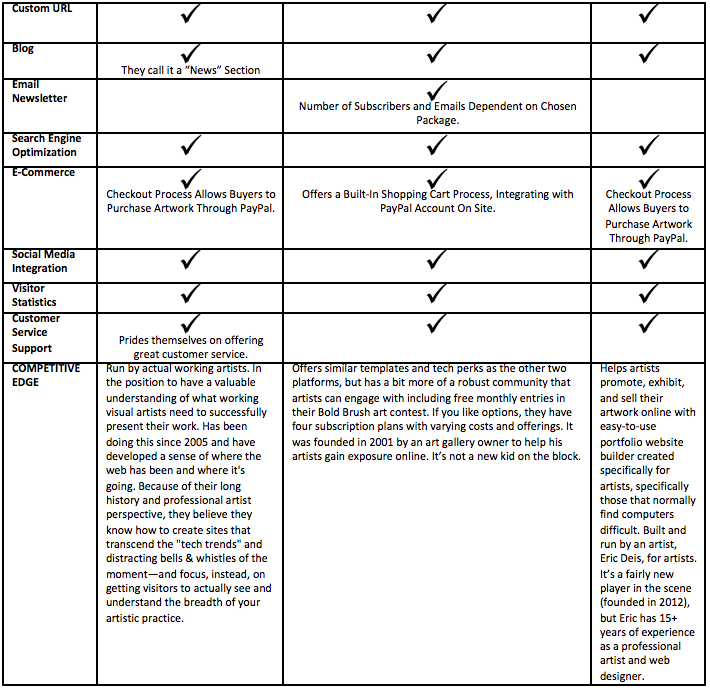 Hopefully this helps you get some clarity on what you need to do to get your artist website up and running – or increase your sales.
Check out our course – Artist Websites That Sell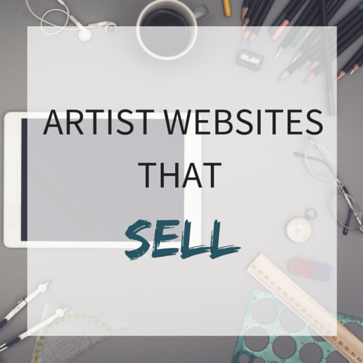 Click here to learn more about our course that will help you build your first site or make your existing site sell even more art.